Enjoy DOOA: A wall layout that displays a clear contrast between light and dark by arranging driftwood boldly
A wall layout that displays a clear contrast between light and dark by arranging driftwood boldly

Although a Wabi-Kusa Wall allows you to grow emersed mosses and aquatic plants that are attached to a mat easily, the wall tends to appear flat by itself, and it is difficult to bring out the originality in a layout. In this layout, uniquely shaped driftwood was arranged dynamically to create light and dark areas and provides the originality to the layout. The driftwood was also arranged in such a manner that water can run down from the cascade section gradually over the moss on the surface. The water trickles down the driftwood to create a movement in the layout. The trickling water shows up better in a dark area.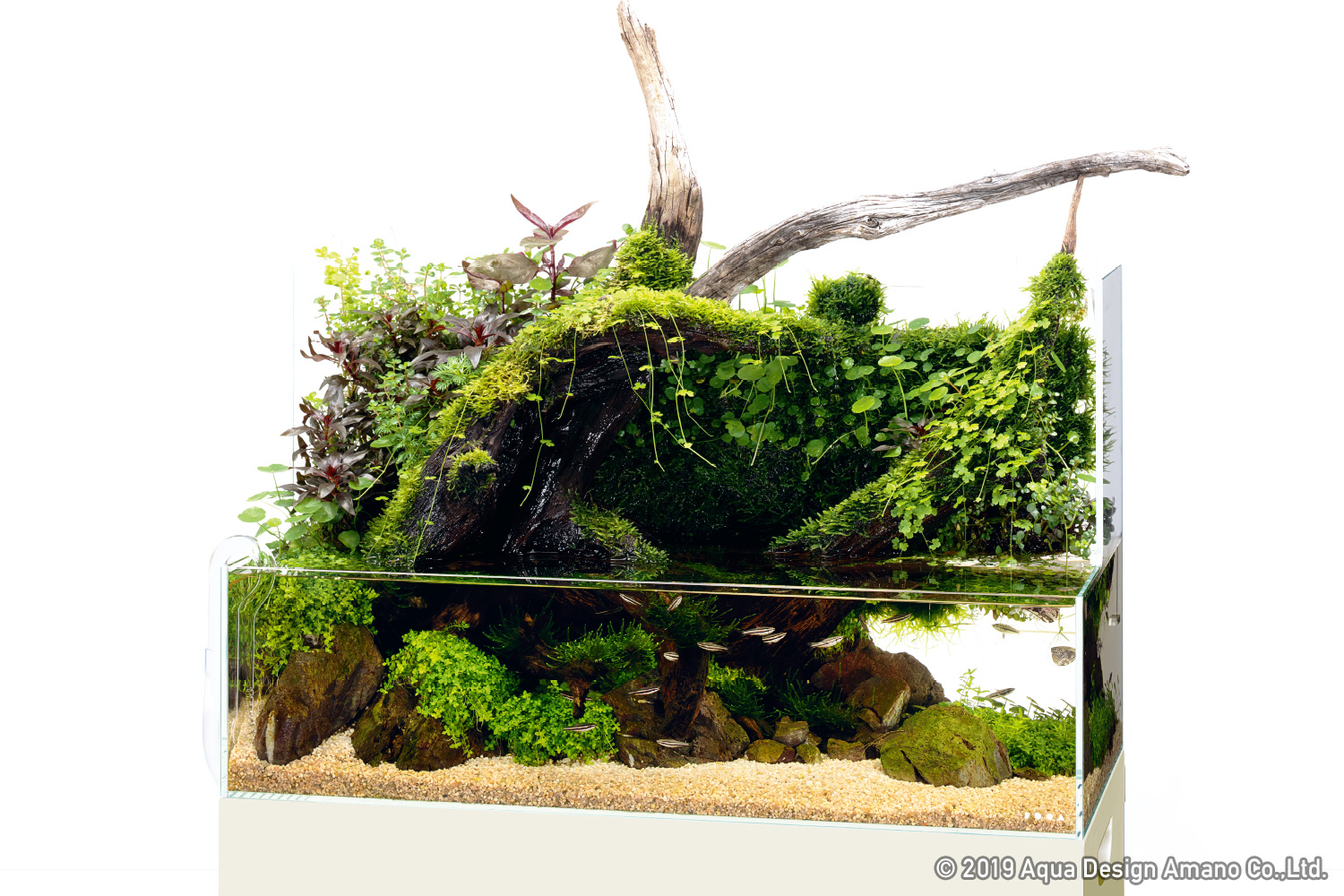 [SYSTEM DATA]
SOLAR RGB
SOLAR RGB Arm Stand W60xD30cm
DOOA NEO GLASS TERRA (H36) W60×D30×H18/36cm
DOOA WABI-KUSA WALL 60
CO2 FOREST BOTTLE
CO2 System 74-YA/ver.2 ※
Clear Stand for CO2 System 74
DOOA CO2 COUNT DIFFUSER
NA Control Timer II
DOOA STREAM PIPE V-1
Super Jet Filter ES-150
DOOA TROPICAL RIVER SOIL
DOOA WABI-KUSA MIST

[Aquatic Plants]
Wabi-Kusa Stem Plants Mix (Red) 9Ø
Wabi-Kusa Micranthemum sp. 5Ø
Wabi-Kusa Hydrocotyle verticillata 5Ø
BIO Hydrocotyle verticillata
BIO Hydrocotyle tripartita
BIO Rotala sp. 'Ceylon'
Wabi-Kusa Mat Taxiphyllum Barbieri
Ludwigia peruensis
Aleternanthera reineckii

[Fish]
Nannostomus marginatus
Carnegiella strigata
Trichopsis pumila
Otocinclus sp.
Caridina multidentata

Shooting date: May 23rd, 2018(ADA)
Creator: Yusuke Homma
ⒸAQUA DESIGN AMANO

※ Can be substituted with a CO2 System Kit.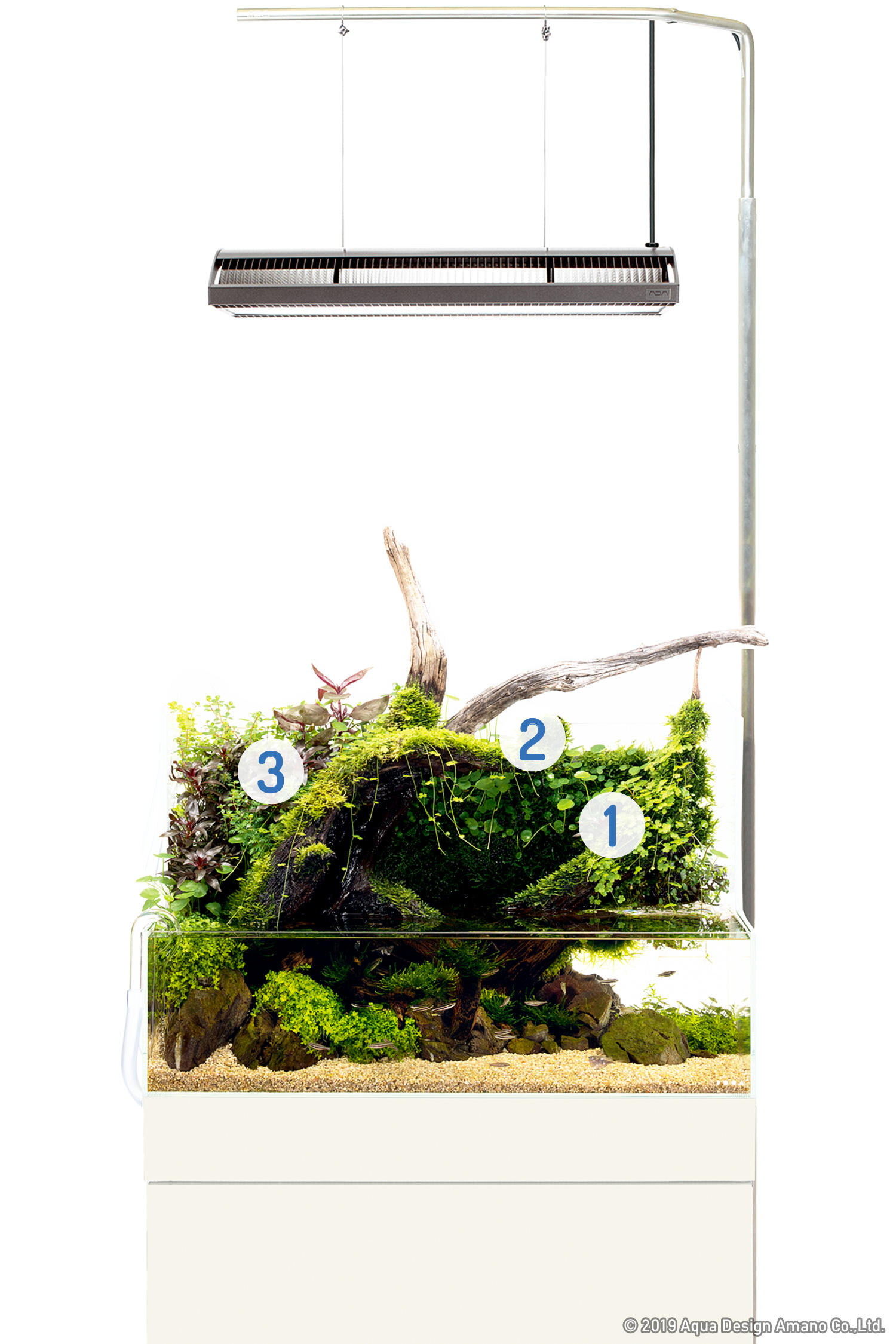 The use of driftwood and aquatic plants to create a light and dark contrast and make the most of the characteristics of an aquarium

This layout was produced using Neo Glass Terra (H36) and Wabi-Kusa Wall 60. It is a layout with an unrestrained atmosphere with a bold driftwood arrangement produced by making the most of the characteristics of the open top setup. The pendant style lighting system Solar RGB made it possible to produce this layout. The use of the strong light suitable for aquatic plants enabled the expression of the light and dark contrast as intended.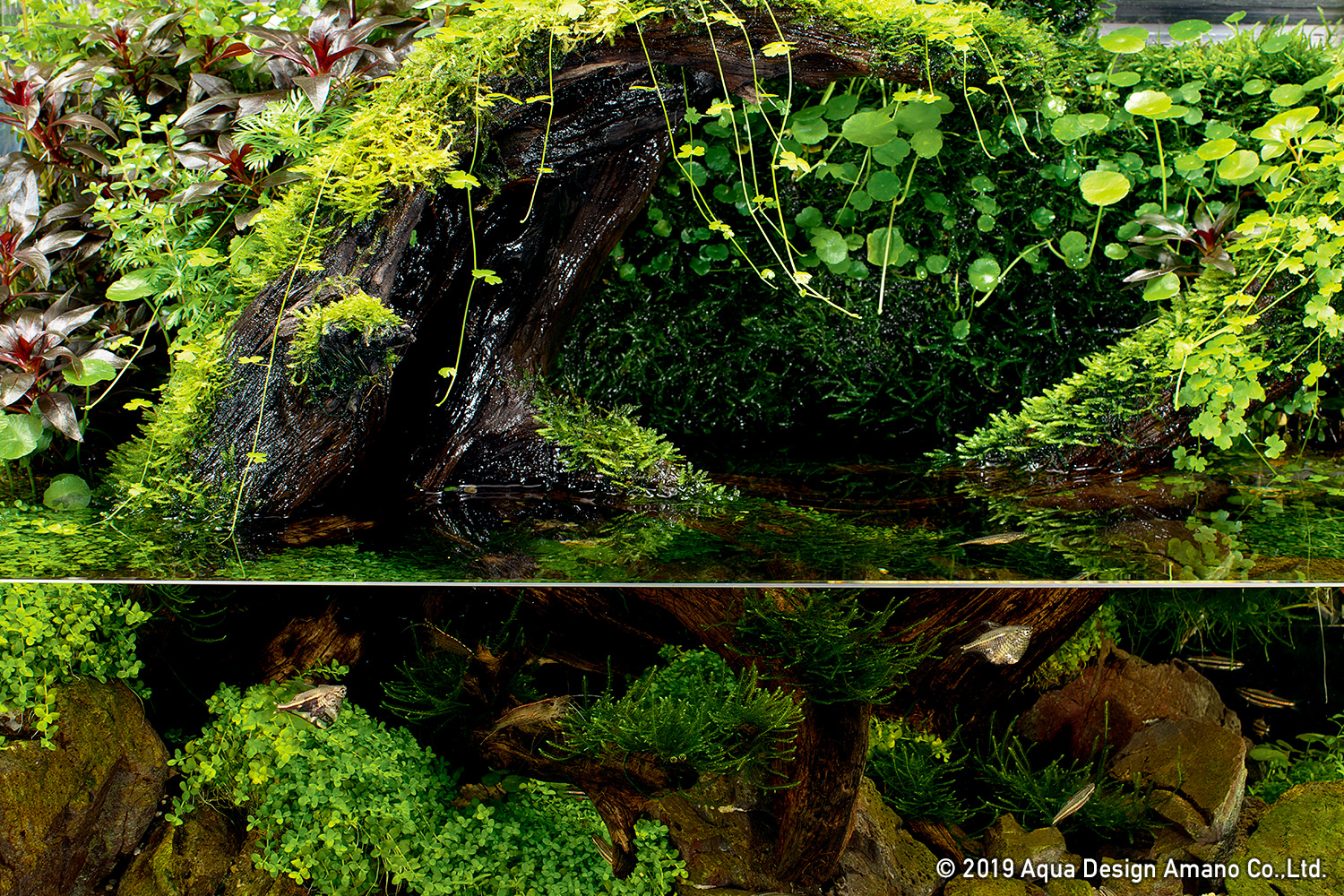 A dark area was produced intentionally in the center of the layout in the shade of a larger piece of driftwood. The water running down the driftwood over the moss gives movement to the layout.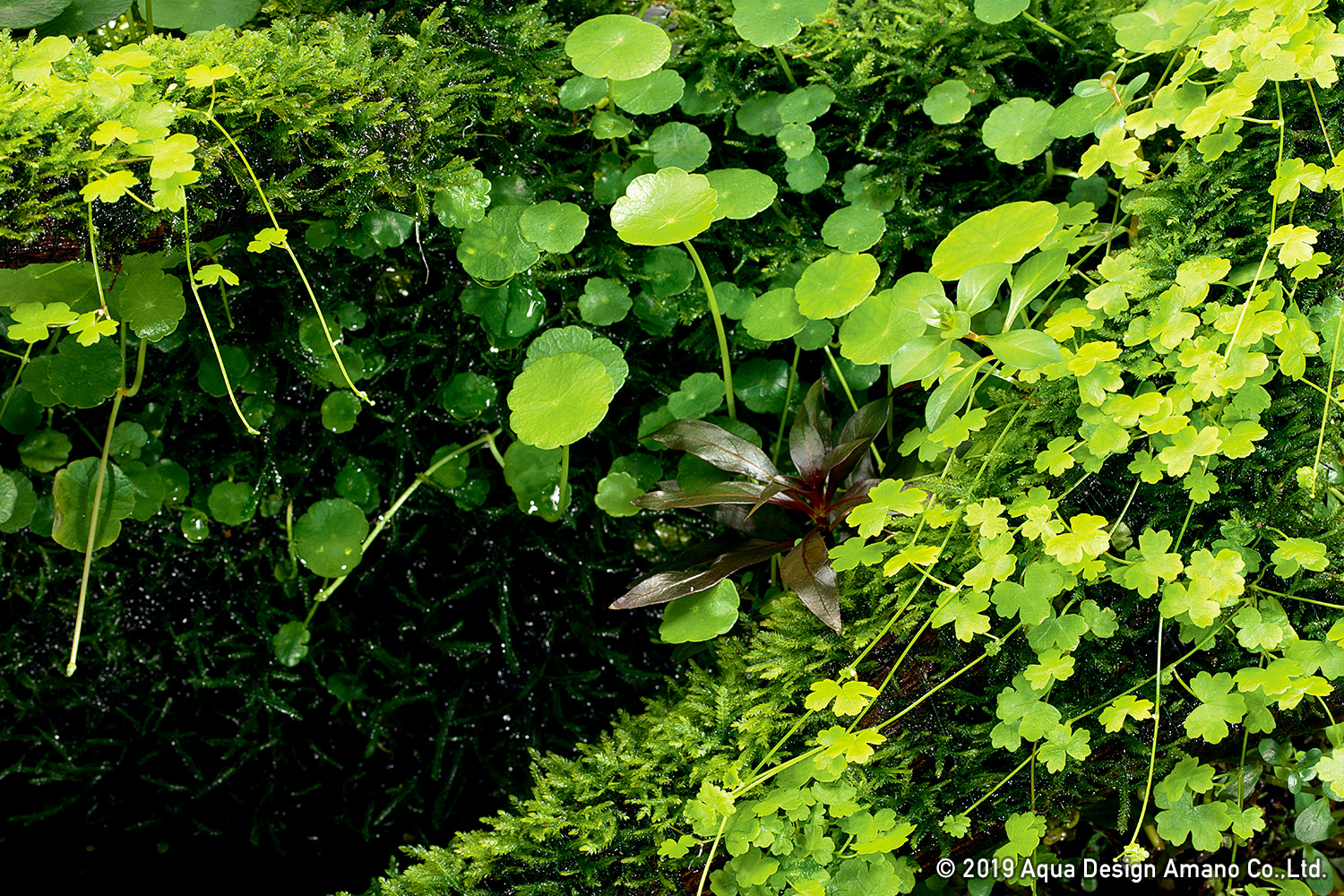 ① Hydrocotyle was planted over the moss in the area leading to the dark area. Doing so not only created a natural appearance but also the sense of movement of the water.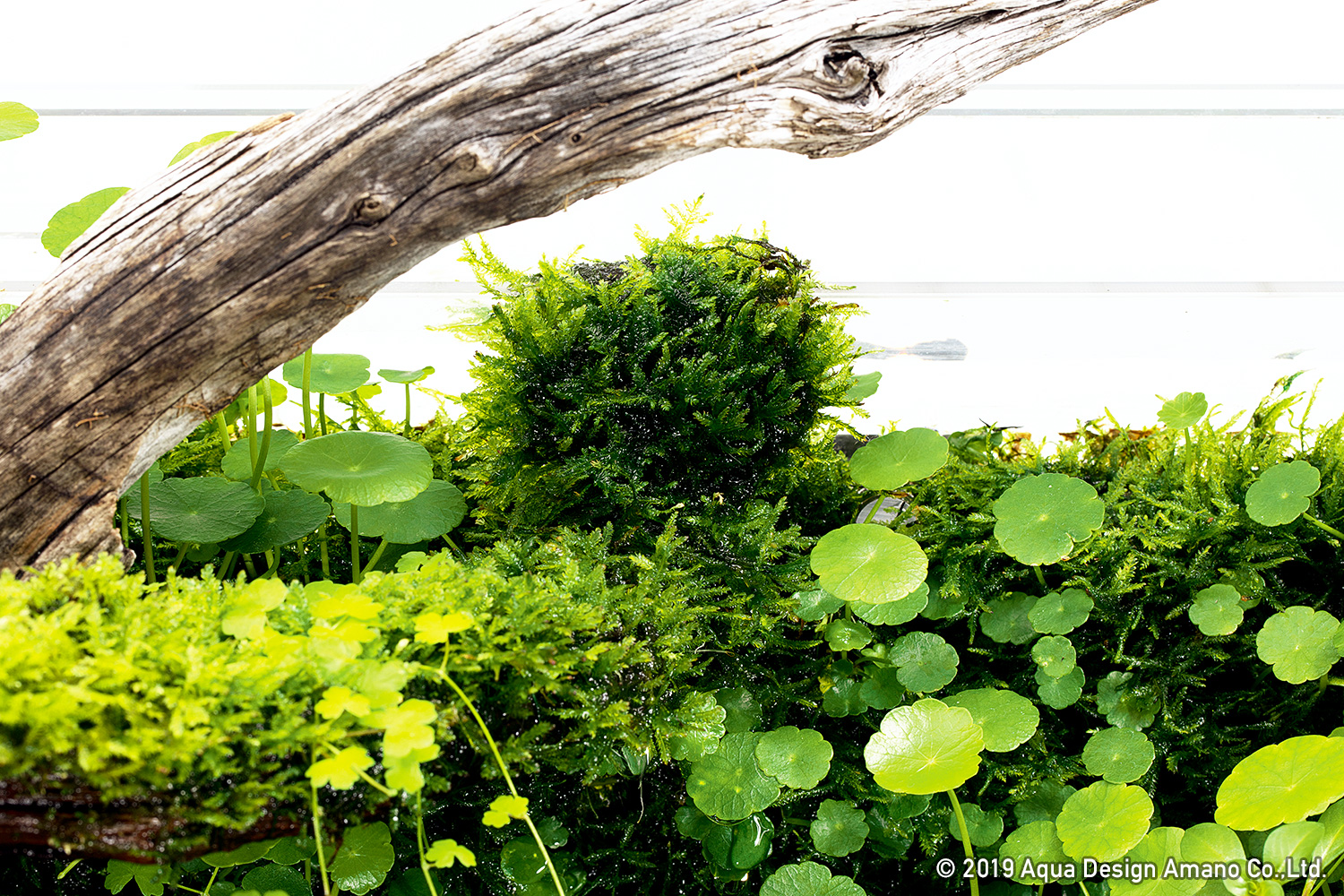 ② The moss emersed in the water from the cascade section serves as the means to direct the water to the driftwood surface. The moss will grow well on the driftwood if prevented from drying up.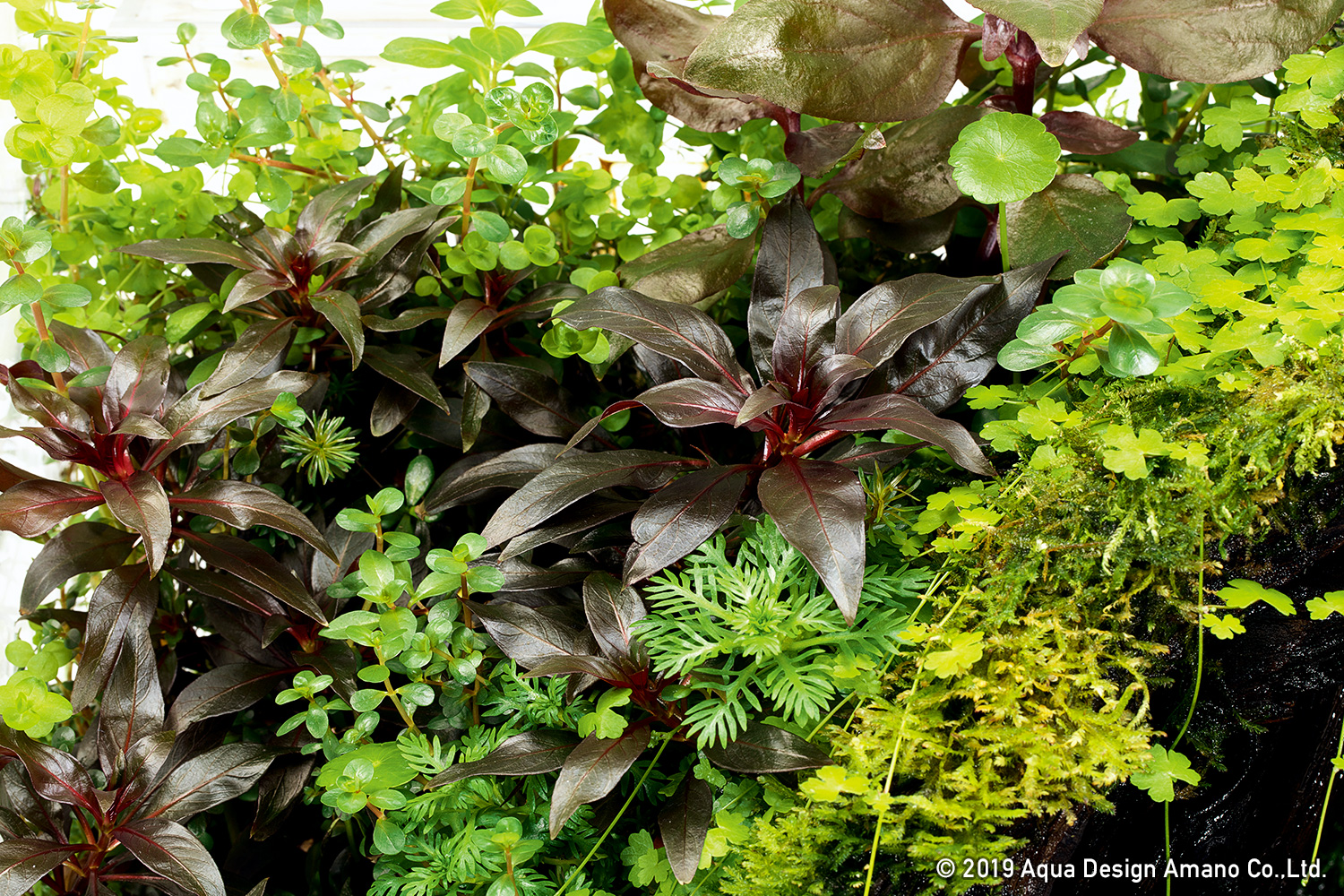 ③ Heliophytic stem plants were planted in the light area. The red stem plant in the Ludwigia family has a strong presence even with emersed grown leaves.