Enjoy DOOA – System Paluda –
Recreate a fascinating tropical cloud forest with
System Paluda 60

In tropical cloud forests, there are places where moss grows on rocks, fallen trees, and through tree branches. One of the appeals of DOOA System Paluda 60 is that it enables you to recreate scenes of primeval forests indoors. This layout gives a calm and fantastic ambience of the tropical cloud forests by covering the entire driftwood and limiting the colors of the plants used. System Paluda 60 is chock-full of clever features to enjoy the layout created inside.  Its breakfront doors allow easy maintenance and won't hinder the view. In addition to hydration by Mistflow, the circulation fan sends the air through to  promote photosynthesis and prevent fogging and mold on glass surfaces.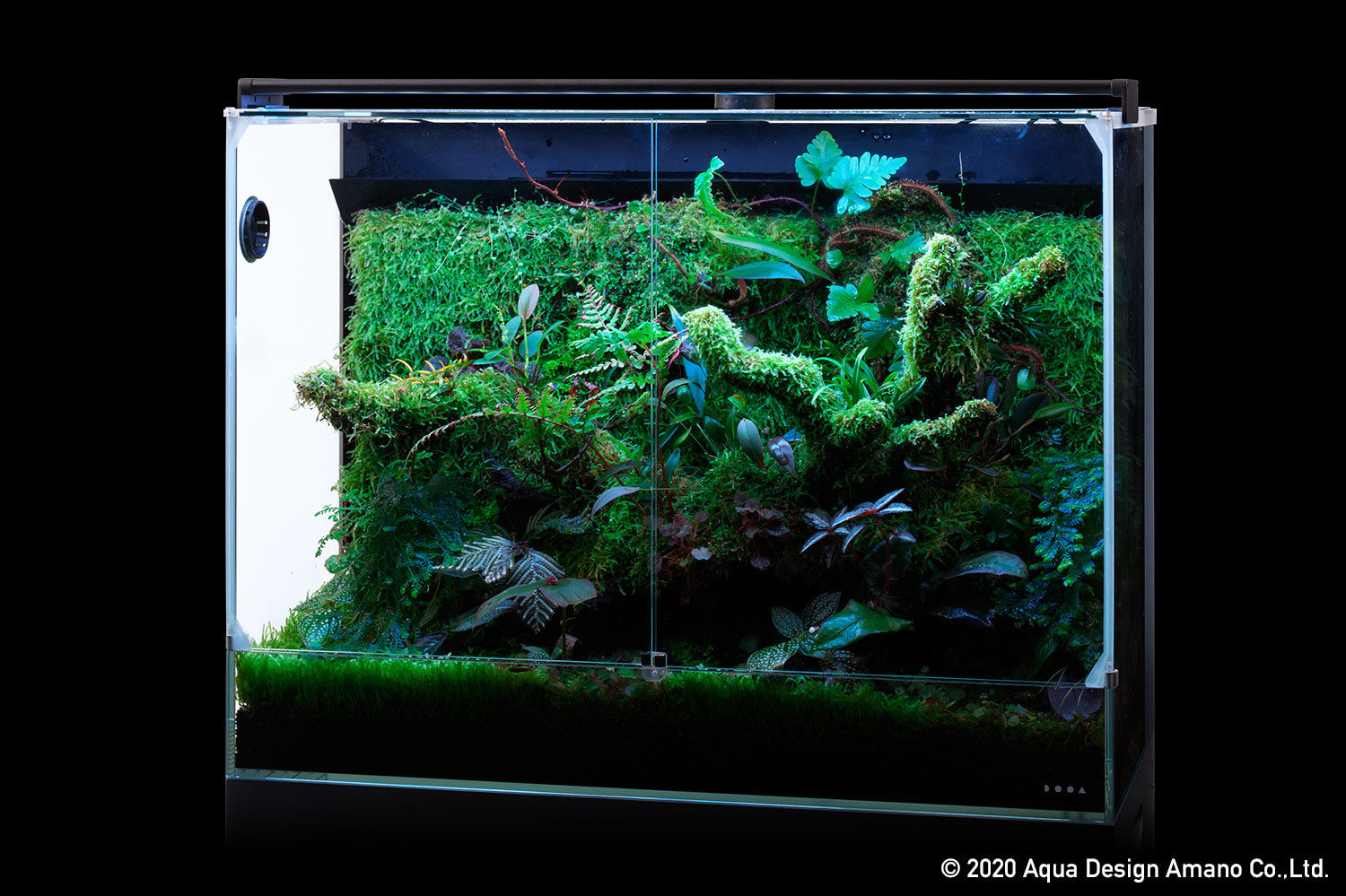 DATA

DOOA Paluda Light 60
DOOA System Paluda 60  W60×D30×H45 (cm)
DOOA Mistflow box
DOOA Mistflow
DOOA Mistflow cap
DOOA Circulation Fan 40
Wood Cabinet (Black)
DOOA Jungle Soil/Jungle Base
Power Code S-70
DOOA Wabi-Kusa Mist



Plants
Sonerila heterostemon
Sonerila dongnathamensis
Sonerila sp.
Begonia lichenora
Pilea spruceana 'Silver Tree'
Peperomia emarginella
Argostemma sp.
Ardisia sp.
Mediocalcar decoratum
Maxillaria sophronitis
Epidendrum porpax
Trisetella hoeijeri
Dracula lotax
Pleurothallis forceps-cancri
Pleurothallis niveoglobula
Pleurothallis costaricensis
Stelis morganii
Restrepia sp.
Bulbophyllum callichroma
Ceratostylis philippinensis
Microgramma vacciniifolia
Davallia repens
Davallia palabra
Selaginella willdenowii
Selaginella picta
Diplazium cordifolium
Polypodium polypodioides
Cathodium sp.
Cochlidium serrulatum
Wabi-Kusa Mat Vesicularia montagnei
Wabi-Kusa Mat Taxiphyllum sp. 'Spiky moss'
Wabi-Kusa Mat Selaginella uncinata

Shooting date: December 23rd, 2019(ADA)
Creation: Kota Iwahori
ⒸAQUA DESIGN AMANO
The rays of Paluda Light 60 illuminates the leaves of
the jungle plants in blue

Paluda Light 60 is a lighting system specifically designed for System Paluda 60 with a focus on the growth of jungle plants. In conventional white LED lights, moss and plant leaves look yellowish. On the other hand, the leaves of jungle plants take on a blue tinge as seen in their native habitats under Paluda Light 60, which uses RGB LEDs with a wavelength configuration uniquely developed by ADA. It maximizes the charms of jungle plants by illuminating their red leaves and pink flowers vividly.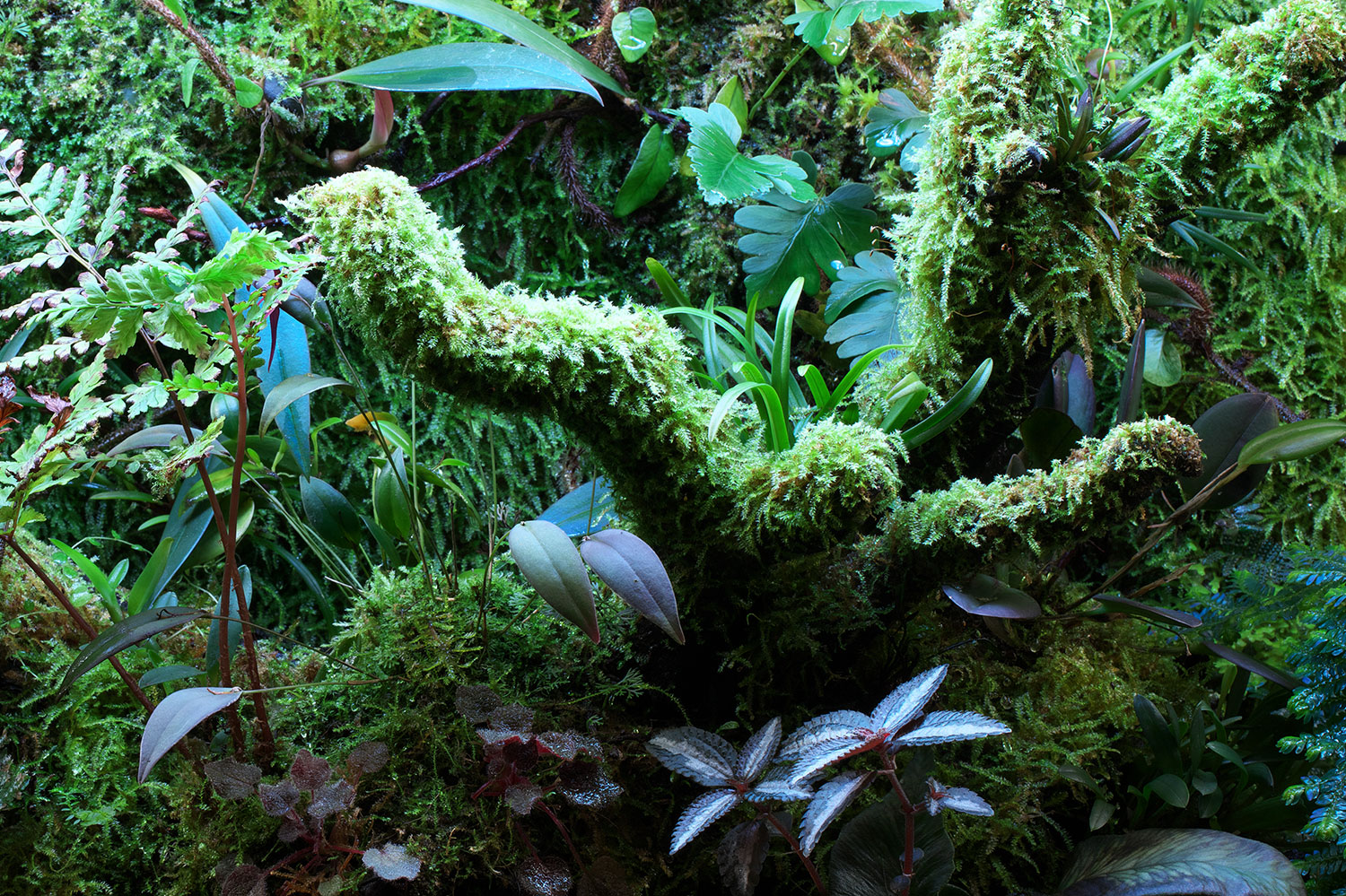 Creating cloud forests
By covering the driftwood branches with moss, I tried to depict the powerful vitality of moss grown trees. It creates an atmosphere of cloud forests along with mist generated by the Mistflow.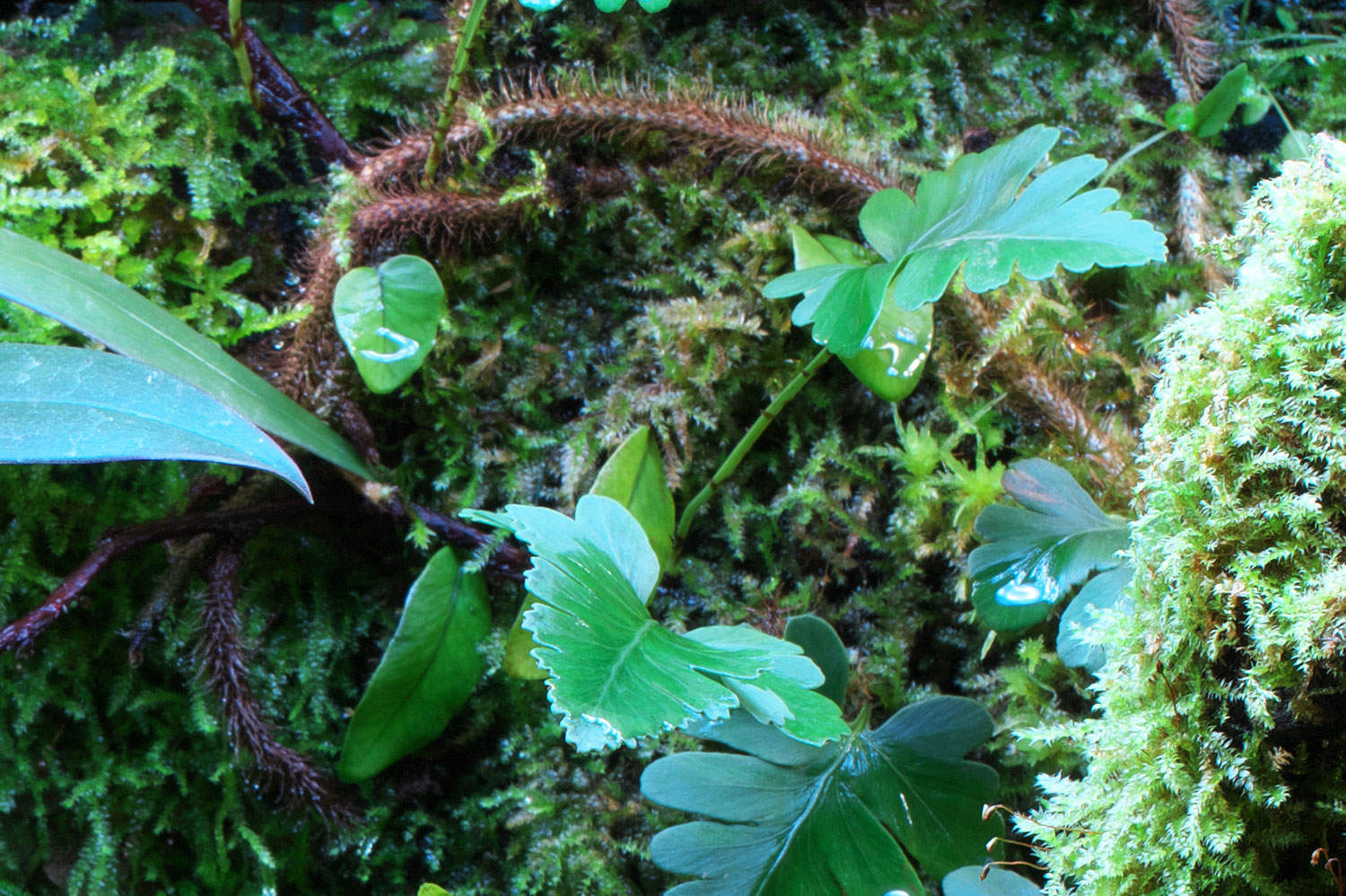 Planting on the Wall
Wabi-Kusa Mats on the back can grow a variety of epiphytes such as vine ferns and small orchids.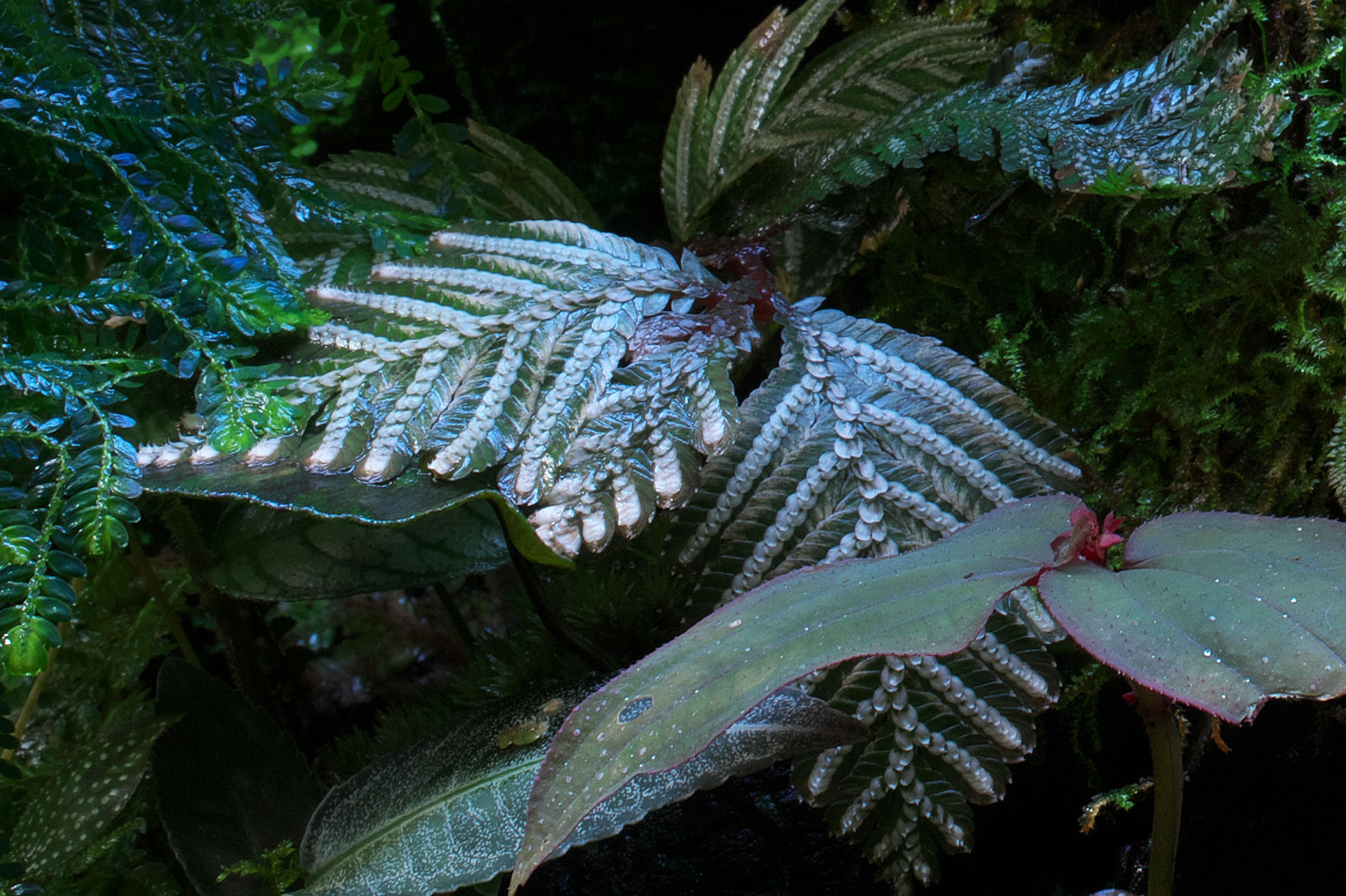 Planting in shade
By arranging eye-catching Selaginella picta in shade, the composition appears more 3 dimensional.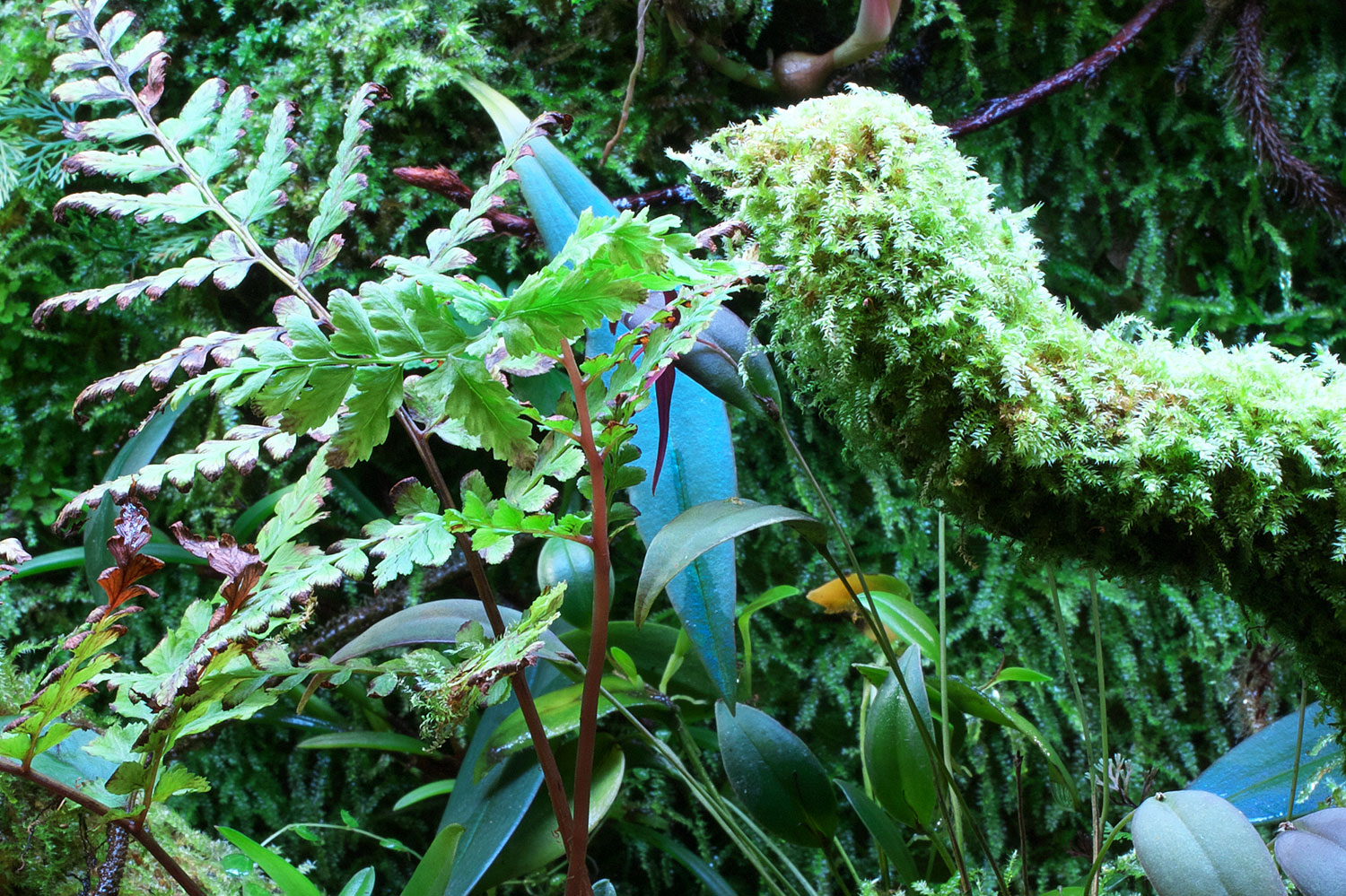 Lighting System Paluda
Small orchid flowers and blue tinted plants look even more attractive under the Paluda Light.  It beautifully illuminates Selaginella willdenowii and Bulbophyllum callichroma.