ADA Suikei Creator #03 Kota Iwahori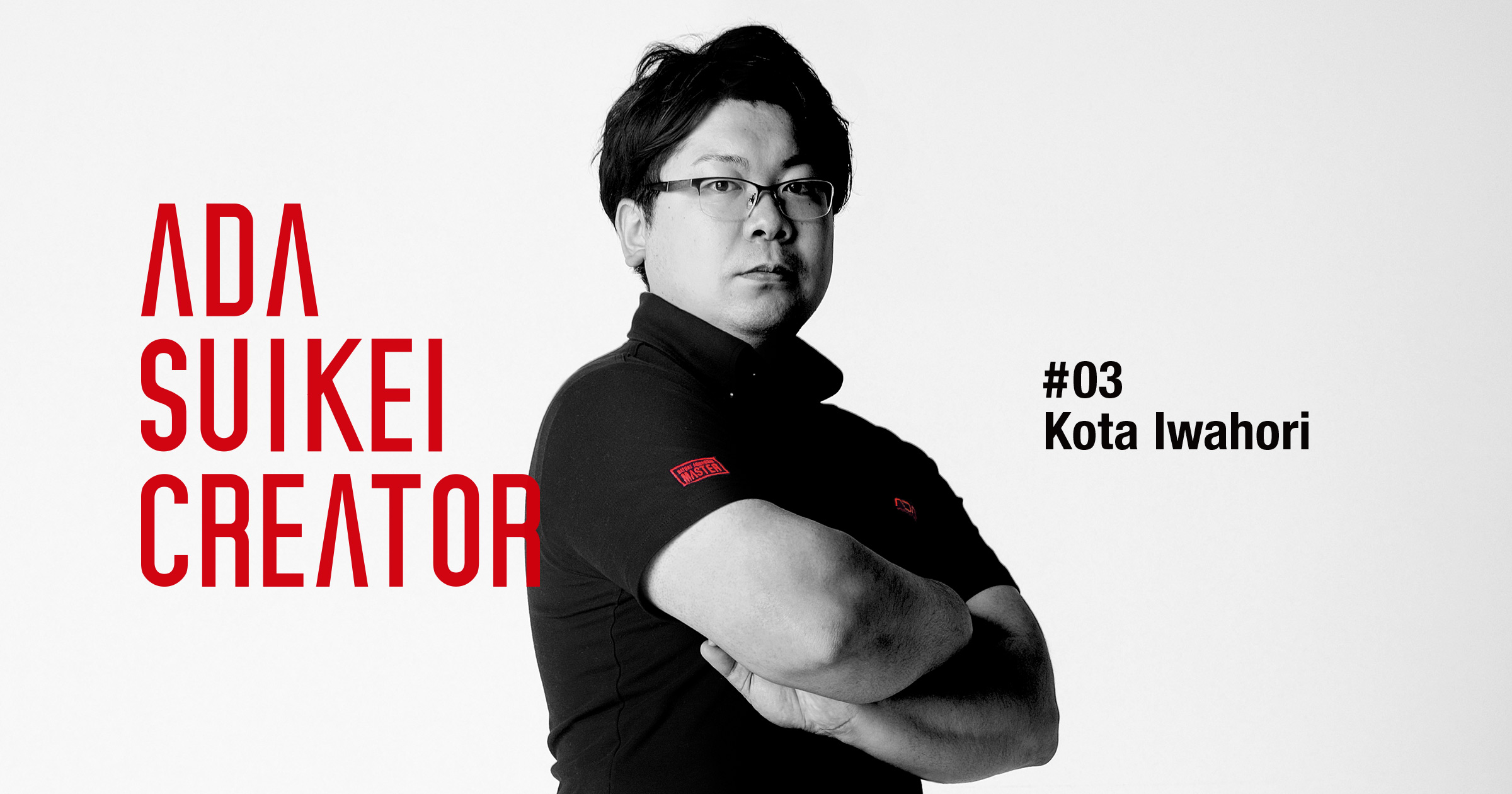 Sensing endless possibilities in the world of water and plants with DOOA

New style suggestions with DOOA
In the DOOA brand, one of the branding missions is to suggest new layout styles including Mizukusa Mist Wall. However, the origin of the Mizukusa Mist Wall was a development project that was initiated with Takashi Amano's words "I want to fill a wall with Wabi-Kusa". The way to enjoy aquatic plants on Wabi-Kusa Wall which was the most distinctive product when the DOOA brand started, was a very unique new style. Additionally, aquarium tank designs of Neo Glass Air, stylish Aqua Terrarium with System Terra 30, and recently, Begonia and small epiphytic orchids have been released as living products of Jungle Plants series. We have expanded the lineup to the Paludarium style which enables us to enjoy tropical plants that prefer humid environments in layouts. The reason ADA expanded the range of enjoyments so far was very simple. Because we wanted a lot more people to know the charms of tropical plants including aquatic plants. The reason why I wanted to become a Suikei creator was because I had a sense of mission to teach people about those charms. I would like to further develop the DOOA brand to bring new ideas to many people.



Sense of having flowers in a vase
When you hear Aquarium or Aqua Terrarium, you might think there are impressions of being difficult or troublesome. Although there is certainly such a side, I personally think that there should be a light-hearted sense of having flowers in a vase. Just by placing a Wabi-Kusa Echinodorus MIX in a Neo Glass Air and having a bit of floating plants float in the water, I would say it is sufficiently nice. I think decorating a room with a small Paludarium with Neo Glass Air would be delightful. Although the ADA Nature Aquarium brand is legitimate for mastering Nature Aquarium, I would like to suggest light-hearted delightful ideas in the DOOA brand. And expressions and charms of plants are not fully discovered yet. However, no matter how you enjoy them, unnatural planting is nonsense, and I would like to bring out potentials that plants have by planting and growing while thinking about each aspect of natural environment in terms of aquatic plants and jungle plants. I still have so much to learn……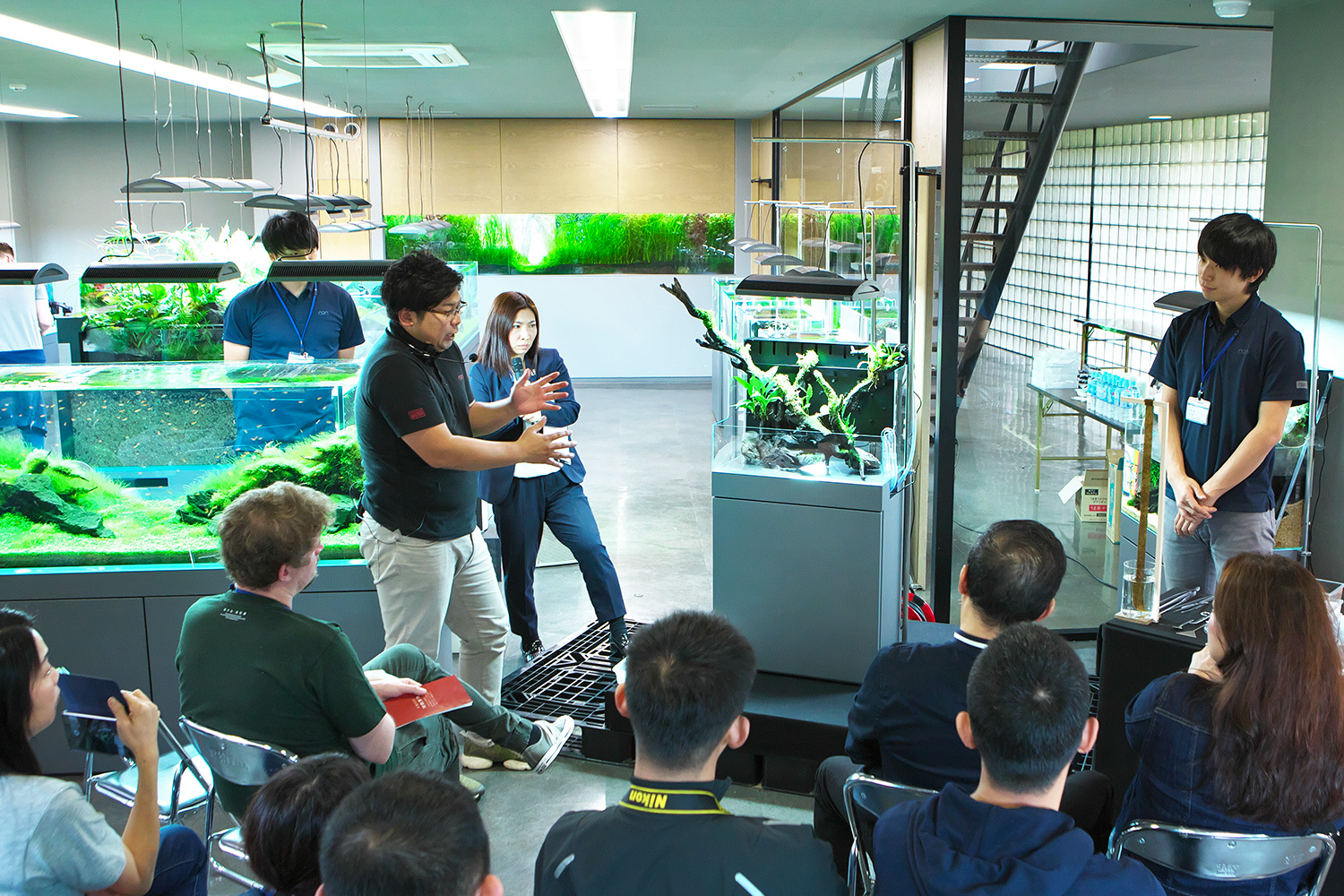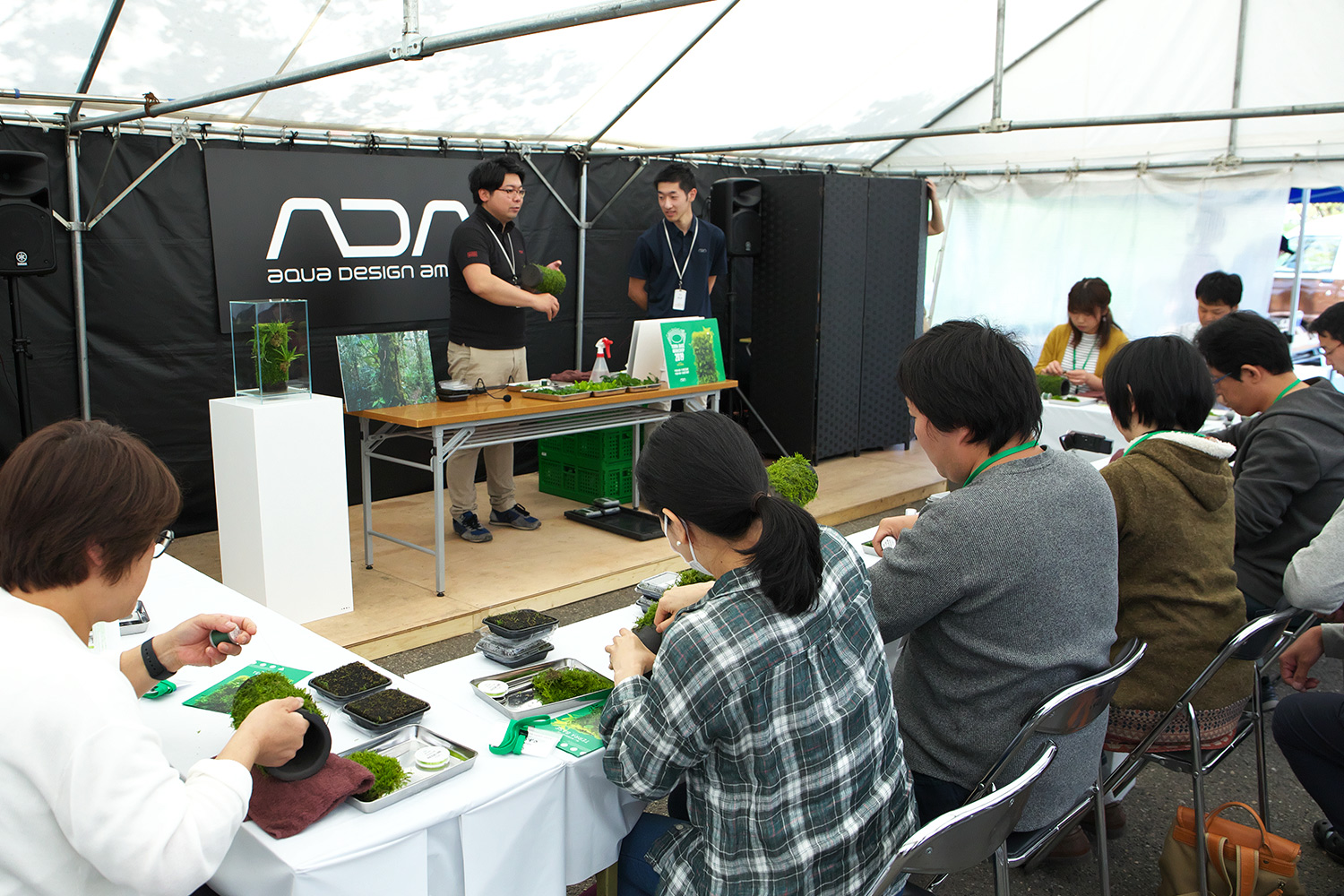 DOOA Workshop
In the DOOA workshops, because we are supposed to propose new ways to enjoy, many of the participants are first-timers regardless of professionals or amateurs. I try to keep in mind to explain to them carefully.
Tips for creating DOOA style
In wall style layouts, in addition to the foundation of expression in Nature Aquarium, extensive knowledge about nature and plants are required. And for simple layouts without composition materials, I think about bringing out charms and wild taste of aquatic plants and jungle plants in the production process. There are many expressions with macro-perspective in the layouts I get involved. In that respect, I often go out into the field along with stream fishing, and observing plants thoroughly helps me get inspired.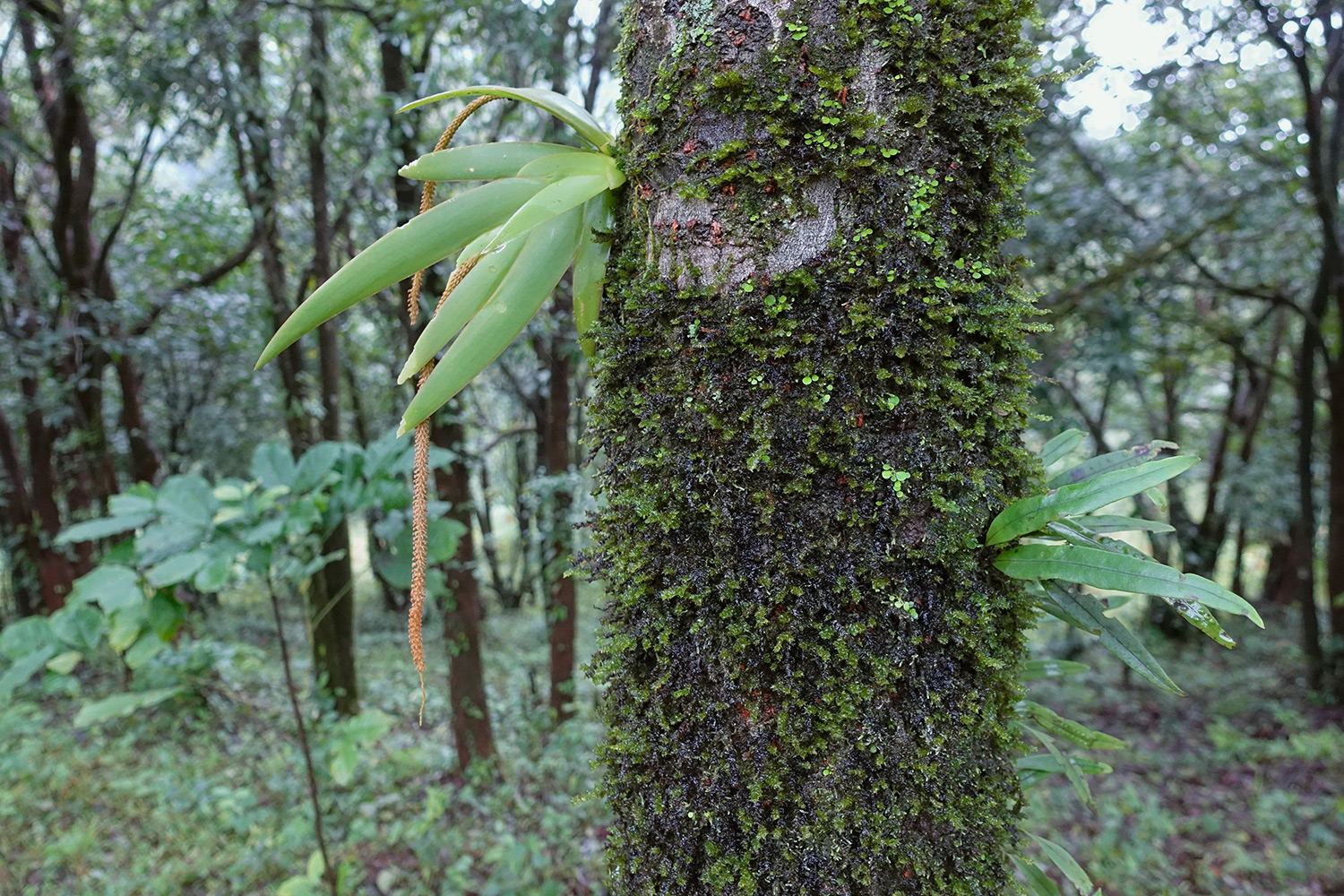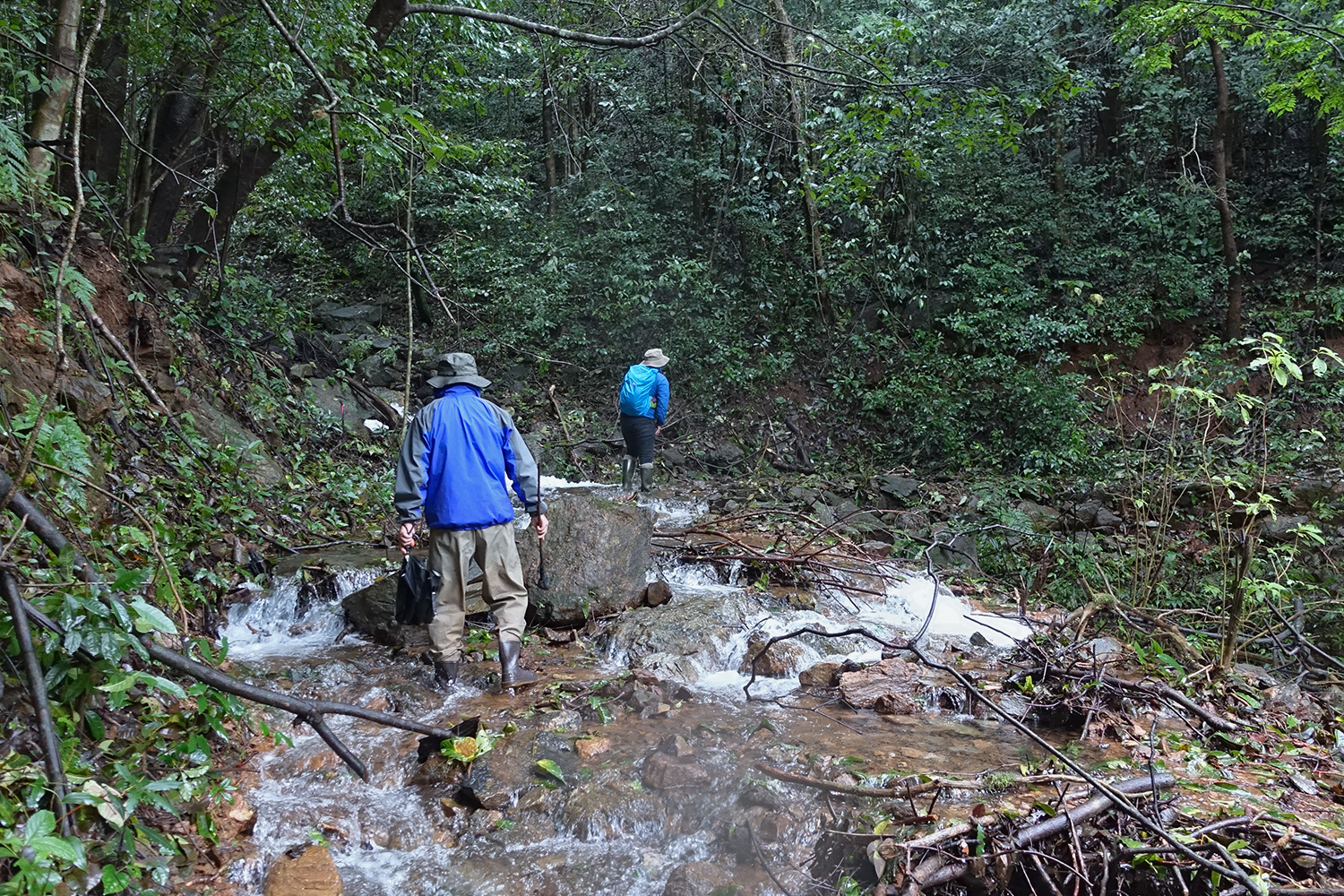 Fieldwork in Southwestern India
The scenery I encountered in the cloud forest inspired me to develop Terra Base. And when seeing the natural environments of epiphytes, the mist system is essential.
Sense of distance between people and aquatic plants
Nowadays, plants are actively incorporated into offices and commercial buildings, and our life and plants have a very close relationship. Although terrestrial plants are still mainstream now, as far as I'm concerned, I would like to keep suggesting display ideas for plants including aquatic plants. Even though it is generally called plants, there are a wide variety of species. They will become borderless between terrestrial and aquatic plants, and hence the indoor green can be enjoyed with various layouts and displays. Water and plants look great together, and I think that they will be getting more attentions in the future.  Consequently, I strongly feel that the ways to enjoy proposed by DOOA will bring our living spaces and plants including aquatic plants closer together.
"World of epiphytes"
For wall style layouts, epiphytes play an active role. When incorporating with orchids besides ferns and mosses, flowers can be enjoyed and it looks even more gorgeous.


Kota Iwahori
9th year since joining ADA. Father of 2. Enjoys a wide range of plants from wild flowers to cactus. Personal trend is aloe. Loves stream fishing, and 'Having coffee in nature is exceptional' says Kota. His coffee beans of choice are Indian Monsoon and Bali Arabica – Shinzan.