TOP OF THE WORLD 2020 #04 Albert Escrihuela Cáceres
THE INTERNATIONAL AQUATIC PLANTS LAYOUT CONTEST 2020
SILVER PRIZE
Albert Escrihuela Cáceres
Spain / Hokusai Katsushika

Plant
Vesicularia ferriei 'Weeping Moss'
Vesicularia ferriei 'Mini Weeping Moss'
Amblystegium serpens
Vesicularia montagnei 'Christmas Moss'
Taxiphyllum barbieri
Taxiphyllum alternans
Riccardia chamedryfolia
Monosolenium tenerum 'Pellia'
Bolbitis heudelotii
Microsorum sp.'Trident'
Microsorum sp. 'Narrow'
Eleocharis acicularis 'Mini'
Eleocharis acicularis
Eleocharis parvula
Hemianthus callichitrioides 'Cuba'
Hemianthus micranthemoides
Micranthemum sp.'Monte Carlo'
Myriophyllum sp.'Guyana'
Bucephalandra sp.'Mini Catherine'
Bucephalandra pygmaea
Bucephalandra sp.'Mini Needle Leaf'
Bucephalandra sp.'Biblis Sky Blue'
Bucephalandra sp.'Godzilla'
Bucephalandra sp.'Mini Coin'
Cryptocoryne walkeri 'Lutea Hobbit'

Fish
Puntius denisonii
Otocinclus affinis
Caridina multidentata
Recreating natural scenes is art, it is a way of sending a message to respect nature and is to love and respect it with great passion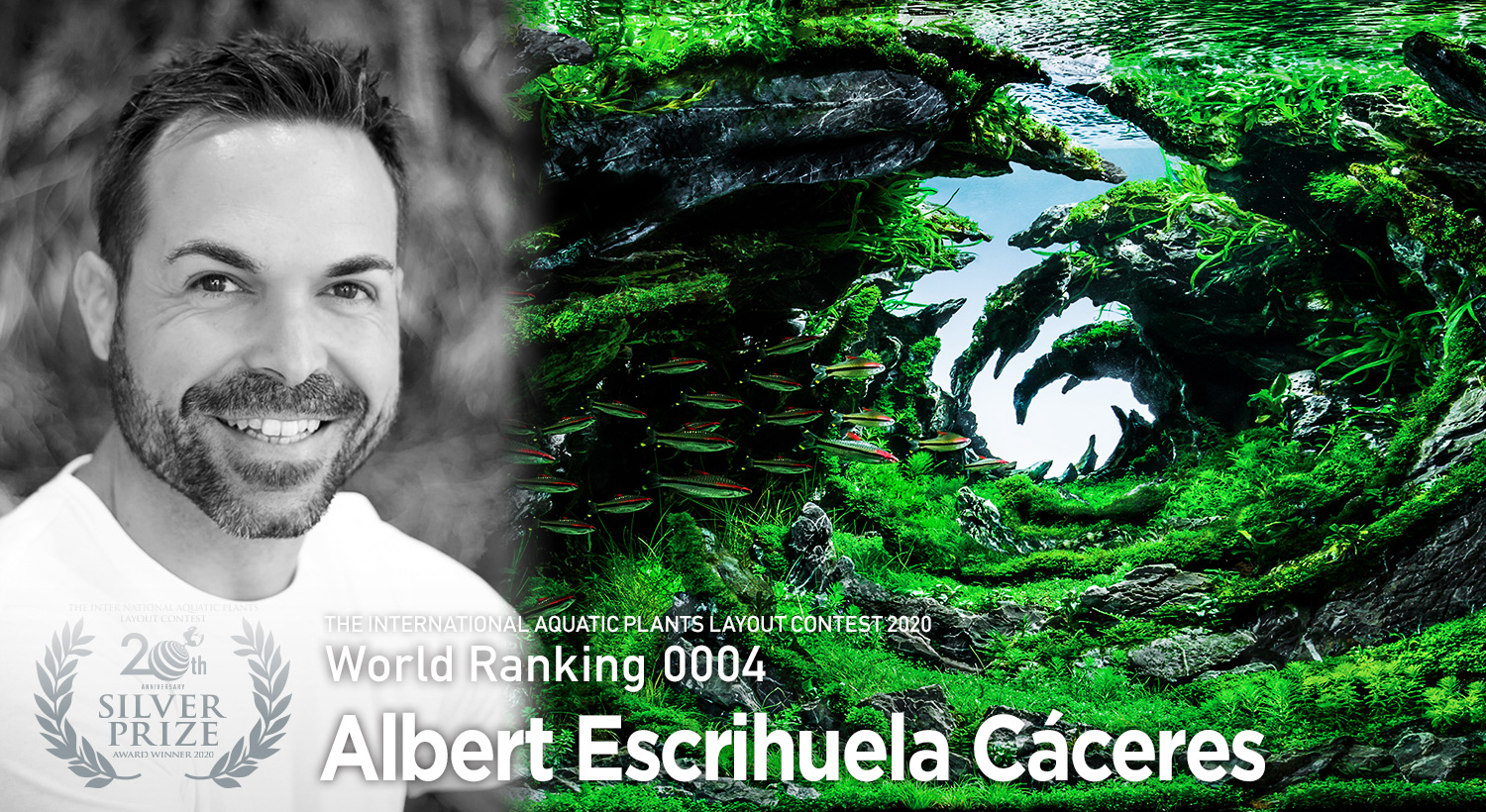 Age: 35 years old
Occupation:  Manager of NAscapers Acuarios Naturales and NAscapers Gallery
Years of experience in the aquarium hobby: 15 years
Any other hobbies besides aquarium: My other passion and hobby are bonsai. I have a private Japanese bonsai exhibition.
Record of awards in the past IAPLC :
IAPLC2008         270th
IAPLC2010         100th
IAPLC2013         58th
IAPLC2014         73th
IAPLC2016         101th
IAPLC2017         47th
IAPLC2018         106th
IAPLC2019         11th
AJ Please describe the moment when you first found out your ranking in the IAPLC2020.
I have very strong feelings for IAPLC and ADA. For many years, I have had a great passion for the Nature Aquarium. Being top 7 was one of the dreams of my life. When I was watching the live stream of IAPLC, I had a mix of emotions. I was very nervous because this work was one of the most risky layout that I had ever had but I was confident of the potential of it. When I saw my aquarium in ranking 4,  I remembered all works in previous years, my family, my parents, people I met in this beautiful hobby, and support from my customers and friends that I received in my shop gallery. Every year, the works of IAPLC are incredible, and some of them spectacular. I can perceive the hours of hard work on the layouts, and the talent of the aquascapers.
AJ Tell us what you wanted to express with your layout work; layout theme, motif, ideas behind your winning work.
My inspiration comes from Katsushika Hokusai's
The Great Wave off Kanagawa
. This wave seems to me like a great work of art known all over the world. For me, this work expresses the strength and the fury of the Mother Nature and that is exactly what I wanted to express on my layout.
AJ What was the most difficult aspect of creating and maintaining this layout work?
The most difficult thing to achieve on this layout was giving the structures curve and movement. For me, it was supposedly a hard and difficult work.
In this layout we have three important things:
-Movement, it was very important that the judges would be impressed by the curves and the turns of the rocks.
-Impact, this aquarium must have big structures to create contrast of shadows and lights.
-Plants, I had to choose the right plants for this layout, mixing a lot of varieties to give naturalness.
AJ Tell us about the layout materials (rocks and driftwood) which were used for this layout work.
I really like the Ryuoh Stone (Amano Stone). I have used this stone for my layouts for many years. The shape and the texture of this rock are unique. I used approximately 520 kilos of high-quality rock after observing the material carefully and calmly to get the best out of the project.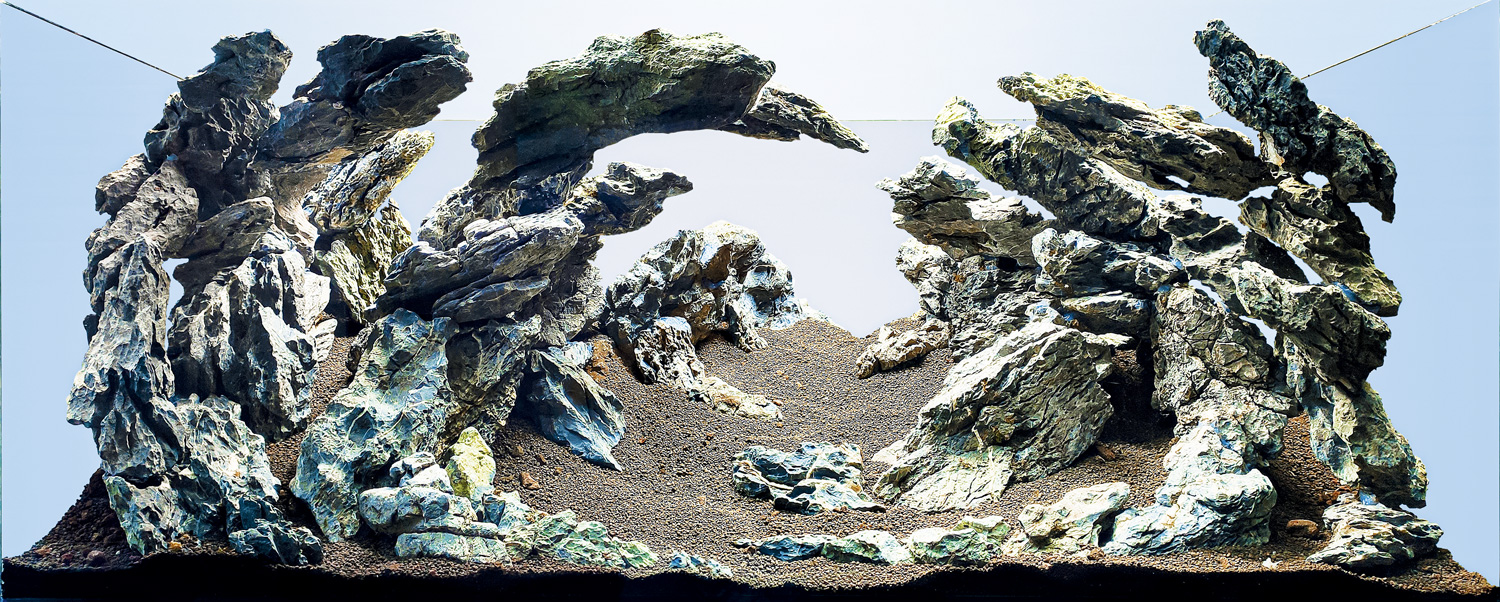 AJ What fascinates or attracts you the most about the planted aquarium hobby?
What I like the most about the planted aquarium and Nature Aquarium is the large amount of works we can do to develop the layouts. It is very exciting to design, plant, and work for a masterpiece every day and get the best out of the landscape. Recreating natural scenes is art, it is a way of sending a message to respect nature and is to love and respect it with great passion.
AJ If you belong to any aquarium circles or clubs, please tell us about their activities.
I am the founder of the Nature Aquarium VAT Club (Valencia Aquascaping Team) in Valencia (Spain). A group of friends who live for the Nature Aquarium with great passion, good people who share the same feeling about this hobby. We are a great team, we help each other to improve our designs and most importantly, we are a team, we are not competitors.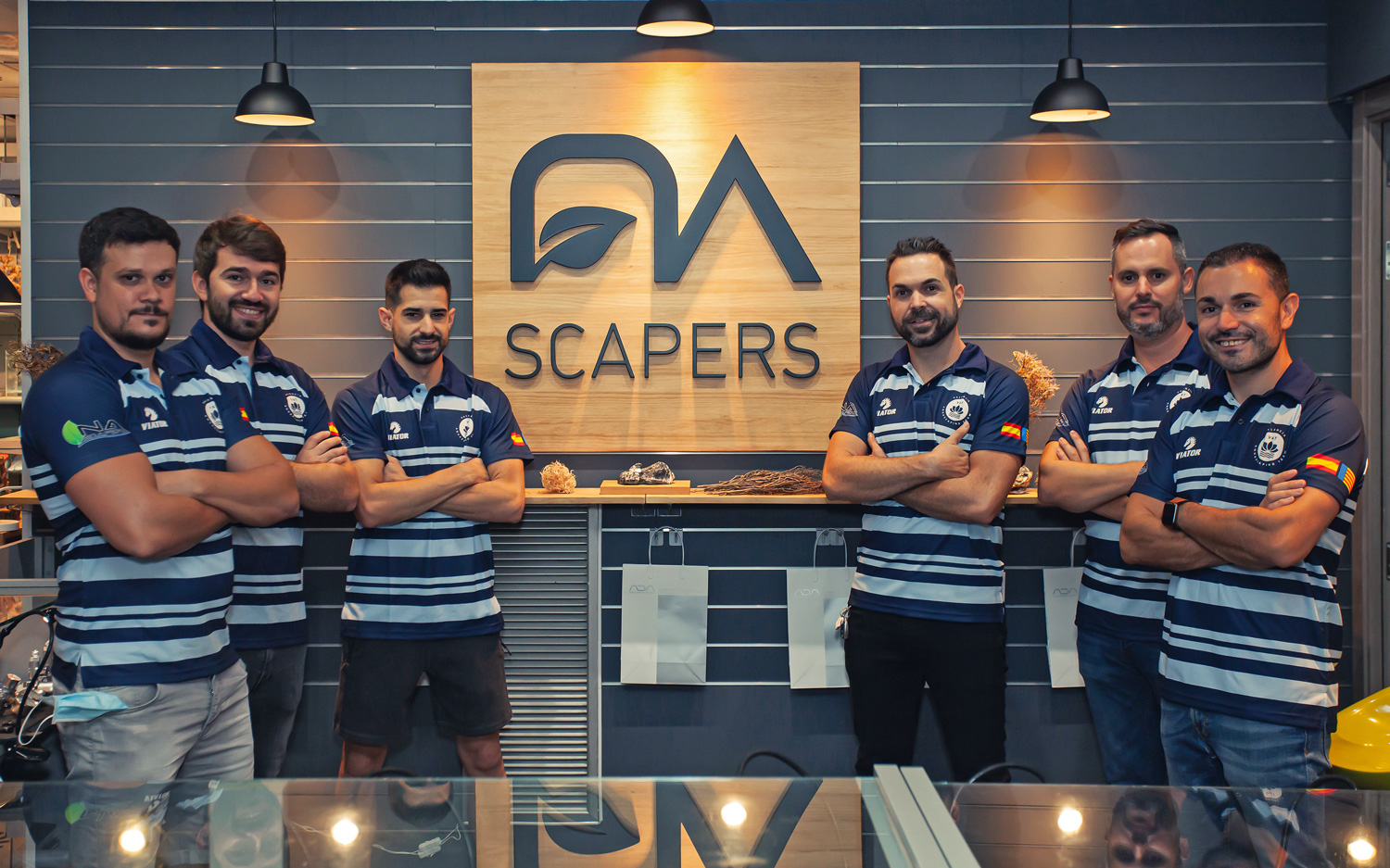 AJ What do you think about the IAPLC?
IAPLC for me is much more than a contest, it is a feeling, a passion, an illusion. It is the best Nature Aquarium contest in the world with the best Aquascapers, where you can see the best natural creations among crystals on planet earth. This year has been my 13th time at IAPLC and each year I am more excited about the following year. Thanks to my sensei Takashi Amano, I have a story.
In 2008, I saw an aquarium on the internet, it was so beautiful that I couldn't sleep all night looking for its author. At dawn, after many hours I discovered that it was from Takashi Amano. Early morning I discovered Takashi Amano, founder of ADA, since that moment I felt a great admiration for him and his brand. I have a painting that my talented father gave me, it means a lot to me.