TOP OF THE WORLD 2020 #03 Sim Kian Hong
THE INTERNATIONAL AQUATIC PLANTS LAYOUT CONTEST 2020
SILVER PRIZE
Sim Kian Hong 
Malaysia / Pure

Plant
Bolbitis heudelotii
Cryptocoryne sp. parva
Fissidens fontanus
Eleocharis acicularis
Eleochalis sp.
Helanthium tenellum
Hemianthus callitrichoides 'Cuba'
Nymphaea micrantha
Nymphaea stellata
Nymphaea rubra
Nymphaea lotus 'Green'
Vesicularia dubyana

Fish
Pterophyllum altum
Crossocheilus oblongus
Otocinclus affinis
Caridina multidentata
I want to create a true underwater layout that can bring us back to the root of this hobby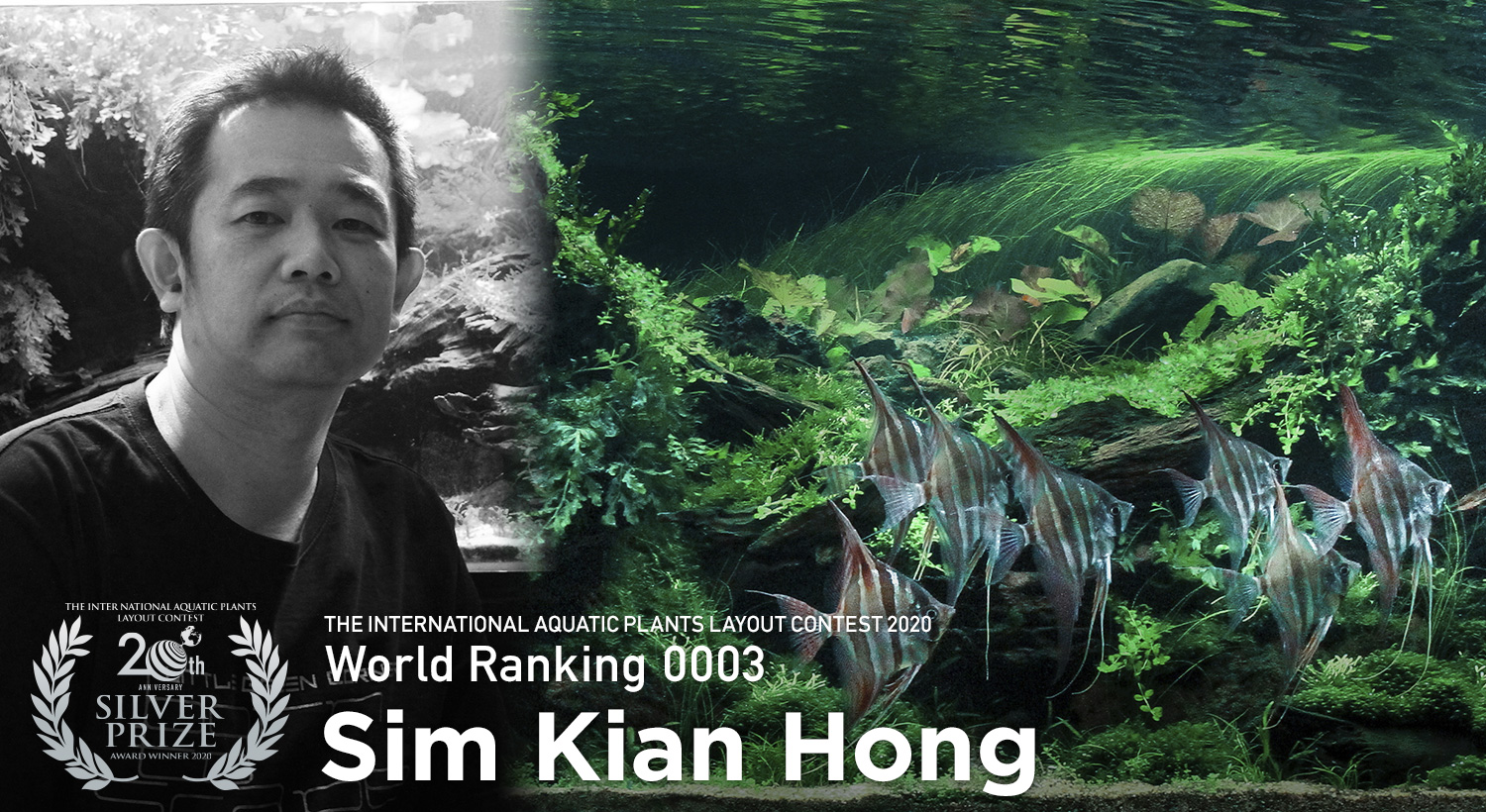 Age: 47 years old
Occupation:  Manufacturing Industry (General Manager)
Years of experience in the aquarium hobby: 13 years
Any other hobbies besides aquarium: Photography, Painting, Gardening, Cooking
Record of awards in the past IAPLC :
IAPLC2009         4th
IAPLC2010         151th
IAPLC2011         21st
IAPLC2012         49th
IAPLC2013         4th
IAPLC2014         119th
IAPLC2015         6th
IAPLC2016         25th
IAPLC2017         1st
IAPLC2018         20th
IAPLC2019         1st
AJ    Please describe the moment when you first found out your ranking in the IAPLC2020.
It was an unbelievably exciting and extremely cruel way of announcing the IAPLC 2020 result. The main concern that all participants had in mind was: we were not even sure if our names will be in the top127 announcement list. So, at the beginning of the announcement, we were very worried that our names will be called out too early, but toward the end of the announcement, we were even more worried that our names will not be called out at all. This mixed feeling happened to me on the night of the announcement. A few of us from different countries (Malaysia, Taiwan, Indonesia and Thailand) were watching it together using video conferencing tool. So when the announcement started from 127, I was quite worried that I would hear my name very soon. When the announcement reached Top27 and my name has not being called out yet, I felt relief as there is hope that I am in the top27. However, when my name was still not being announced when it reached Top7, my heart started to beat very fast and I told my family members around me, I may not be in the top127 list at all. Every name that was being announced from Top7 onward seems to take forever and the waiting period is just killing me. Finally when I heard my name and saw my tank photo at Ranking Number 3, I raised both my hands and sighed with a huge relieve. My friends in the video conference were shouting and applauding, my kids around me were also shouting and jumping up and down, it was such a beautiful moment. Waiting for the result letter/EMS was very torturing every year but this year, the torture has just gone 1 level up! An unforgettable night…….but I hope next year we will go back to the letter announcement.
AJ  Tell us what you wanted to express with your layout work; layout theme, motif, ideas behind your winning work.
This layout was created as a tribute to Mr. Amano and Nature Aquarium. I would like to create something that is very classic, without using fancy theme or extravagant technique. I want to do something that Mr. Amano would do in the older days of aquascaping. I think this is very fitting to the 20th anniversary of IAPLC by paying this special homage to the founder and creator of Nature Aquarium. One of the bold decisions I made was to use black background, as it is not common to have top ranking tanks with black background in the modern aquascaping contest. But I feel that the black background can really bring out the underwater atmosphere I want to create and it will give the overall layout a nostalgic feeling. I am very happy with the effect.
AJ What was the most difficult aspect of creating and maintaining this layout work?
I started the layout quite late this year in early March so I have only 3 months to make the tank into the top condition. It will not be too much of a problem if I hadn't use
Bolbitis
. We all know that
Bolbitis
is a very slow growing plant and 3 months is quite challenging to get this plant into good shape. When it came to the mid of April, I had a feeling that my
Bolbitis
will not get it in time to form the shape I want. But I do not want to change it because using
Bolbitis
with
Altum Angels
is the main part of my plan as this is the combination in Mr. Amano's tank at his home that give me such a deep impression, so for a tank that was designed to pay tribute to Sensei, I must keep the
Bolbitis
. To overcome this problem, I had to source for
Bolbitis
from my friends and shops, which is not an easy way due to the lockdown in Malaysia during that period. I managed to get some new
Bolbitis
to be added into the tank and during the last 6 weeks, I increased my lighting period, increased fertilizer and CO2 dosing and having water change 3 times a week, in hope that the
Bolbitis
can grow faster. By end of May, although the
Bolbitis
is still not at the optimum shape but it at least fulfilled my minimum requirement of how the tank should look like.




AJ What kind of aquascape do you want to create in the future? Do you have any dreams relating to the aquarium hobby?
I want to create a true underwater layout that can bring us back to the root of this hobby when Mr. Amano created it. I hope to avoid making something that is too "dry" and resemblance of landscape sceneries. My dream is to promote this hobby in Malaysia and around the world so more people can enjoy the true beauty of Nature Aquarium.
AJ If you belong to any aquarium circles or clubs, please tell us about their activities.
I am the co-founder of an aquascaping club called Little Green Corner. It has 5 core members, 10 senior members and around 300 normal members. We are promoting aquascaping in Malaysia and Singapore, especially for aquascaping contest. Members will show their aquascaping work in our platform, the senior and experienced member of the group will give comment for improvement. This main objective of the club is to discover, encourage and groom newcomers in this hobby and prepare them for aquascaping contest like IAPLC.
AJ What do you think about the IAPLC?
As the MOST prestigious aquascaping contest in the world, IAPLC embodied the soul and pride of this hobby. It is the main engine that pushes the revolution of aquascaping and a big factor behind the increasing popularity of this hobby.