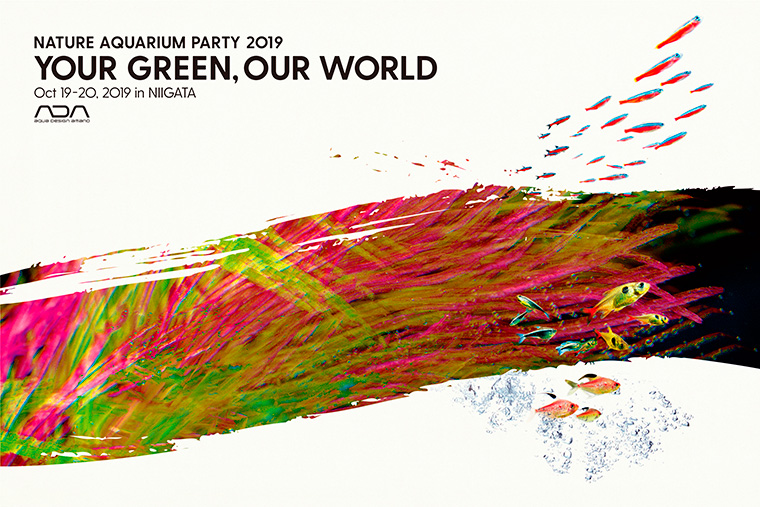 Application is started from today!

The spectacular event, "Nature Aquarium Party (NA Party)", is a perfect finale closing the International Aquatic Plants layout Contest every year. In the year 2019, the NA party will be held on Saturday, October 19!

Last year, the NA Party celebrated the winners of the IAPLC 2018 in front of a packed hall of around 250 guests and aquarists around the globe who logged on to watch the event. And, it offered the first demonstration of new products, a BBQ lunch party and other fun events on the second day.

The party will be organized in Niigata, Japan again this year. Come to the party and catch up with the fellow aquarists of the world in Niigata, this fall!



▼Date / Venue
Nature Aquarium Party 2019
Oct 19 - 22, 2019
Niigata, JAPAN

1st day: Saturday, October 19.
Nature Aquarium Party 2019
Venue: ANA Crown Plaza Niigata, 3FL Convention Hall "HISHO"
https://www.ihg.com/crowneplaza/hotels/gb/en/niigata/kijcp/hoteldetail
*Please do not inquire them regarding the event's contents

12:30 - Registration opens
13:30 - Ceremony starts


2nd day: Sunday October 20
Venue: ADA HQ
A free shuttle bus from hotel to ADA HQ is available.
Free shuttle bus connecting ADA HQ and other event venues will be available Free dismissal (Party ends: 15:00)
Shuttle bus to Minoya Hotel is available for guests who stay there on Oct 20.
Also, shuttle buses bound for Tsubame-sanjo station (3 buses),
Niigata Airport - Niigata station (1 bus) will be available from 12:50.


▼Basic plans
・One-day plan JPY 9,000 (tax incl.)
Saturday Oct 19, one day plan (participating party only)
Souvenir to participants will be given.
*This will not include the 2nd day at ADA headquarters

・Two-day plan JPY 14,000 (Tax incl.)
This plan includes Saturday Oct 19 to Sunday Oct 20 at ADA HQ.
Souvenir to participants will be given.

*Fees do not include accommodation fee on Oct 19. To find out fee and details, please check the registration site.
*Fees do not include transportation fee nor parking lot for the 1st day.
*Fees can be differed based on your plans after Oct 20. To find out fees and details, please check the registration site.


▼Lodging from Oct 20 to 22
Hotel will be "Minoya Hotel."
http://www.minoya.net/english/
*We will try to accommodate your requests, but we cannot guarantee these requests will always be met, due to coverage and scheduling constraints.


▼Online Registration Deadline
August 31st, 2019 18:00 (JST)


■Please visit the site below for details and application form.
http://en.iaplc.com/party19/index.html

[IMPORTANT] Registration for Nature Aquarium Party 2019
*Application will be closed when it reaches the capacity. Advance reservation required.
*For Cancellation Policy, please follow cancellation policy of JTB Corp. For the detail, please check it when you register.
*In this Nature Aquarium Party 2019, JTB Corp. organizes lodging plan. Should you have any questions regarding lodging plans, please inquire them.
*If you have any questions about event contents of Nature Aquarium Party and following events, please contact us (online_support@adana.co.jp).