NATURE IN THE GLASS 'Guardian Stone'
Small living creatures gathering around a massive stone

The layout has a relatively large Manten Stone for the size of a W36cm aquarium tank. I created this layout as envisioning the generosity of a massive stone standing magnificently while warmly watching over the life living there. For a typical layout, we usually perform trimming as giving the line of aquatic plants inclination to either left or right. However, because I wanted to express lives that are snuggling up to the massive stone, I purposely maintained the aquatic plants along the outer line of the stone. Because I planted stem plants to add a colorful touch to the Manten Stone, a gentle and delicate impression was also added. Small aquarium tanks provide us the best learning opportunities. I hope that readers would give it a try.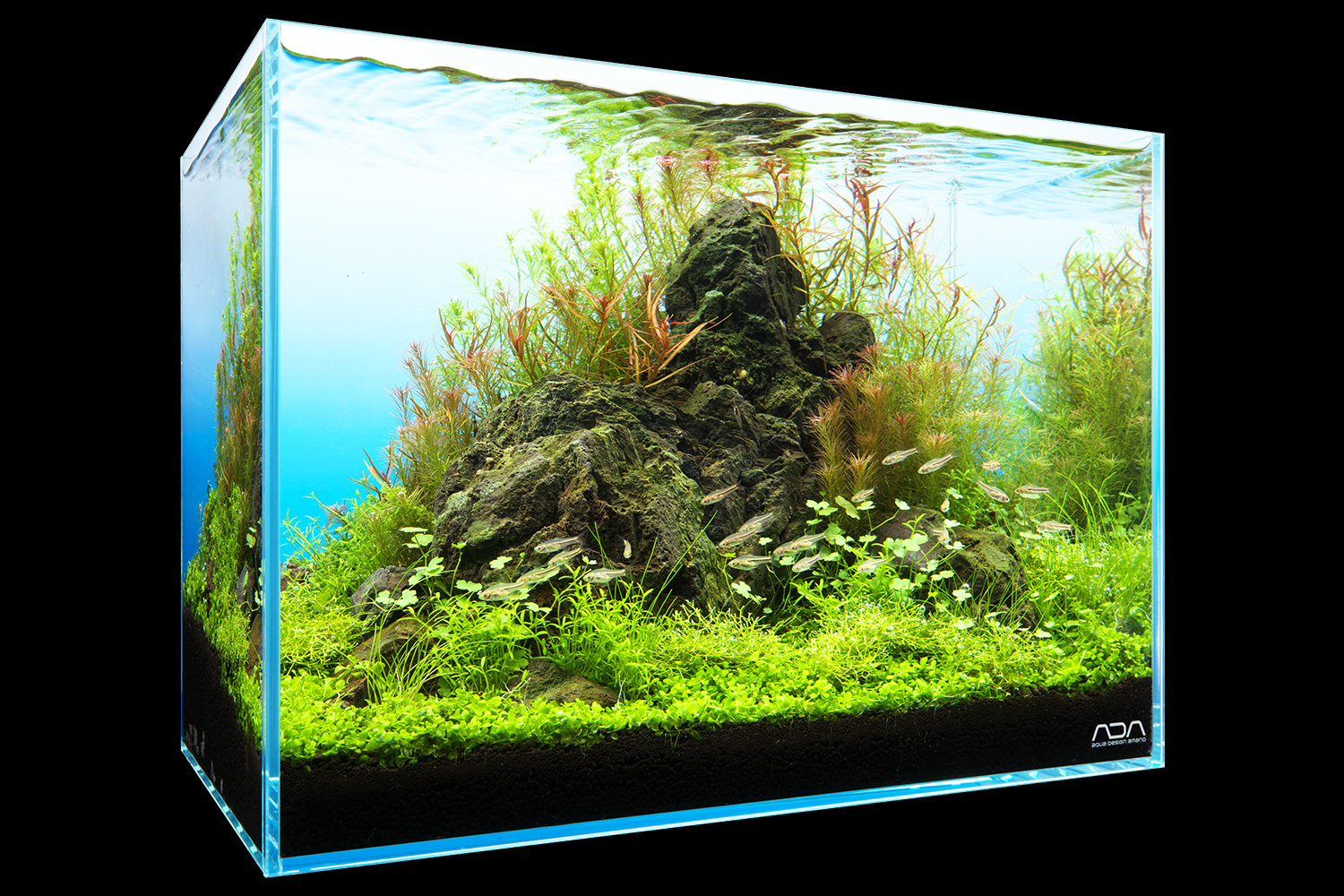 DATA

Shooting date: May 18th, 2021(ADA)
Creator: Naru Uchida
Aquarium: Cube Garden  W36×D22×H36(cm)
Lighting: DOOA Sol Stand RGB x 1, turned on for 8.5 hours per day
Filter: Super Jet Filter ES-150(Bio Rio G)
Material: Manten Stone
Substrate:  Aqua Soil – Amazonia Ver.2, Power Sand Advance S, Bacter100, Clear Super, Tourmaline BC
CO2: Pollen Glass Mini, 1 bubble per second via CO2 Bubble Counter (using Tower)
Aeration: 15.5 hours after the light is turned off using Lily Pipe Mini
Additives: Brighty K, Green Brighty Mineral, Green Brighty Iron, Green Brighty Nitrogen
Water change: 2/3 twice a week
Water quality: Temperature: 25ºC; pH: 6.4; TH: 50 mg/l

Plants
BIO Mizukusa no Mori Micranthemum sp.
BIO Mizukusa no Mori  Riccia fluitans
BIO Mizukusa no Mori  Hydrocotyle tripartita
BIO Mizukusa no Mori  Ludwigia arcuata
BIO Mizukusa no Mori  Rotala sp. 'Bangladesh'
BIO Mizukusa no Mori  Rotala sp.  'Vietnam'
BIO Mizukusa no Mori  Eleocharis acicularis
BIO Mizukusa no Mori  Microcarpaea minima

Fish
Trigonostigma somphongsi
Crossocheilus oblongus
Otocinclus sp.
Caridina multidentata


Delicate and Bold Iwagumi Techniques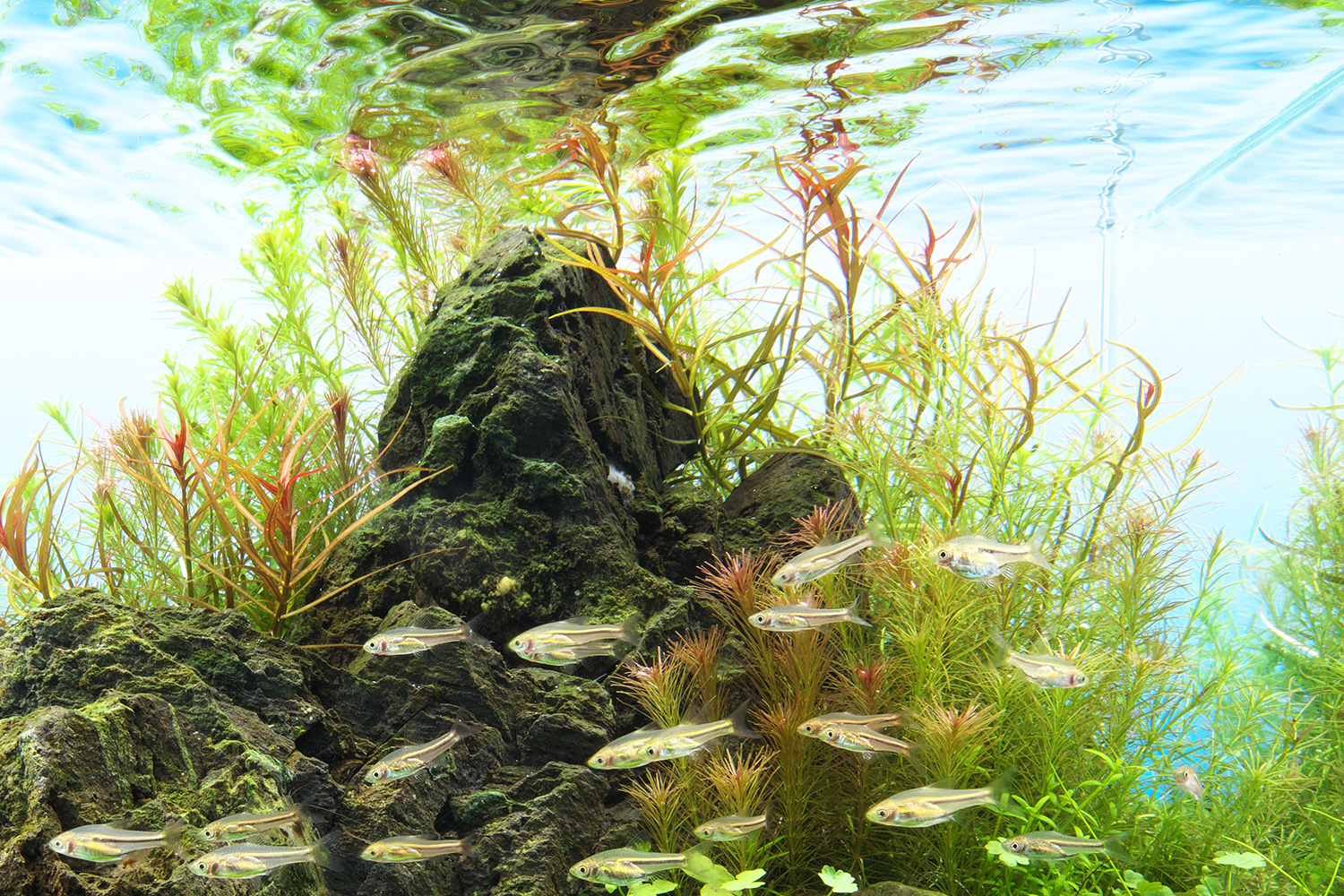 Hidden vitality in BIO Mizukusa no Mori
All the aquatic plants used for this layout were "BIO Mizukusa no Mori". Although the aquatic plants are short at the initial setup stage, the density is worth seeing when they are fully grown.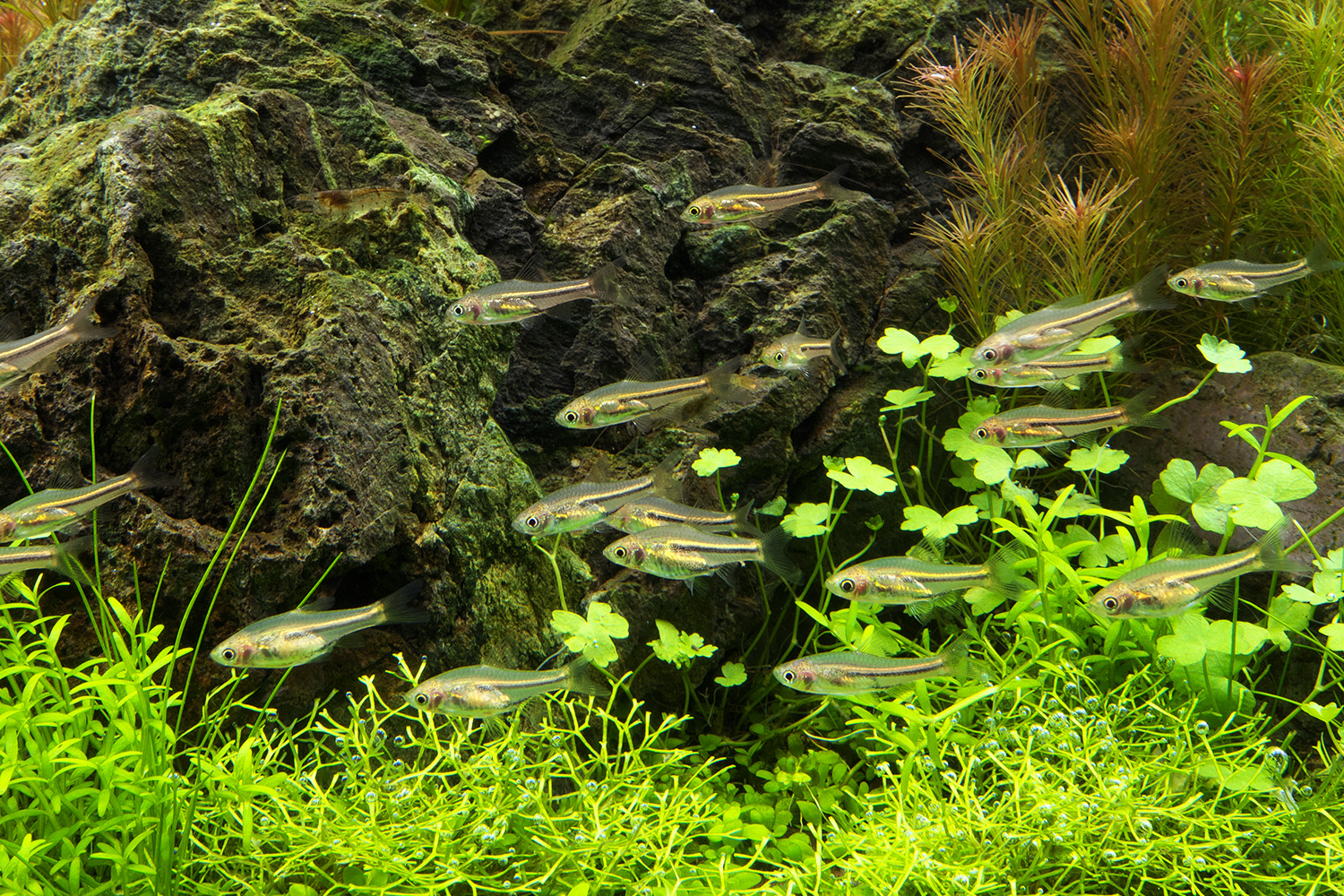 Camouflage color of fish
The fish look blended in with the surroundings because they are similar in color to the Manten Stone. But it is actually the camouflage color. I think it looks fine here because it is reminiscent of their natural habitat.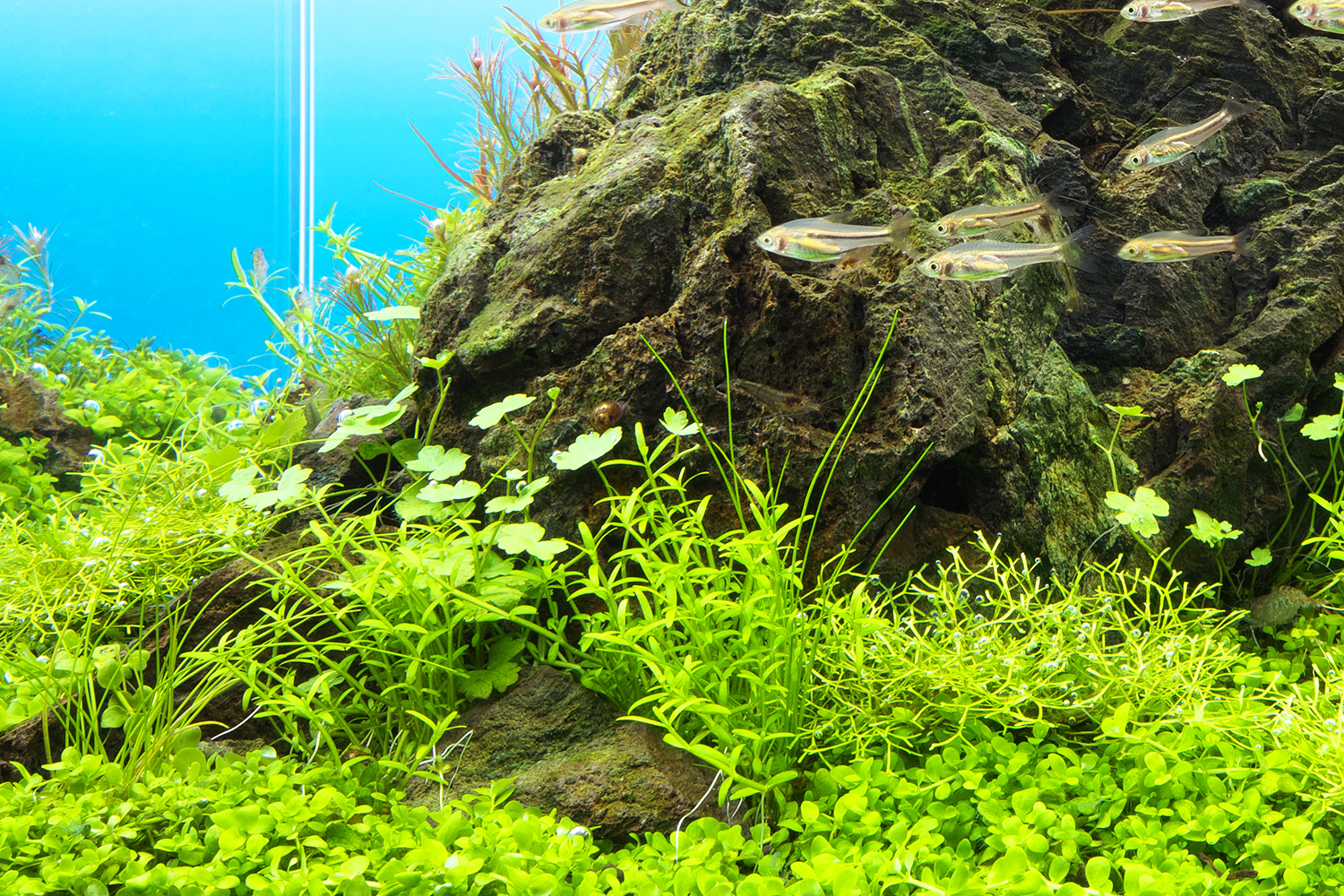 Burying the stone
At first glance, it may look that the stone was simply placed there, but a sense of stability and weight unique to Iwagumi is expressed by burying a part of the stone called stone root. If it is hard to bury the stone root, by planting aquatic plants or adding some smaller stones, it becomes easier to cover it.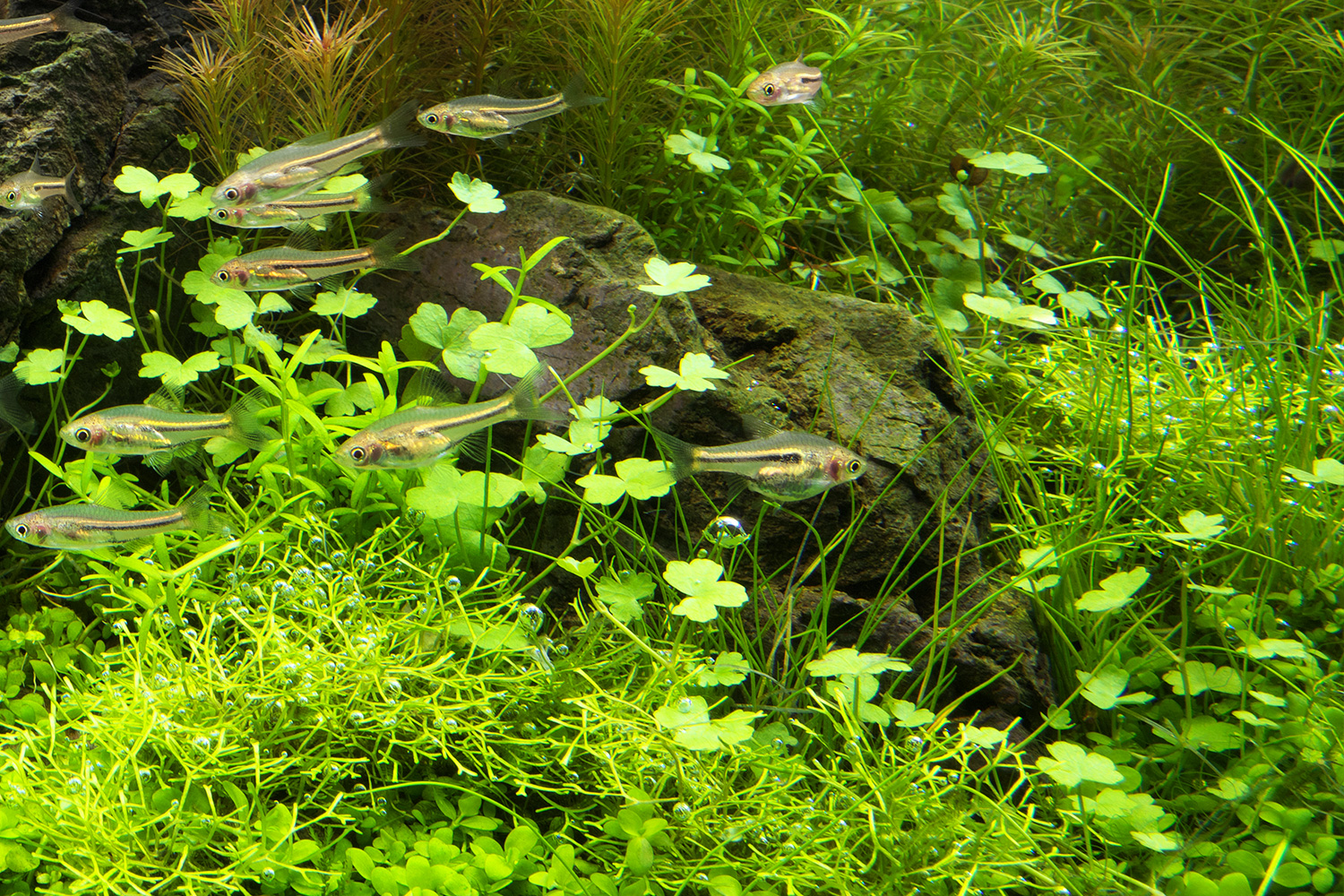 Creating natural feelings
Micranthemum sp. is planted primarily mixing with Eleocharis acicularis and Riccia fluitans. By mixing them together, the natural feeling increases, and random undulations are created in the aquascape.