ADA SUIKEI CREATORS #05 Daichi Araki
[SPECIAL FEATURE] ADA SUIKEI Creators

"NATURE AQUARIUM EXHIBITION 2021 TOKYO" (NAE) was held for 2 months. Five SUIKEI creators expressed their current best, and it became a starting point to further expand Nature Aquarium that they inherited. Now, after it ended successfully, we would like to ask them about their feelings and future goals.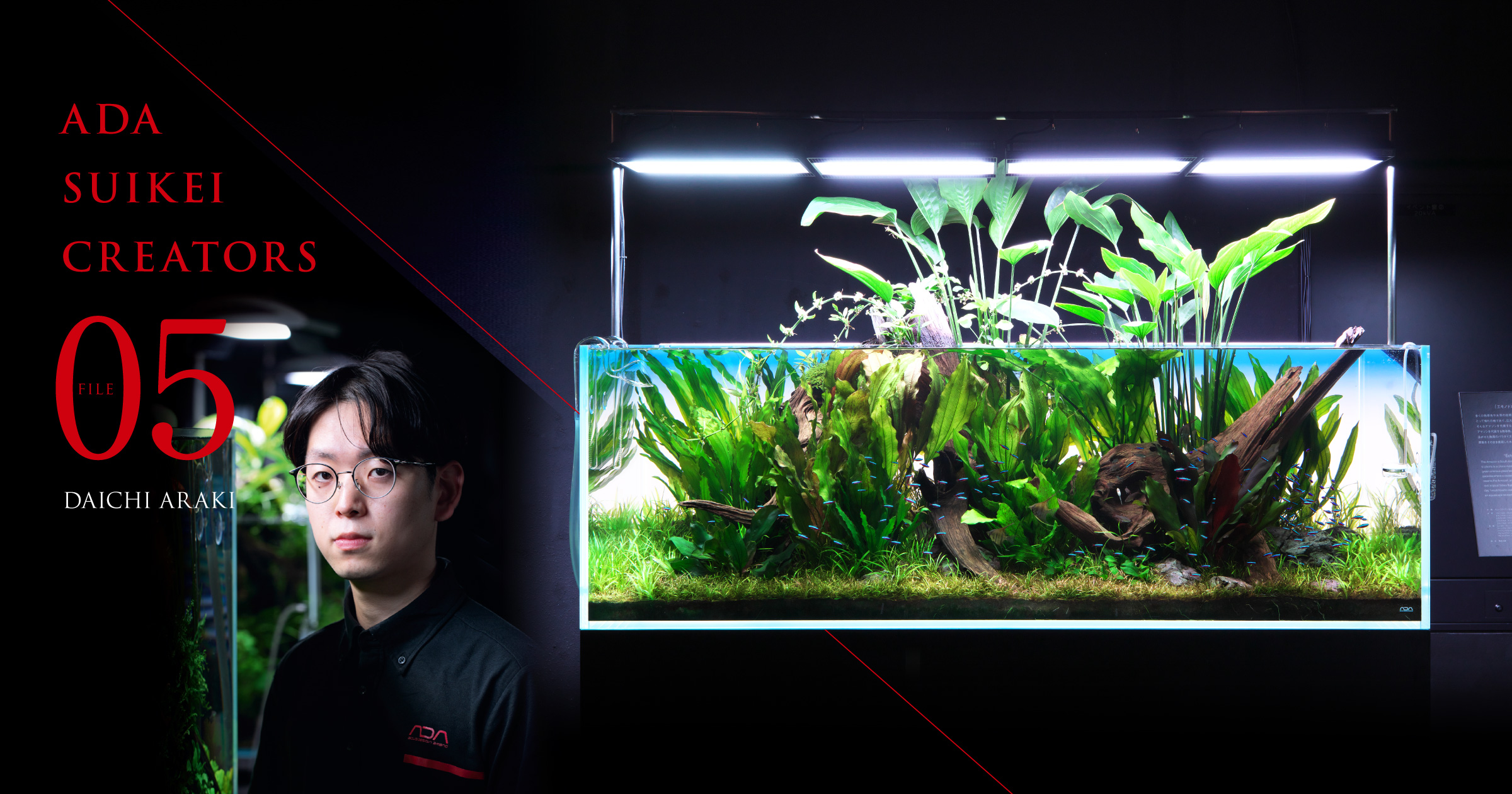 Aiming at bringing out the unique beauty of each aquatic plant.
An aquascape that conveys the beauty of individual plants.
One of the focuses of this event was to show how each Suikei creator interprets Nature Aquarium and expresses it in aquascapes. While producing my "Echinodorus Paradise", I focused on bringing out the natural beauty of aquatic plants so that visitors will realize that the plants themselves are truly beautiful. In this layout, the star of the show is, of course,
Echinodorus,
and I planted many different species in order to attract viewers to each unique species. I would feel rewarded if visitors not only look at the entire aquarium from a distance, but come up close to the tank and observe each individual plant. I was extremely impressed when I saw a social networking site where an aquatic plant enthusiast wrote a comment on the layout even mentioning scientific names of the species used. The layout took time to complete, allowing the aquatic plants to grow and develop, so I especially enjoyed reading comments from people who noticed the passage of time and understood its difficulties.
The quest for originality
The exhibition was a good opportunity for me to present my aquascape directly to a large audience, and to notice many things I usually overlooked when creating aquascapes for the Nature Aquarium Gallery. In every production, I carefully determine how to express the Nature Aquarium style in a layout. And especially this time, it took me a long time to develop an image for the layout because expressing my current best and making my own originality by standing out from the five ADA Suikei creators did not get along well together. Simply put, it was merely the result of lack of ability to express my own originality, unless I create something a little different from standards of Nature Aquarium. This is a clear area of improvement and future challenge for me. I would like to keep updating myself by developing my own interpretation of the meaning of "learning from nature" and exploring new themes.
Prospects for the future
Having overseas work experience, I currently work for the International Marketing Department. I have been working on my English language skills and would like to be able to provide timely information by myself without the need for an interpreter. The information sent out by ADA's Suikei creators is mostly Japanese based, so if I could communicate directly to overseas enthusiasts, that would be my strong suit. I had an opportunity to give a workshop in English and learned so much from it. And it made me want to provide not only information about aquascaping, but a wide range of topics, from my own experiences with our products to the small everyday happenings at ADA. This is because I am a staff member of ADA, but also an ADA enthusiast, so it would be wonderful if I could share these stories from a view point of an ADA fan. As for the layout production, I would like to create a Sanzon Iwagumi style layout, which I have never tried before. For me, the Sanzon Iwagumi style is something very special, and I used to think that I should not even try without a made-up mind. Digging deep into my creativity, I have come to a conclusion that there should be no contradiction between my willingness to create aquascapes by faithfully following basics of Nature Aquarium and my desire to create aquascapes that no one has ever seen before, and I should rather pursue both. I am fascinated by the underwater world in general-
swaying aquatic plants in the water, the ways how air bubbles form and the fish swim by. The book "Nature in Glass", which I got when I was still in high school, is now covered in sticky notes, and the ADA Nature Aquarium products I've used over years help me refocus on the roots of my passion. I would like to continue my activities so that Nature Aquarium will become more widely recognized and its beauty can be seen by more people than ever before. I am also keen to collaborate with other fields of art, such as music, film, flower arrangement, contemporary art and so on, as part of promotional activities.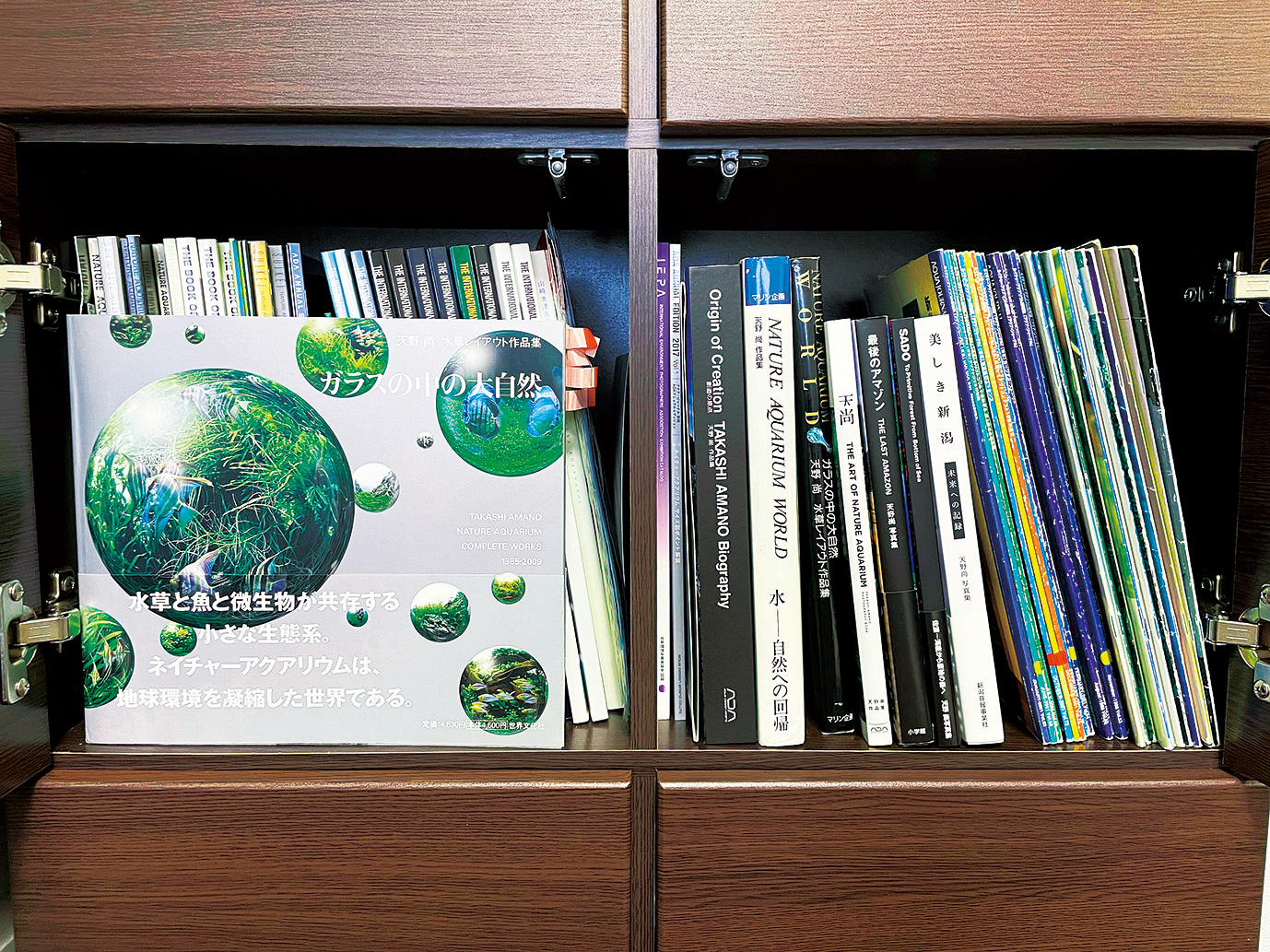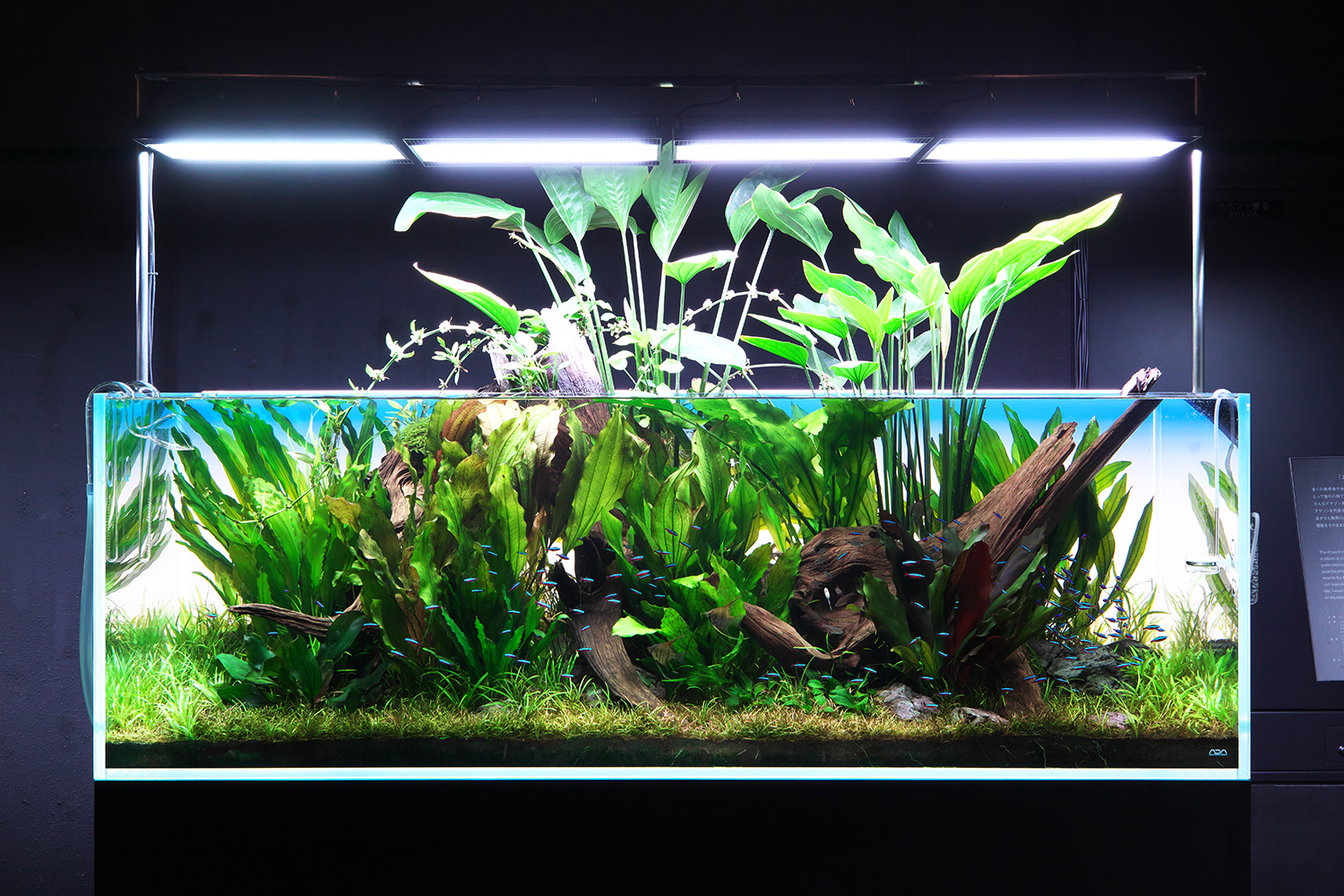 "Echinodorus Paradise"
Known as the home of many tropical fish and aquatic plants, the South American Amazon is an aquarist's dream destination, and is also called the green magic fields due to its vast tropical rainforest. I fantasized a tropical paradise with Echinodorus plants growing in clusters, and swimming angelfish and cardinal tetras, which all represent the Amazon. One day I would like to visit there, and create an aquascape that expresses all the inspirations I get from the Amazon.

DATA
Tank Size: Cube Garden W180×D60×H60 (cm)

Plant
Echinodorus argentinensis
Echinodorus 'Joyo Red Star'
Echinodorus major
Echinodorus 'Green Flame'
Echinodorus opacus

Fish
Pterophyllum scalare
Paracheirodon axelrodi
Hyphessobrycon sp.
Apistogramma bitaeniata
Apistogramma agassizii
Otocinclus sp.
Caridina multidentata