ADA SUIKEI CREATORS #01 Yusuke Homma
[SPECIAL FEATURE] ADA SUIKEI Creators

"NATURE AQUARIUM EXHIBITION 2021 TOKYO" (NAE) was held for 2 months. Five SUIKEI creators expressed their current best, and it became a starting point to further expand Nature Aquarium that they inherited. Now, after it ended successfully, we would like to ask them about their feelings and future goals.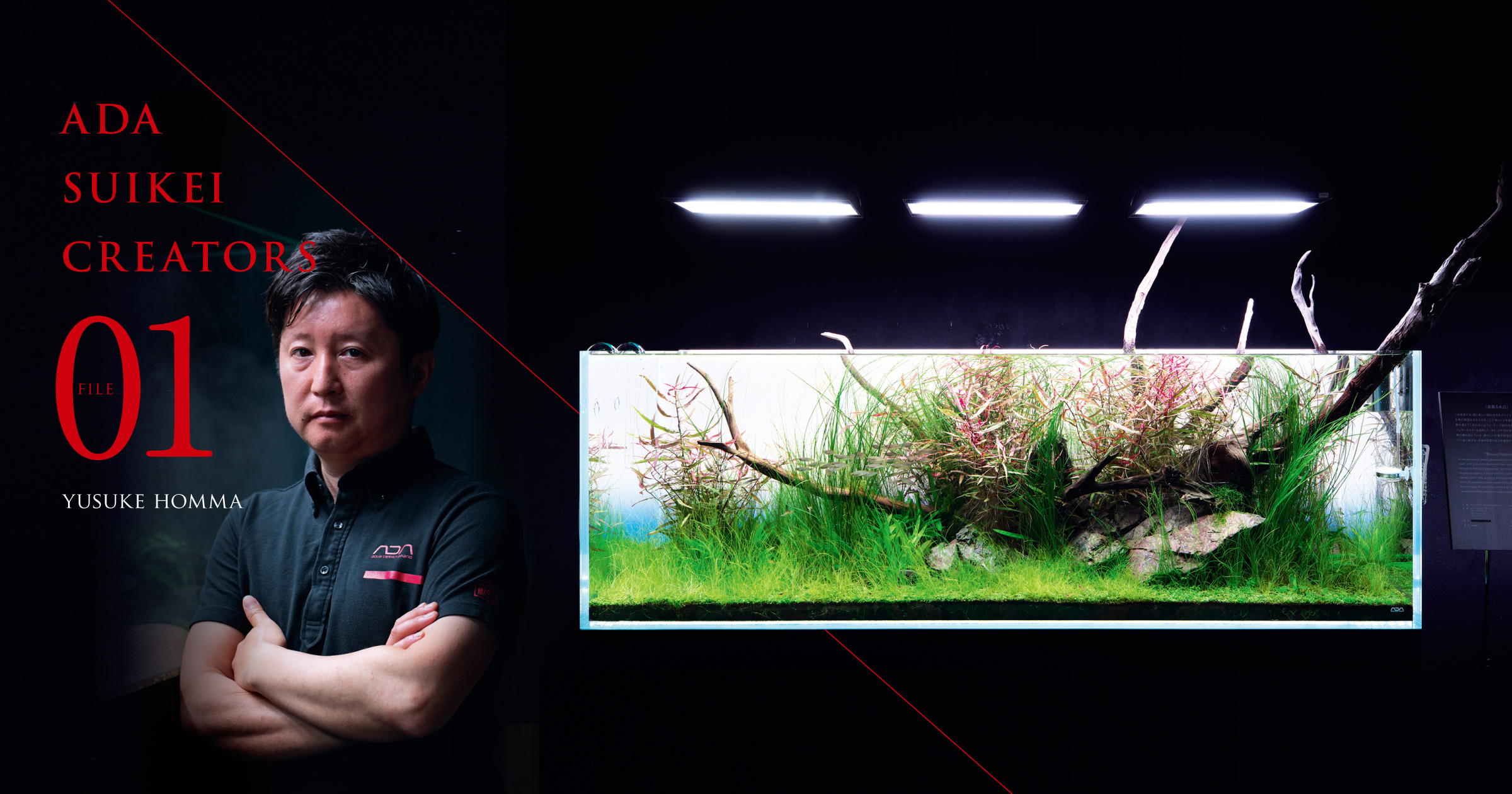 I would like to keep challenging myself to create aquascapes that reach viewers' hearts.

I would like to continue to work on Iwagumi.
In the exhibition in which "Inheritance" was a significant theme, what I was conscious of the most was Iwagumi layouts nonetheless. It is highly original even in Nature Aquarium, and I set Sanzon Iwagumi that is fundamental and classic as my current best and started creating. I was following the response on social media, and saw lots of favorable comments for the Iwagumi layout. I was a little surprised to see those responses because I thought realistic styled elaborated works are generally more popular as planted aquariums. But because of the encouragement, I was able to reaffirm the possibility of Iwagumi that I had always felt. Although it is a simple aquascape, I believe that many people can feel the depth, longing for nature, and love hidden in the aquascape. While faithfully adhering to basic ways of thinking and philosophy of Iwagumi, I would like to keep challenging myself to create aquascapes that reach viewers' hearts.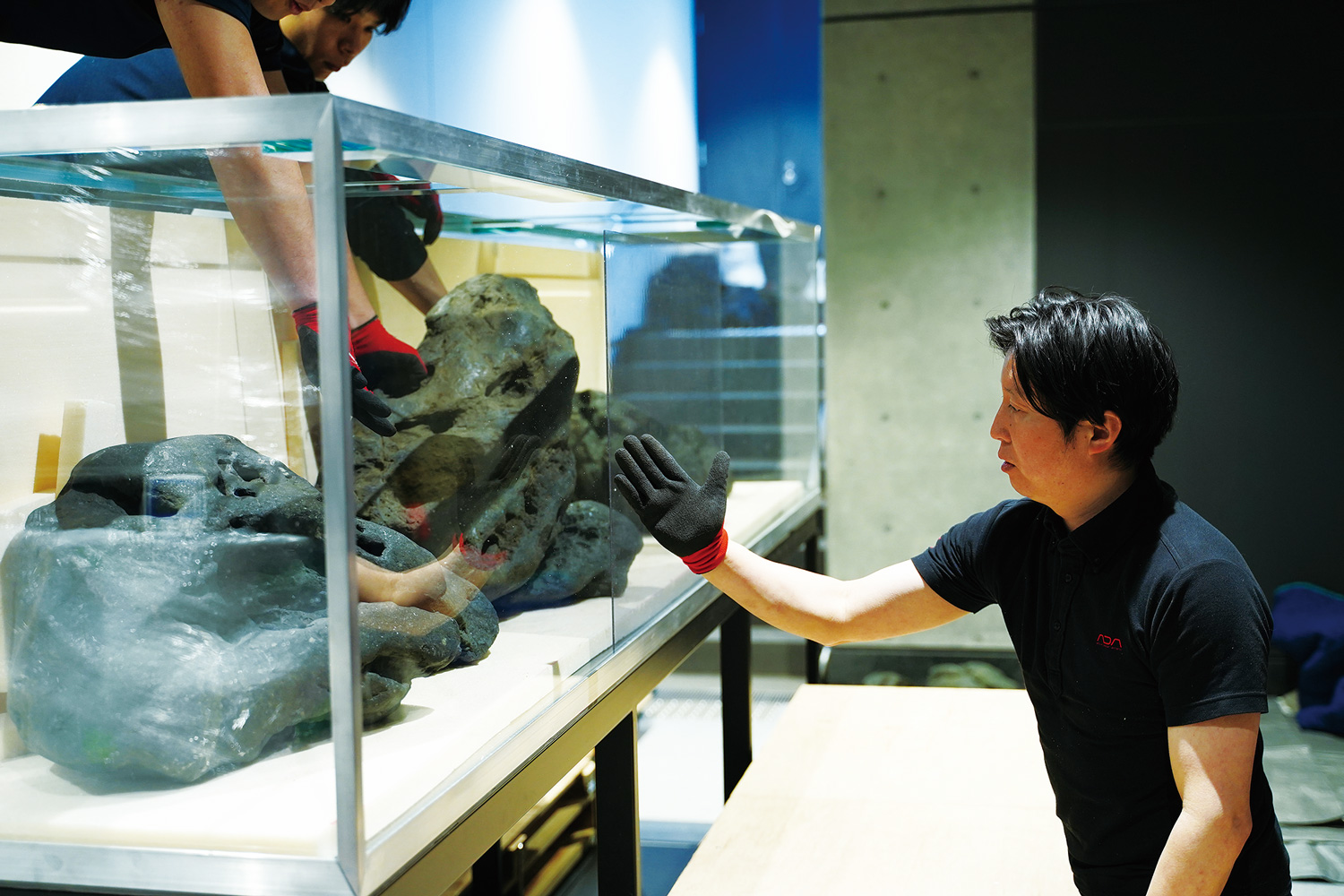 My new exhibition goals that I envision.
My future goal is to create Nature Aquarium to be exhibited for a long time. It is not only from the perspective of a long-lasting aquarium but also my hope to have it in a place where many people get to see it and love it for a long time as my work. If I may venture to say, I hope it to be an aquarium that will be exhibited over a long period of decades, and I would love to create a large aquascape exceeding 10m if possible. It should be a simple Iwagumi layout that viewers are drawn into the underwater world and are captivated by it. And it is not only living things but you can also feel its artistic side. I'm expanding such an imagination.
I know the future I'm envisioning is overambitious. So, I think it would be difficult to actually create such an aquascape right now. But I feel passionate to work on the theme so that many people can learn the beauty of aquatic plants and become Nature Aquarium fans.
My activity to make people familiarize with aquatic plants.
I am a lot older than other creators and more interested in children's perspective because of my age. The world is overflowing with all kinds of information. However, I would like children to have interest in the beauty of living things and to have as many opportunities as possible to think about the ecosystem in nature or the global environment. When I visited Germany before, I saw elementary school students came to visit an exhibition at an aquarium as part of a school project. I didn't understand what they were saying in detail, but I felt that the children knew not only the fascination of aquariums as a hobby but they also understood that there were people around the world who were involved in the aquarium hobby. I really want many people to know that there is a hobby that people are obsessed with, and those people who love the hobby try to expand the hobby as their job. In the last few years, I had more opportunities to introduce Nature Aquarium to local elementary school students and kindergarteners. I try to clearly explain aquariums at the NA Gallery and the forest around the ADA headquarters. I think what impresses children when they are little will be the driving force even when they grow up. Therefore, I try to make sure that I explain clearly and carefully. I will be very happy if they can feel familiar with aquatic plants and fish through the extracurricular activities, realize the importance of nature, and have interests and passions for next generations.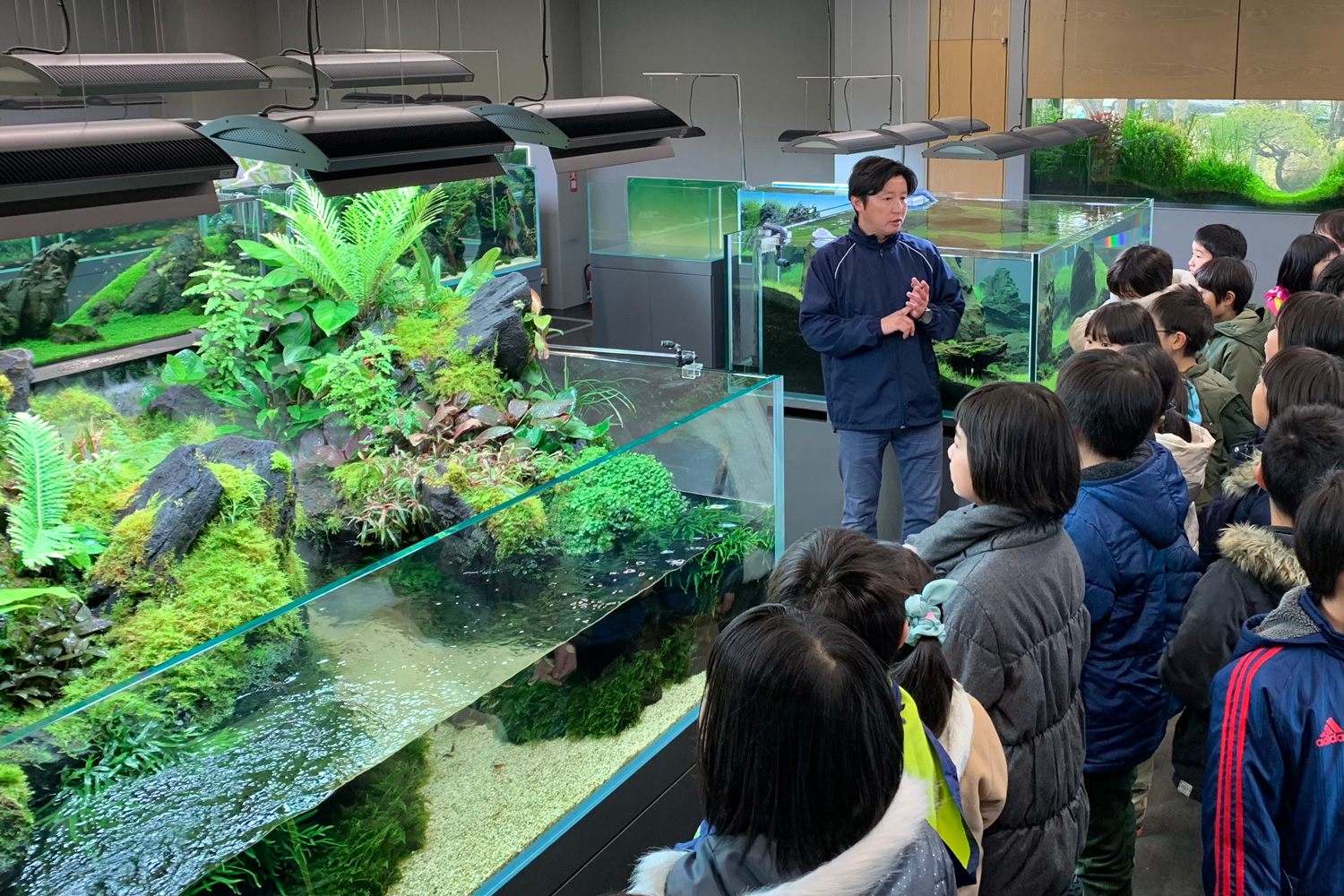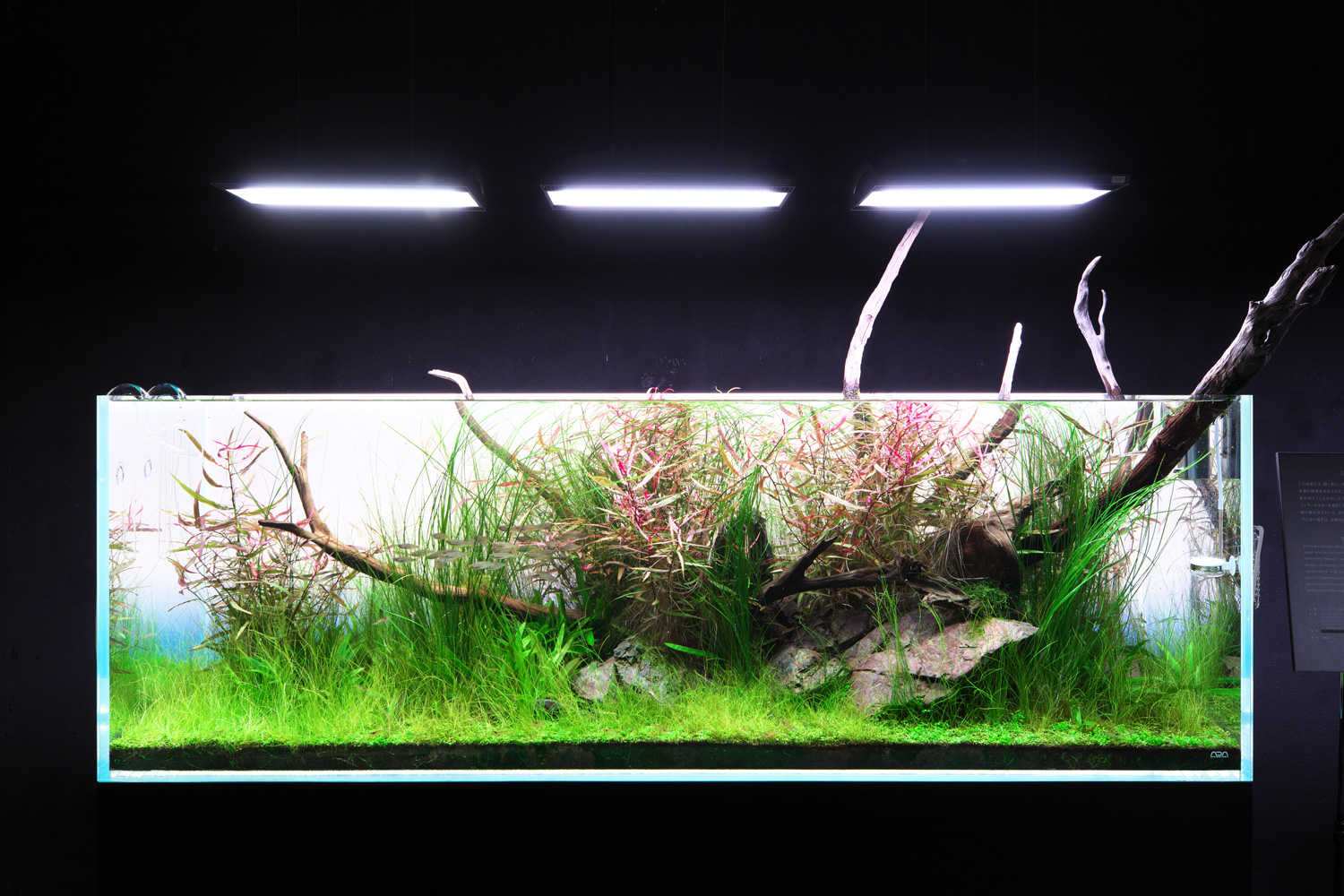 "Breezy Waterside"
In this aquascape, pieces of beautiful slim line driftwood are dynamically used, and by placing clusters of tape type aquatic plants in spots, a refreshing feeling is expressed. Not to let the beauty of the driftwood shapes disappear, I chose slim Eriocaulon sp. in terms of a tape type aquatic plant, and planted them to be scattered here and there in the aquascape. Also, by using a Polygonaceae species aquatic plant, a touch of Japanese taste is added to the aquascape. The way fish swim comfortably through the clusters of refreshing aquatic plants is reminiscent of the waterside in early summer in Japan.
DATA
Tank Size: Cube Garden W180×D60×H60 (cm)

Plant
Eriocaulon sp.
Persicaria hastato-auriculata
Polygonum sp. 'Pink'
Eleocharis vivipara
Sagittaria graminea

Fish
Melanotaenia sahulensis
Otocinclus sp.
Caridina multidentata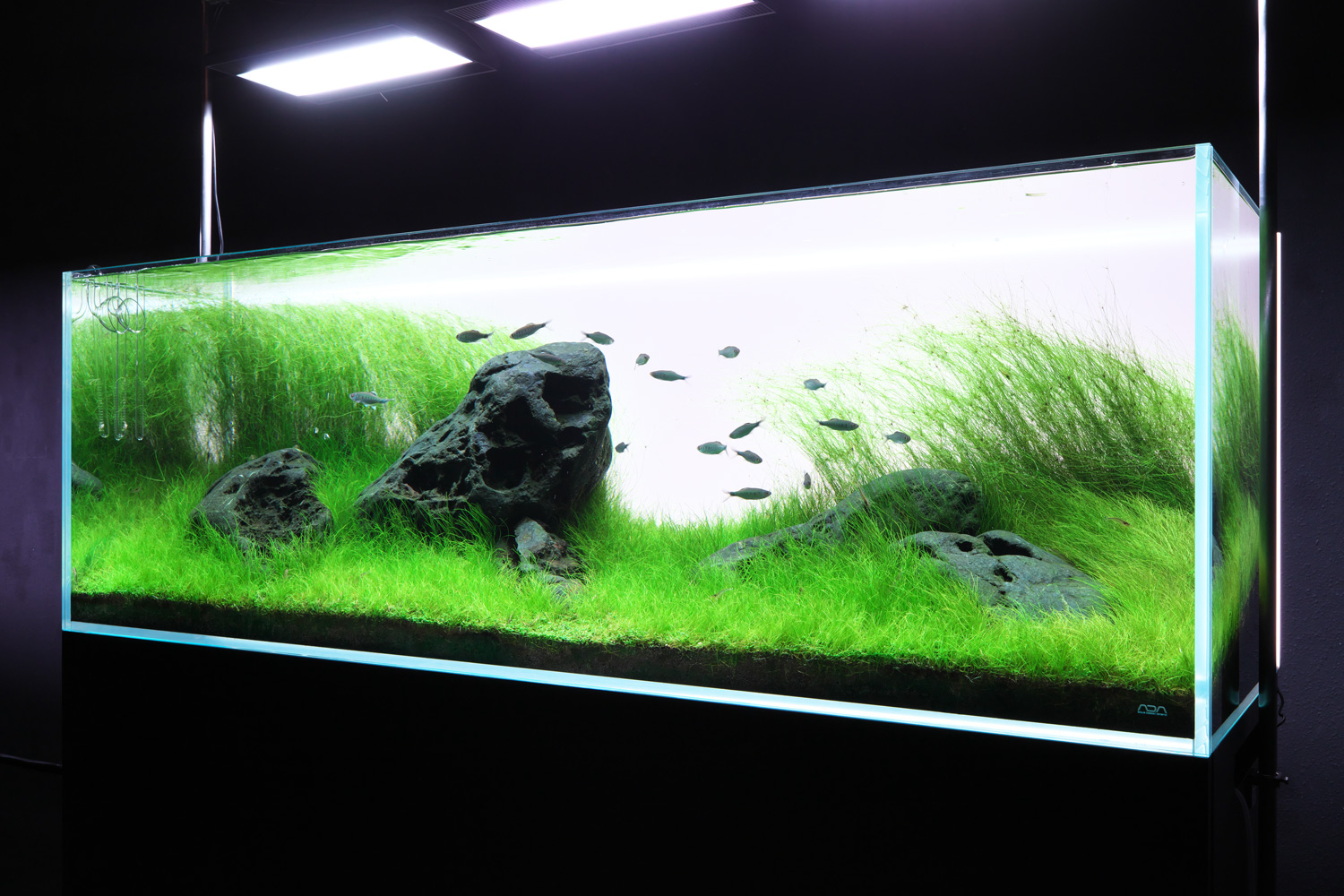 "Stone Scape in Early Summer"
The world of Iwagumi, the true value of Takashi Amano, is profound, and river stones are especially difficult to arrange because of their simple shapes. Although it is important to be aware of the flow of water when arranging stones for an Iwagumi layout, if you think too much, the stone arrangement tends to be artificial, and the stones lose momentum. "By arranging stones at a stroke, the flow and momentum of nature turns to the stones" was also Amano's teaching. While talking to the stones, being close to the stones and feeling the power of the stones, I managed to create a work that I felt satisfied with.
DATA
Tank Size: Cube Garden W180×D60×H60 (cm)

Plant
Glossostigma elatinoides
Echinodorus tenellus
Eleocharis acicularis
Eleocharis vivipara

Fish
Barilius bakeri
Otocinclus sp.
Caridina multidentata