ADA SUIKEI CREATORS #03 Kota Iwahori
[SPECIAL FEATURE] ADA SUIKEI Creators

"NATURE AQUARIUM EXHIBITION 2021 TOKYO" (NAE) was held for 2 months. Five SUIKEI creators expressed their current best, and it became a starting point to further spread Nature Aquarium that they inherited. Now, after it ended successfully, we would like to ask them about their feelings and future goals.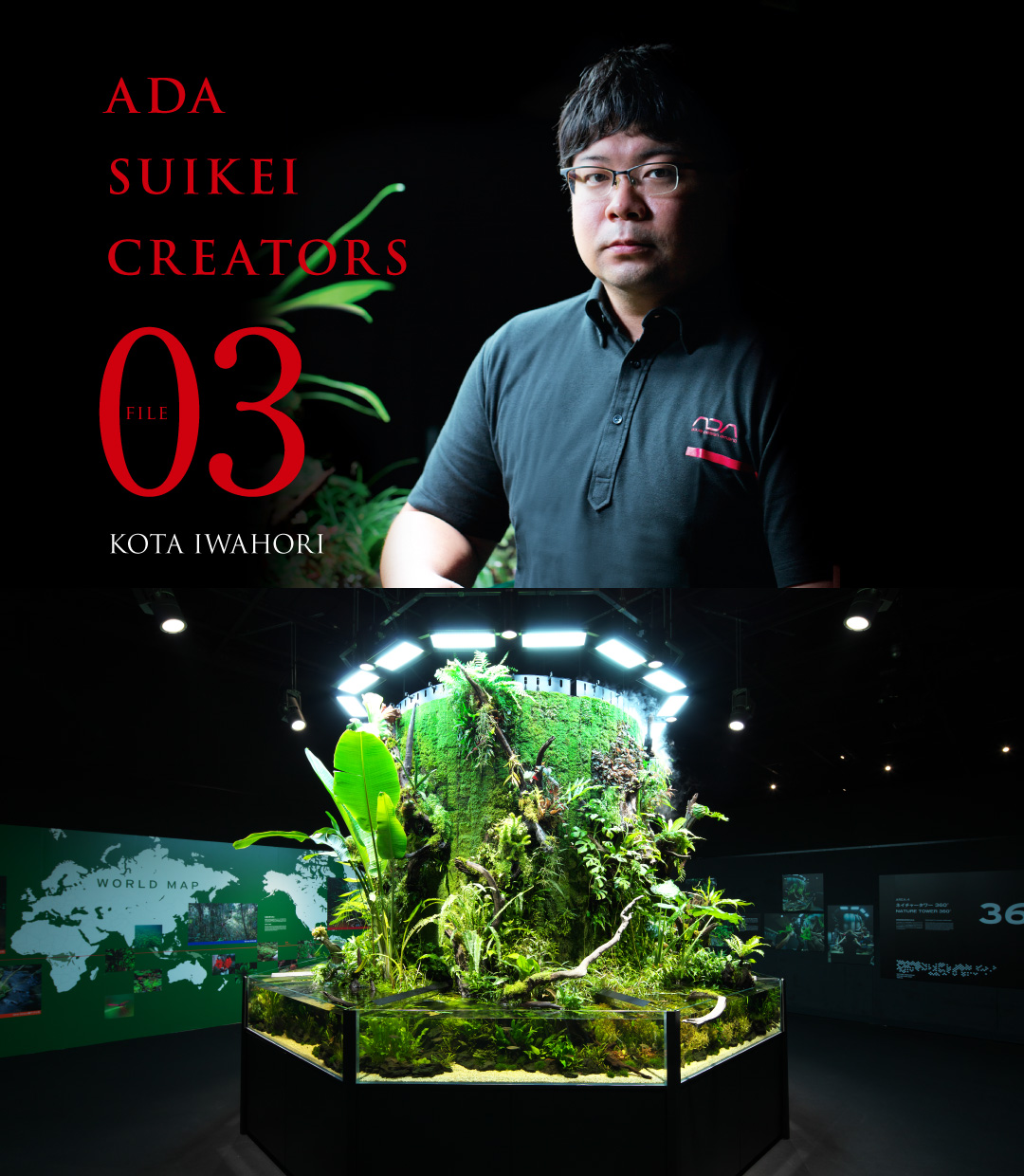 Recreating "moments when plants can look natural" in layouts
Anguish and new ambitions for non-standard exhibitions
We successfully ended the exhibition, but there were some issues in the planning of the Nature Tower 360°. Among them, one that bothered me the most was to show 8 structures as one unit without exposing boundaries not to spoil its large scale. In order to express all the walls as if it were a single tree trunk, it was necessary to devise how to show the structures themselves, which cannot be supplemented by planting techniques alone. After a process of trial and error like designing special parts for gaps between the aquariums, and giving minor adjustments to spotlights, I eventually created an exhibition work that I felt satisfied with. After this experience, I am more confident in how to show aquariums with vertical walls such as Mizukusa Wall. The Nature Tower 360° was a non-standard exhibit expressing the diversity of plants related to the waterside. And I still have more ambitions, like creating a spatial design focusing on DOOA products, and planning better ways to familiarize people with plants.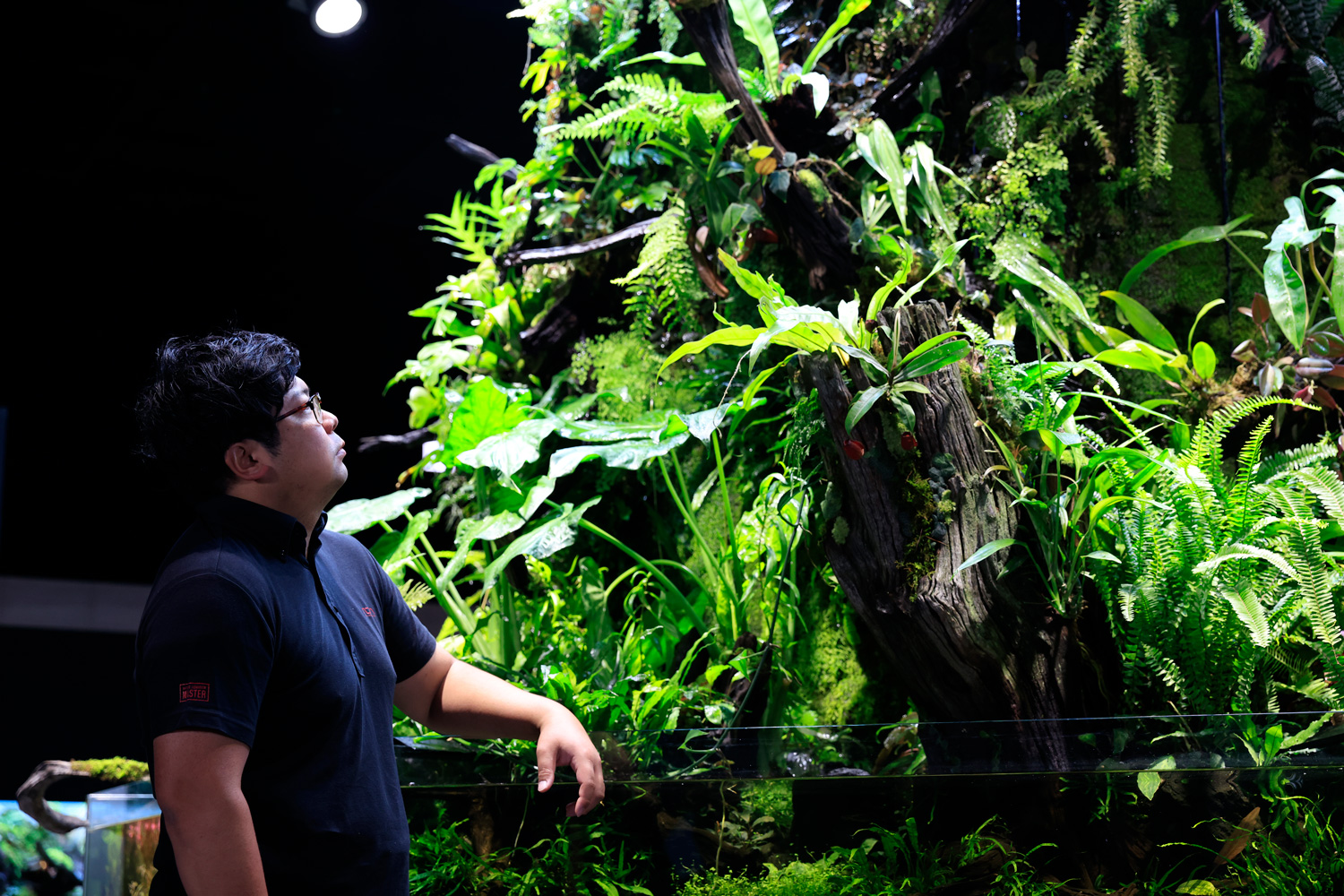 Never-ending curiously about the world of plants
In the land where Jungle Plants grow, there are a wider variety of environment than the world of aquatic plants. Therefore, when using even one type of plants in a layout, it is important to know the environment surrounding the plant. As far as I'm concerned, I research thoroughly from distribution areas to natural habitats as well as the nature of soils. I would like to grow plants in a condition as close to nature as possible even in glass containers by observing plants from the environment, and reflecting the information in layouts and maintenance methods. Flowers that you get to see in the process of growth are one of the charms. Besides that, we built a special backyard at the Green Lab. We actively collect plants that ADA has never carried before like air plants and ant plants (some are my personal collections) and examine their growth conditions. To make DOOA known to many people, I am working hard to incorporate plants of all genres into DOOA products and to expand the range of layouts. My curiosity about the world of plants is endless.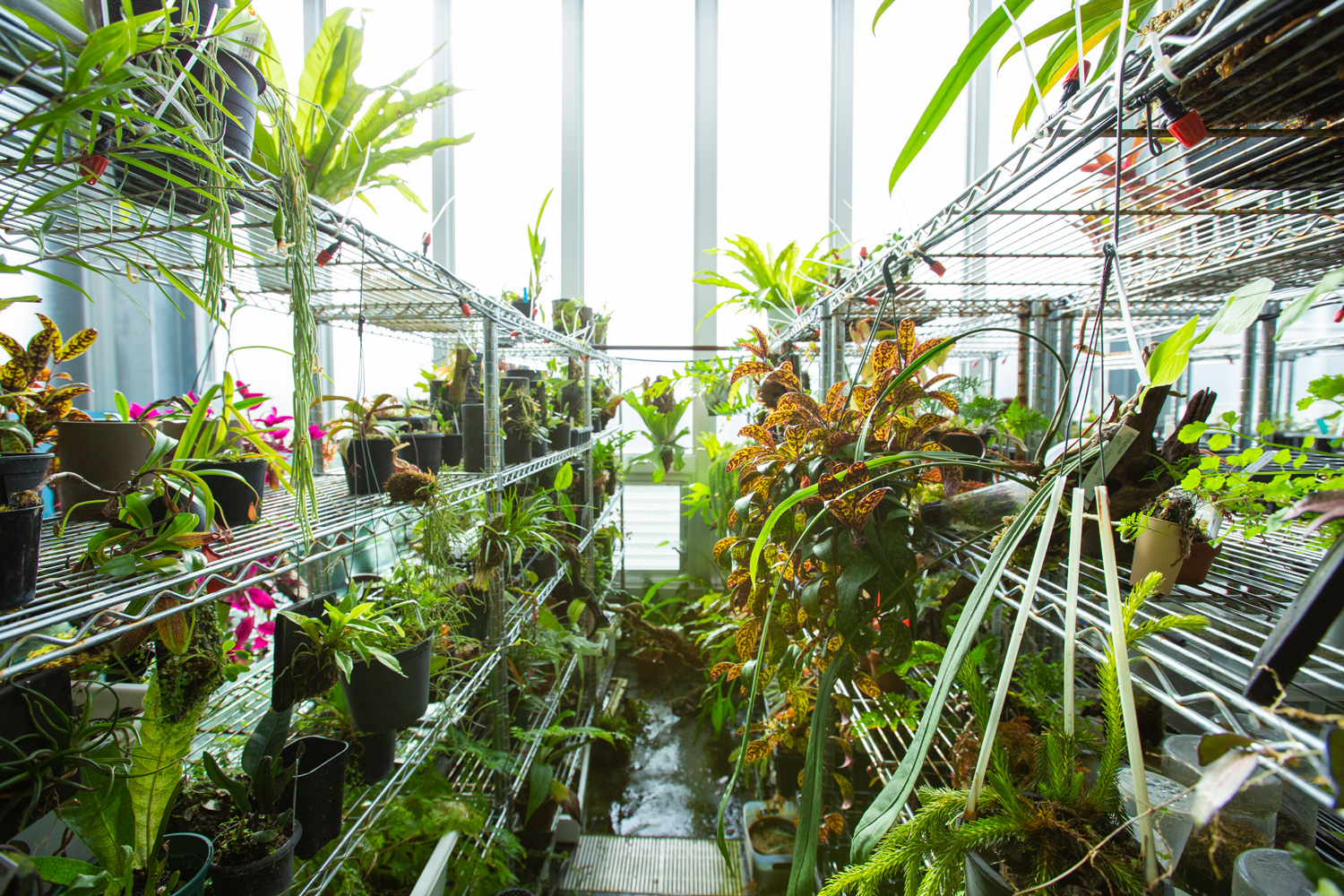 Creating "moments that look natural" in layouts
In Nature Aquarium, there is a process of abstractly making the essence existed in natural landscapes into aquascapes. But I'm a little different. I rather cherish a feeling of nature or small discoveries at my feet. The ecology itself that is a close-up of a part of the natural world, is the moment when I feel a longing for nature and the driving force of my creative activities. That's why I always make sure to recreate "moments that look natural" that I feel in the fields in layouts. This style leads to the concept of DOOA that is to enjoy the beauty of plants, and it's perfect for my personality too. I would like to continue to share profound charms of plants and spontaneous ways of enjoying plants through my works that are close-ups of the plant ecology with a motto of "moments that look natural".
"Around the Waterside"
"Water that goes around globally, seems as if it is traveling. It sometimes appears as rain from clouds falling on the ground. It sometimes becomes mist covering a forest. And it becomes a river heading to oceans. On the journey, it may come across various trees, flowers, aquatic plants and fish". The theme for this NATURE TOWER 360゜is "Journey of Water", and water circulation including falling mists and squalls are randomly controlled. Because the layout consisting of 8 sections is inspired by the tropical waterside (ecotone), the vegetation range includes not only aquatic plants, but also emersed, terrestrial and epiphytic plants. When you go around the tower, besides different flora landscapes can be enjoyed in each section, various plants from Uticularia bifida with leaves only a few millimeters to Ravenala madagascariensis that spreads huge leaves can be observed as discovering them.

Height: 3.5m
Circumference: 13m
Creation: Kota Iwahori