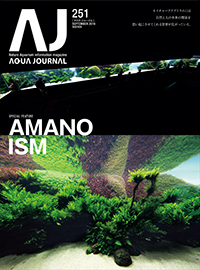 Special Feature
"AMANO-ISM"

From various angles, the feature article "AMANO-ISM" closely examines Takashi
Amano's philosophy, his aesthetic awareness and idea of nature, which are all found in the very heart of ADA and its products.
This month, we commemorate one year since the passing of Mr. Amano. A number of Nature Aquarium Layouts created by him have been well maintained in good conditions in the places like the Nature Aquarium Gallery and the Oceanário de Lisboa, Portugal. And in ADA headquarters, his study with collection of antiquities and books is still kept as it was when he passed away shortly afterwards.
The article is dedicated to all the Amano fans to catch a glimpse of "AMANO-ISM" as looking through his works and his beloved personal belongings.


Moreover, the IAPLC World Rankings 2016 is published in Aqua Journal Vol. 251!

Over and above that, this issue contains an extra-large "Forests Underwater" poster (841x594 mm) along with the magazine. All the annual subscribers of Aqua Journal will receive a free copy, which will be sent out separately from the magazine.
The posters will also be distributed through ADA's official distributors and registered retail shops around the world.** Hang up the poster in your room and find "AMANO-ISM" poured into the last masterpiece of Takashi Amano.


* The print journal is only available in Japanese.
** Availability may differ by region.
For details, please contact your local ADA distributor:
http://www.adana.co.jp/en/distributors

*Currently closed ADA Online Bookstore will be re-opened later in August.
We deeply apologize for the inconvenience to our customers.