A much-awaited "Origin of Creation" in English will be finally released in this spring.

As a founder of Nature Aquarium, Takashi Amano was loved by fans all around the world while he had continued to present a great number of masterpieces also as a photographer. He had never lost his passion for creating efforts, and kept devoting his energy on completing this compilation photo book, "Origin of Creation" until just to the end of his days.
As well as Amano's representative works selected by himself, you will see his last photos he captured in a town where he was getting treatment. Many of the works are first published. The photo book really is the Amano's message that he built throughout his life: the philosophy of Nature Aquarium, the way of life, and the love for Nature.


===============================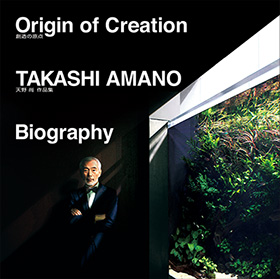 Dimensions: 279 x 278 mm (11 x 10.9 in)
Hardcover: 280 pages

For more detail, please ask the official ADA distributors in your area.
ADA Distributors & Retailers http://www.adana.co.jp/en/distributors

Special Webpage: Origin of Creation
http://www.adana.co.jp/en/contents/products/takashi_amano.html

*The photo book will also be available at Amazon.com later on from late May, 2016.
*It will not be sold on ADA Online Bookstore.