NATURE IN THE GLASS 'The Waterside Contact'
Expressing tropical rainforest in rainy season with Mizukusa Mist Wall 90 and Jungle Plants

'The Waterside Contact'
In this layout, a new product, Mizukusa Mist Wall 90, is used to represent tropical flooded forest in the rainy season. The branches of a large Branch Wood were arranged to protrude from the water surface, and various aquatic plants and jungle plants were planted in and out of water to create the diversity of the tropical waterfront environment. Due to the high position of lighting unit, the amount of light in the water becomes low, but this was dealt with by using many shade plants such as Bolbitis and Anubias, and different colors of Lagenandra. This layout is designed based on an image where the water level is low in the dry season, so it can be enjoyed even with a lowered water level.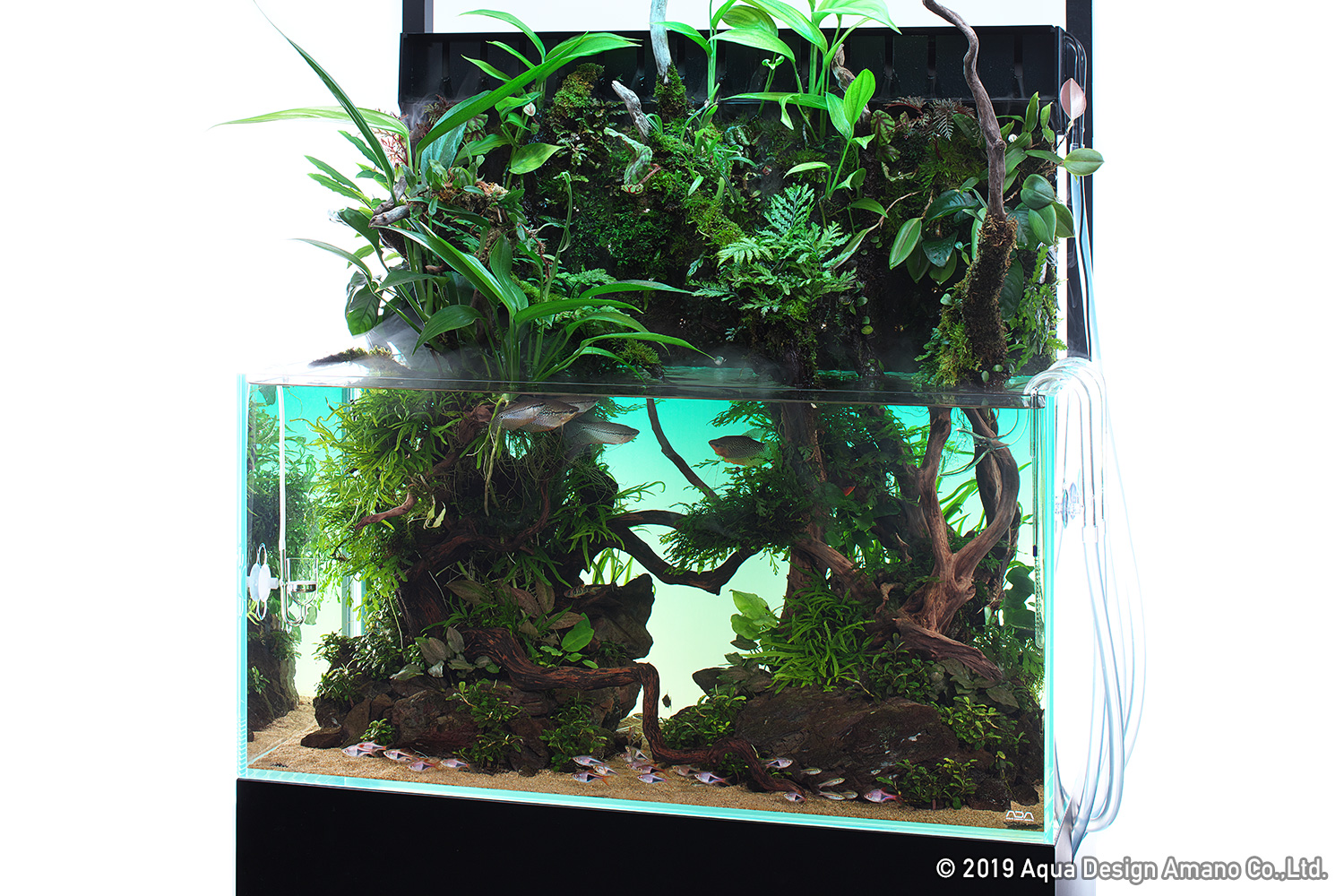 DATA

Shooting date: February 20th, 2019(ADA)
Creator: Kota Iwahori
Aquarium: Cube Garden W90×D45×H45(cm)
Lighting: Solar RGB x 1, turned on for 10 hours per day, Shade for Solar RGB
System: Mizukusa Mist Wall 90, Steel Cabinet for Mizukusa Mist Wall 90, Mistflow, Light Screen 90 W90×H45(cm)
※Gradation Film is sample
Filter: Super Jet Filter ES-600 (Bio Rio M) for 45cm(H)
Substrate: Aqua Soil-Amazonia II, La Plata Sand, Power Sand Advance M, Bacter100, Clear Super, Tourmaline BC
CO2: Pollen Glass Large 30Ø, 3 bubbles per second via CO2 Beetle Counter (using Tower)
Aeration: 14 hours after the light is turned off using Lily Pipe P-6
Additives: Brighty K, Green Brighty Mineral, Green Brighty Iron, Green Brighty Nitrogen
Water change: 1/3 once a week
Water quality: Temperature: 25ºC; pH: 6.8; TH: 20 mg/l

Aquatic Plants: Philodendron sp. 'Papua New Guinea' / Hygrophila pinnatifida / Lagenandra keralensis / Lagenandra meeboldii 'Green' / Bucephalandra sp. 'Sintang' / Taxiphyllum sp. 'Peacock Moss' / Vesicularia montagnei / Taxiphyllum sp. 'Spiky Moss' / Taxiphyllum barbieri / Cryptocoryne spiralis / Anubias barteri var. nana / Anubias barteri var. barteri / Schismatoglottis roseospatha / Bolbitis heudelotii / Microsurum pteropus / Microsorum sp. 'Trident'

Plants: Begonia bipinnatifida / Begonia quadrialata ssp. nimbaensis sp. / Begonia sp. 'Kapuas Hulu' / Pellionia daveauana / Bulbophyllum retusiusculum / Scaphosepalum ovulare / Pleurothallis allenii / Coel. fimbriata / Dinema polybulbon / Zootrophion atropurpureum / Homalomena sp. 'Sekadau' / Lemmaphyllum microphyllum Presl / Microgramma vacciniifolia / Aneuraceae / Leucobryum bowringii Mitt.

Fish & Invertebrates: Trigonostigma heteromorpha / Trichogaster leeri / Crossocheilus oblongus / Otocinclus sp. / Caridina multidentata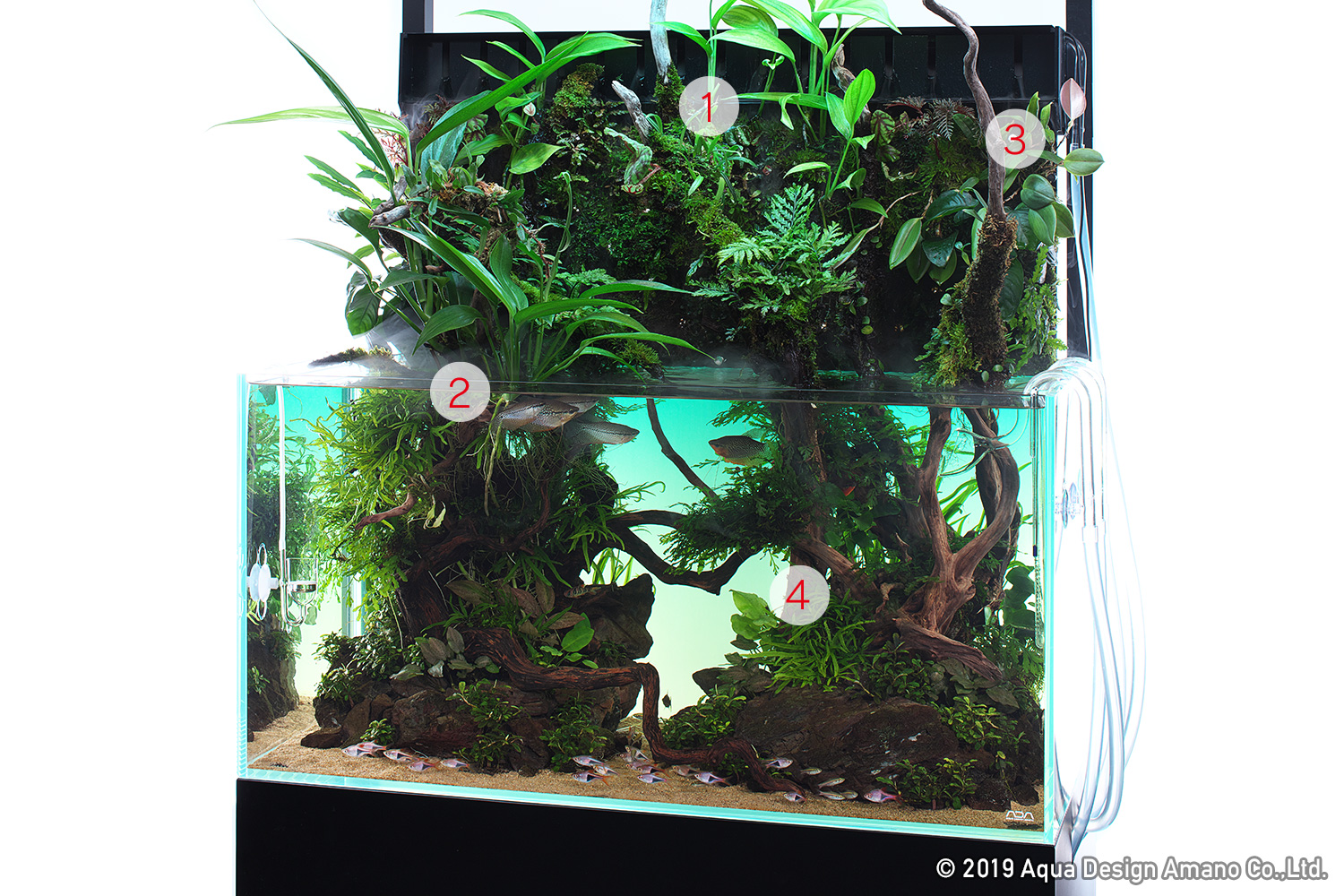 Newly developed Wall System, expanding the possibility of Aqua-Terrarium

The new DOOA Mizukusa Mist Wall presents new possibilities for the aquarium. In conventional open aquariums and aquatic terrariums, the space in the water tends to become narrow, and it has been difficult for some plants to grow healthy and maintain them over the water for a long time. Mizukusa Mist Wall can be installed with an ultrasonic fog maker, Mistflow, and by enhancing the moisturizing effect, it has become easier to cultivate plants that prefer a humid environment. As a result, various types of aquatic plants and jungle plants can be nurtured in a healthy condition, and it has become possible to express a new layout with a fresh and natural feeling.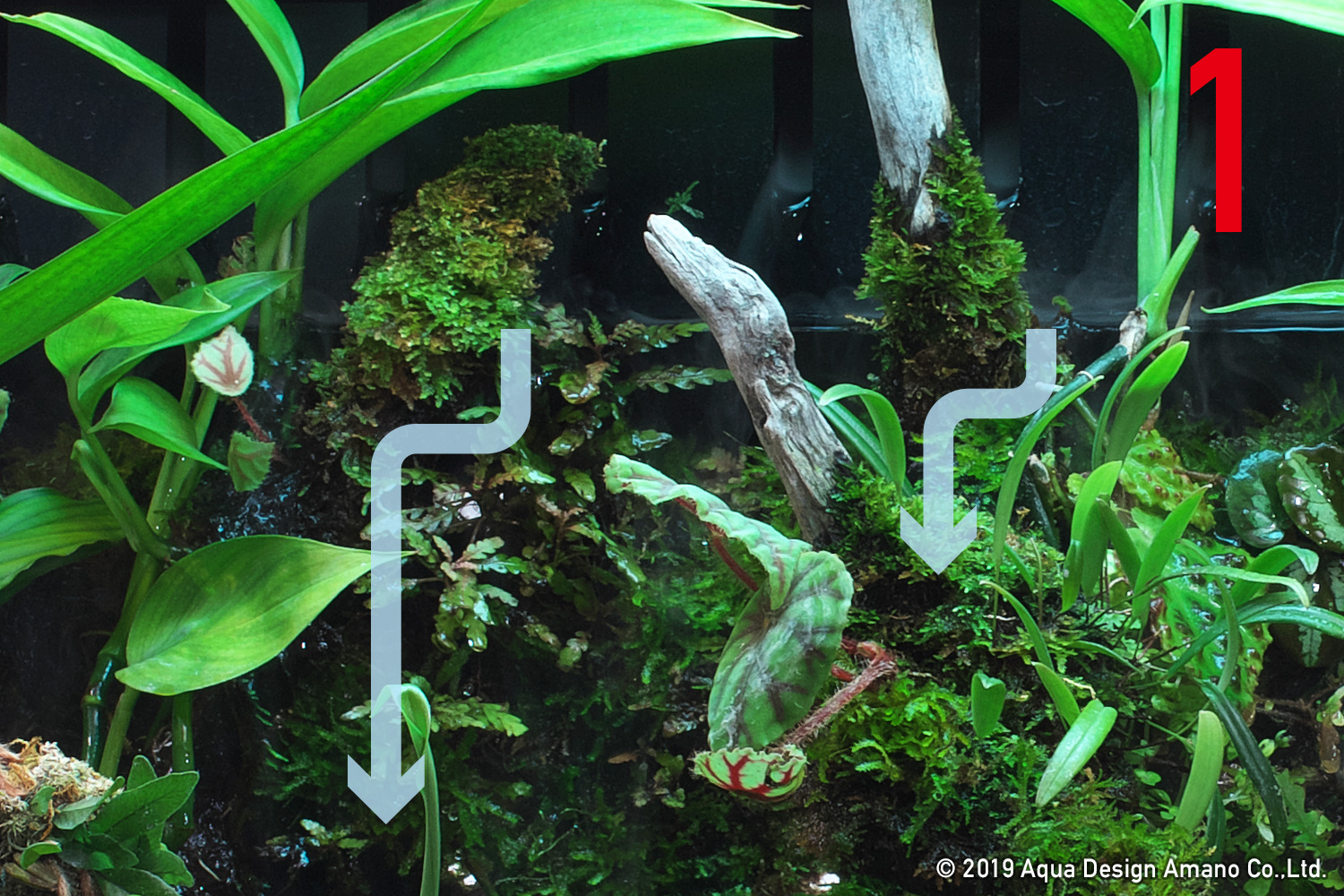 Water does not spread well on the driftwood that protrudes from the surface of the water, but by supplying water from the cascade to the moss, epiphytes and moss can grow. In addition, we used terrestrial drought-tolerant moss and fern in areas that are easy to dry.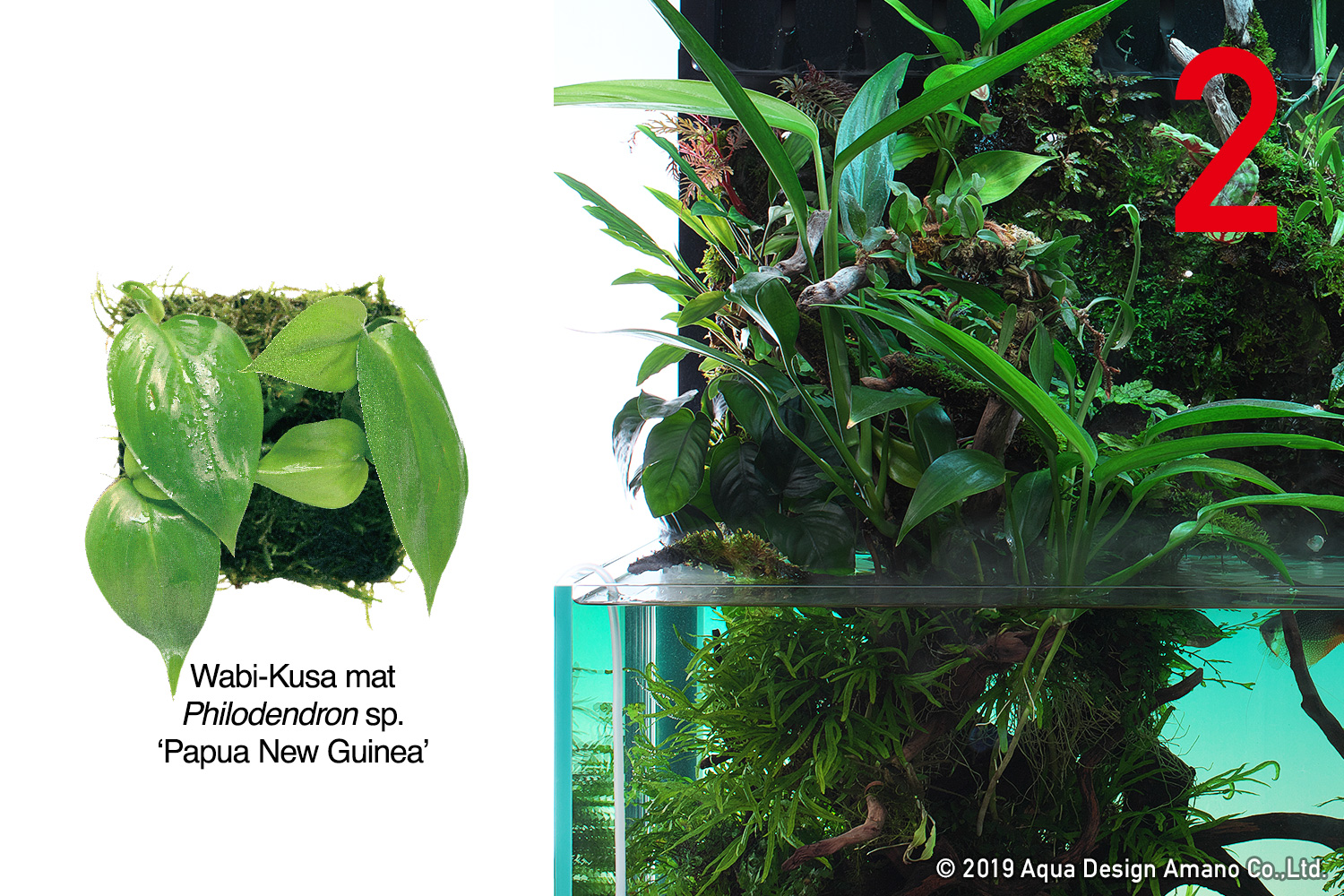 Yamasaki Kazura, or Philodendron sp. 'Papua New Guinea', used for the Wall is especially recommended for a 90cm or larger size aquarium. The leaves, which develop in large size one after another, increase the sense of openness on the water, and weaken the light that hits the Anubius barteri and jungle plants below. In addition, the roots that are boldly spreading in the water make us feel the connection of aquatic plants growing in emergent condition.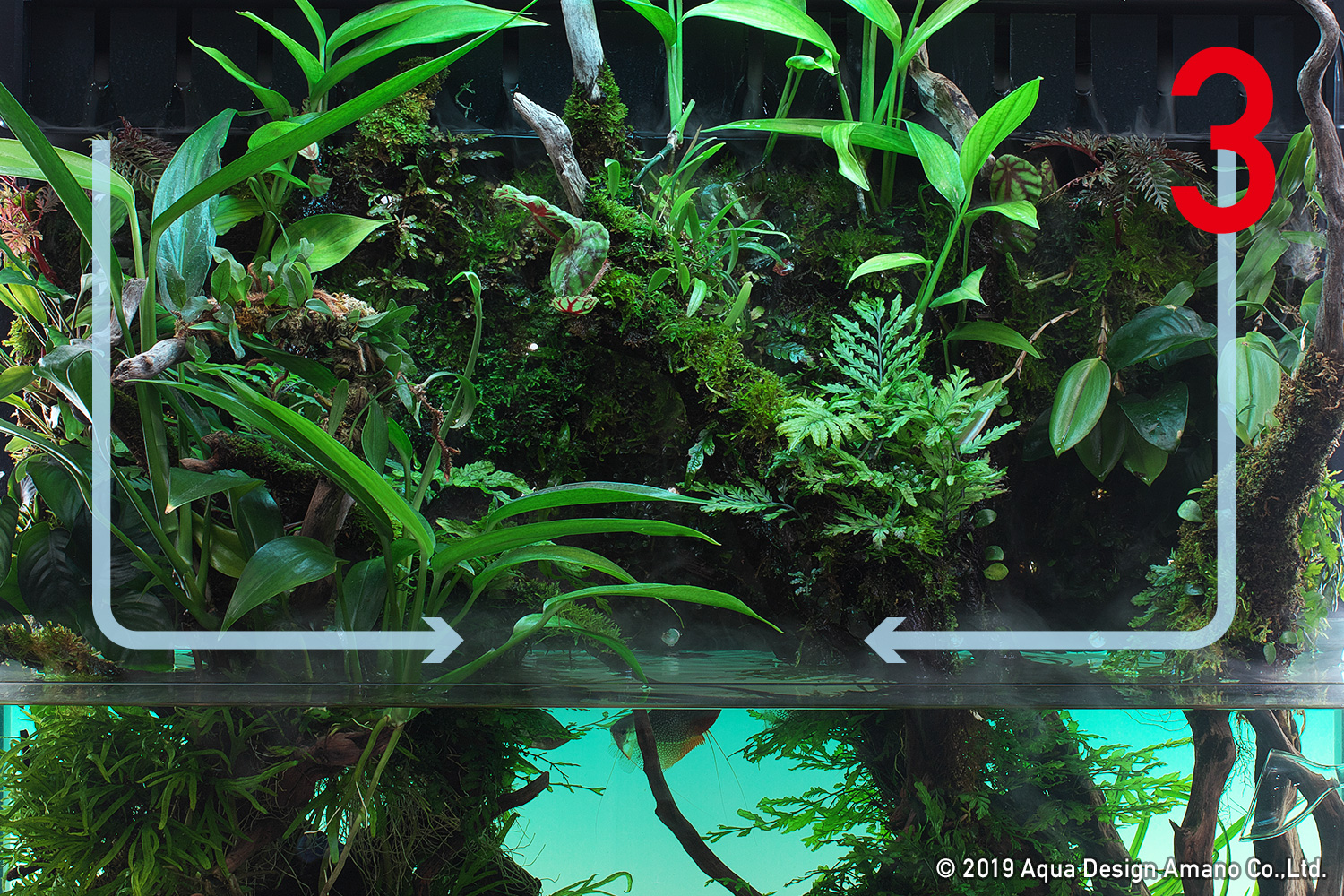 The mist generated from the Mistflow gives appropriate humidity to plants on the wall and emerged parts of driftwood. Here, large plants are placed on the left and right of the Wall to prevent mist from running aside.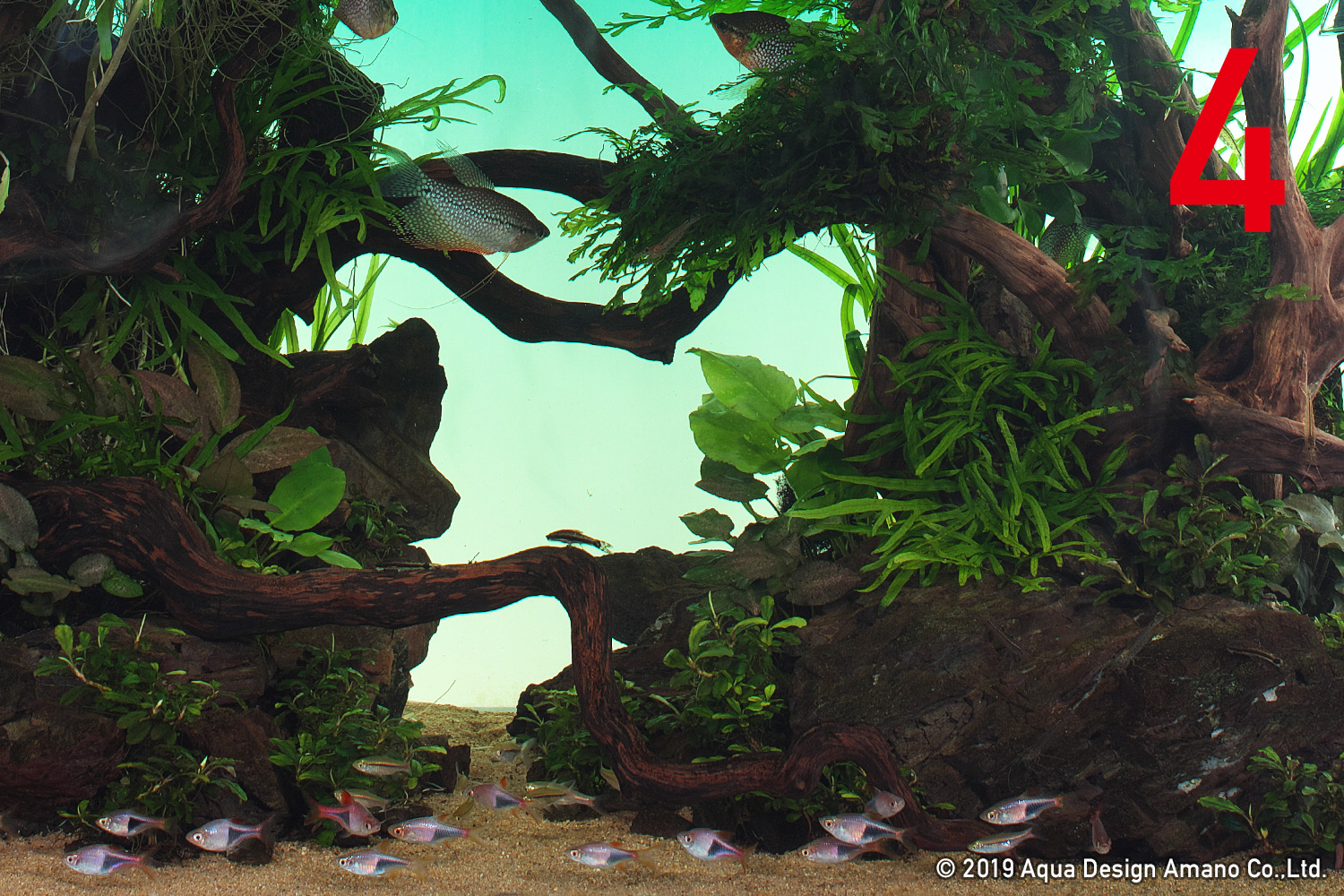 In this type of layout, it is inevitable the light reaching under the water is always weak. Therefore, the selection of aquatic plants in the underwater part is important, and it is necessary to select the strong shade-tolerant aquatic plants. Here, two types of fern with different leaf shapes were attached on the driftwood to make an accent to the layout.
Mizukusa Mist Wall 90
A new aquarium system for enjoying jungle plants
Steel Cabinet for Mizukusa Mist Wall 90 has been released in order to use the Mizukusa Mist Wall 90 in a stable state. The front plate and the left and right side panels are removable, and equipment such as Super Jet Filter and Tower can be installed easily. In addition, because Solar RGB hanging pipe is integrated with the aquarium cabinet, it can be also used as a cabinet for a 90 cm aquarium tank. A combined use of Mizukusa Mist Wall and Light Screen is also possible, and the lighting of Light Screen enhances the underwater scenes. In this type of layout, the light in the water is weak, but the Light Screen also serves as auxiliary lighting.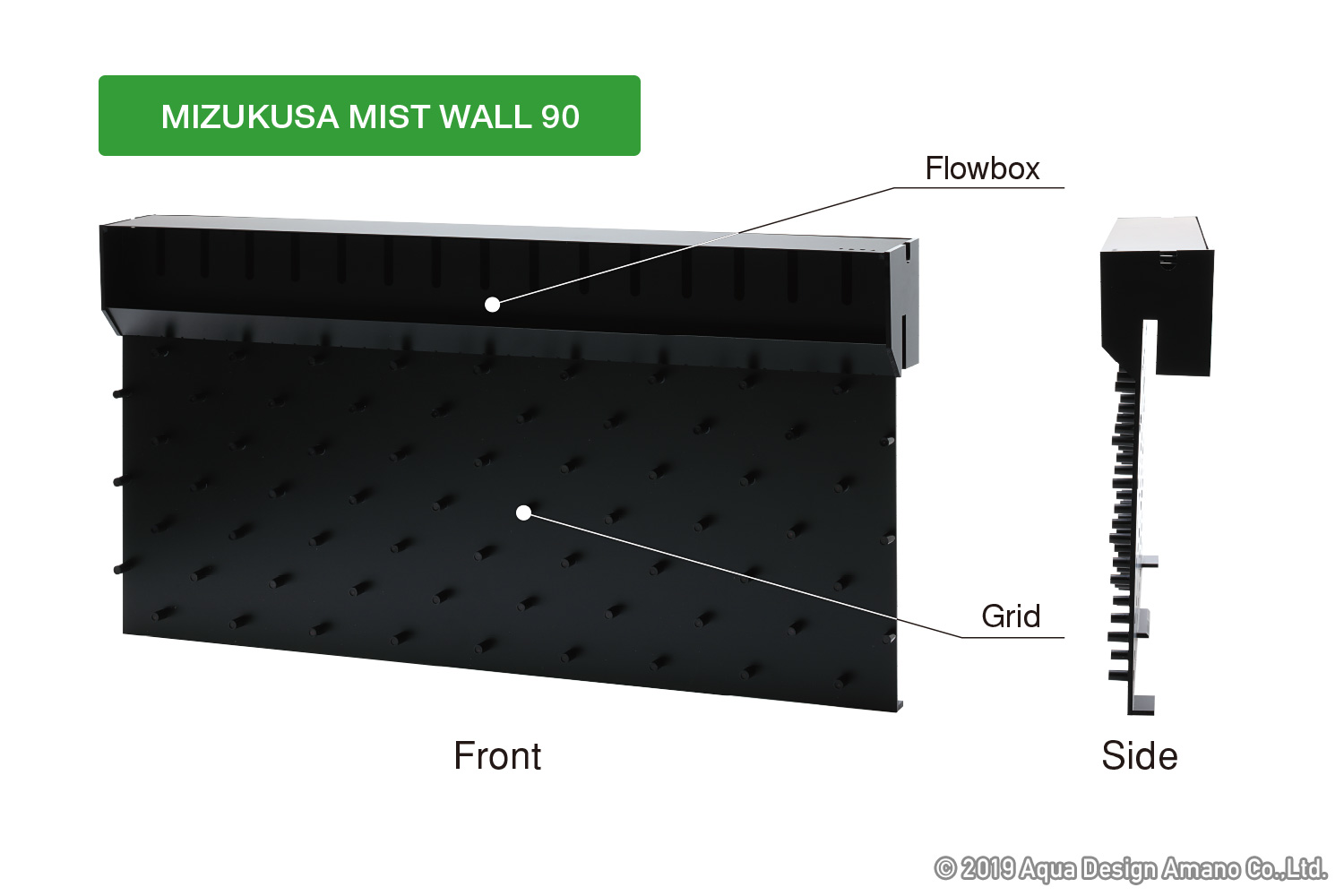 【Including Parts】
Outflow pipe (13D)
Inflow Pipe (13D)
Stainless steel cover
Wabi-Kusa Mat x 27pcs
Suction Cup Clip (13D)
O ring x 2pcs
Droplets Block Mat

【Required Items】
Solar RGB
SHADE for Solar RGB
Cube Garden W90×D45×H45(cm)
Super Jet Filter ES-600 for 45cm(H) tank x 2
CO2 Tower (2l tank)
CO2 Attache Regulator
Pollen Glass Beetle 40 Ø(CO2)
CO2 Beetle Counter
DOOA Mistflow
Light Screen 90 (W90×H45)