Enjoying Jungle Plants and various tropical plants.
How to enjoy a plant that can become borderless
Aquatic plants and various plants that love a humid environment grow naturally at the waterfront of a tropical jungle. These plants are suitable for growing in an aquarium that can maintain a constant humidity, such as an Aqua Terrarium. You can enjoy a wide variety of charming plants.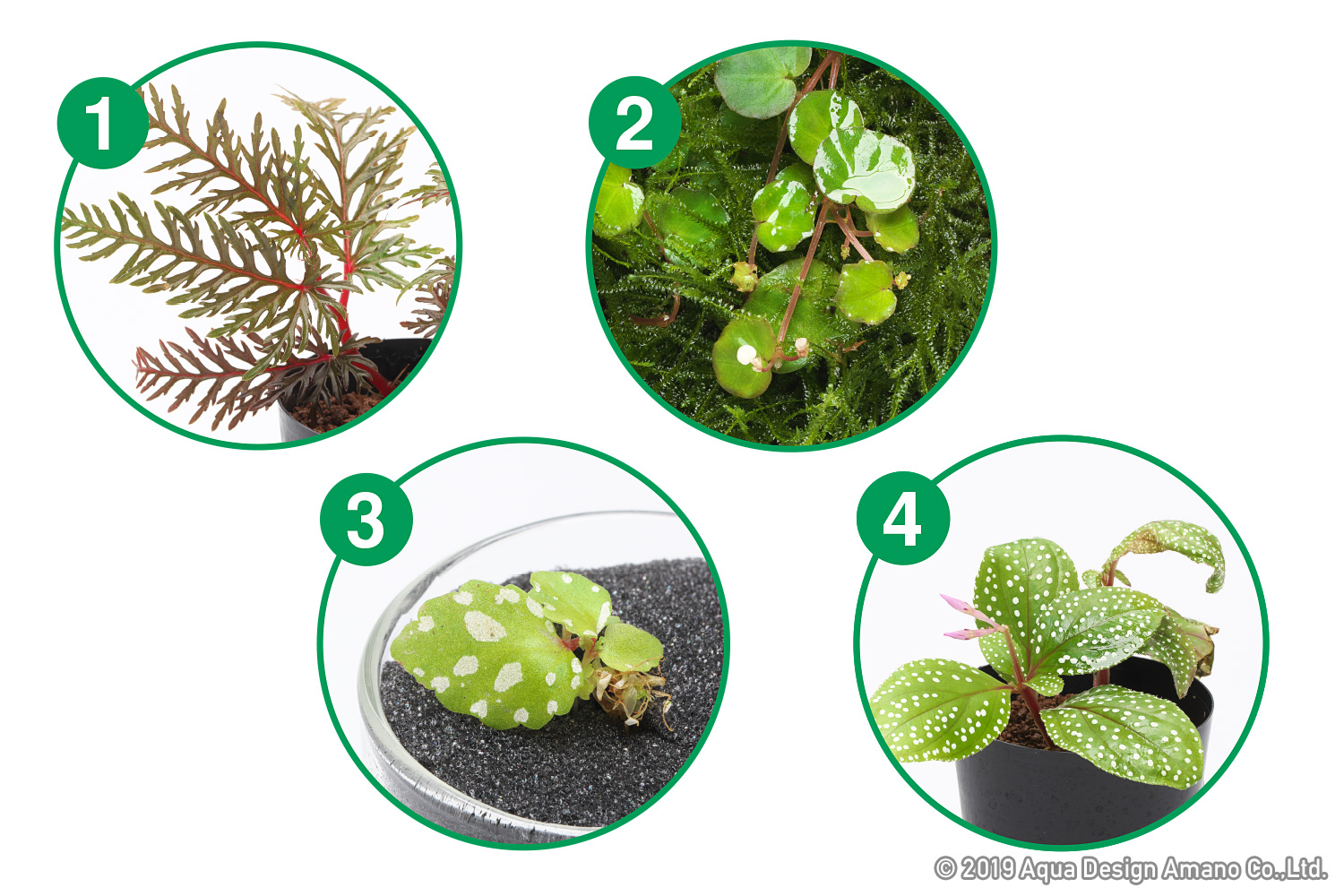 1:Begonia bipinnatifida (Terrestrial plant)
The charm of this plant is its pinnate leaves, which is unusual for a Begonia. ADA has had good growing results with 4A, higher-grade sphagnum moss soil blends based on Amazonia II.

2:Begonia lichenora (Terrestrial plant)
This is a small Begonia that can be used like an undergrowth plant in an aquatic plant layout since it reproduces well by producing stolons. When grown under low light, the bluish tint of its leaves increases. Under certain conditions, it develops shiny blue leaves, which deepen its charm. The key point for growing this plant is to adjust the amount of light.

3:Begonia sp. (Terrestrial plant)
The plants in the family of Begonia, which love a highly humid environment, are terrestrial plants suitable for growing in an aquarium tank. Just one plant can become an impressive indoor plant when grown in Neo Glass Air with its glass lid.

4:Sonerila sp. (Terrestrial plant)
A plant with charming white dots in the family Melastomataceae. It prefers a highly humid environment. It requires extra attention since it tends to drop its leaves if the moisture level or the amount of light is insufficient. Otherwise, it is a robust plant and produces small purple flowers one after another during its flowering season.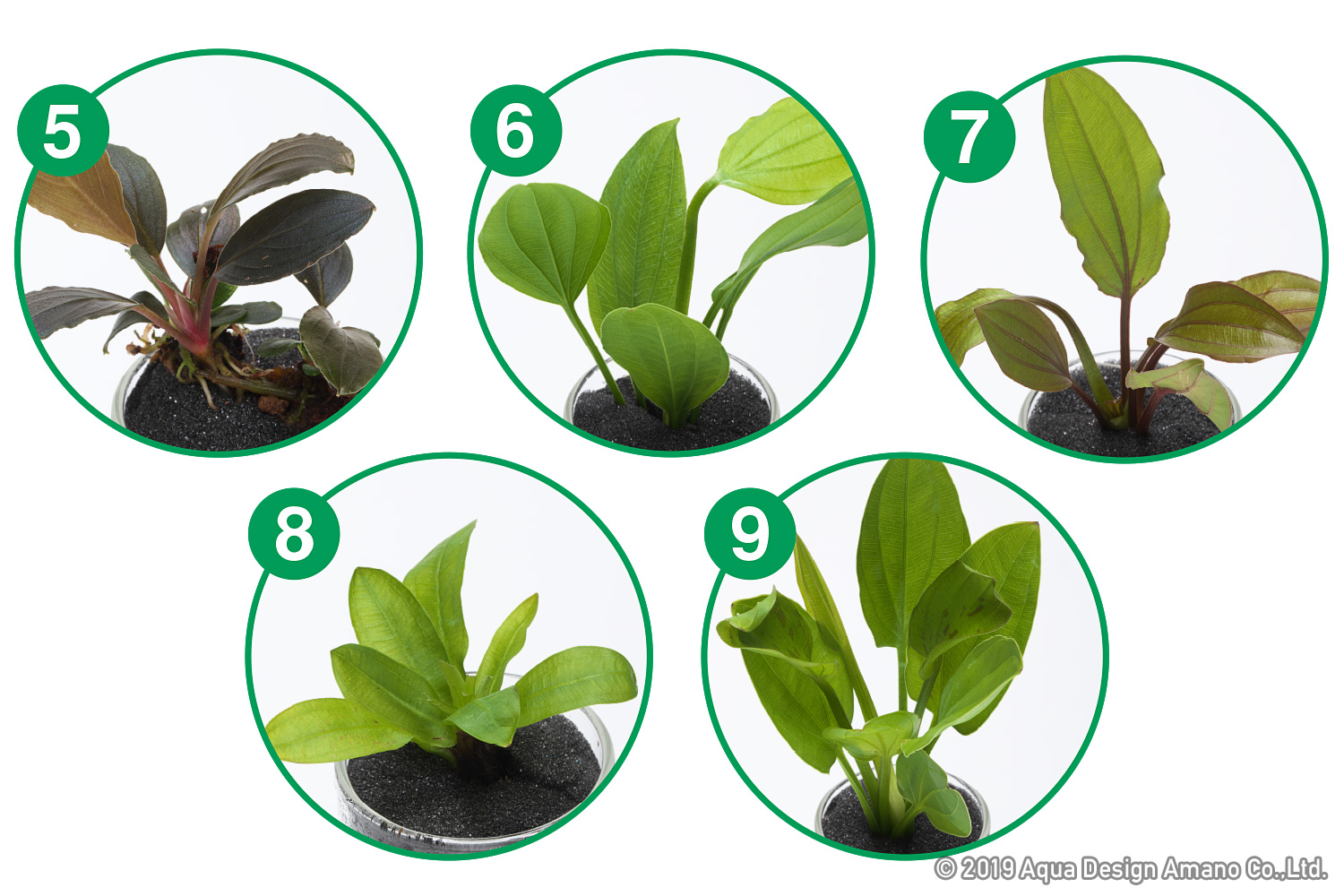 5:Bucephalandra kishii
This is a popular large variety of Bucephalandra. Its appeal is the pronounced mid-rib and lateral veins that look like blood vessels. Since the ribs do not show up very well on small leaves, you should give the plant some time to grow larger.

6:Echinodorus argentinensis
This plant develops spoon-shaped leaves when grown emersed as its common name Spoon Sword Plant indicates. Its long emergent leaf stalks remind you of its natural habitat environment. Daily misting is essential for growing it emersed as well as repelling insects.

7:Echinodorus "Red Rubin"
While this plant can be grown emersed, it develops characteristic reddish leaves under water. It would be fun to grow Echinodorus by itself in a tall Neo Glass Air and enjoy its beautiful leaves.

8:Echinodorus major
It is not an exaggeration to say that this plant with slightly wavy narrow leaves swaying in the water embodies the charm of aquatic plants. Growing healthy Echinodorus requires high light and bottom fertilizers regardless of their types.

9:Echinodorus "Ozelot Green Long Leaf"
The characteristic red spots of E. Ozelot do not seem to show up very much on emersed grown leaves. The green form is often called "Ozelot Green Long Leaf" since the width of its leaves are somewhat narrower than the regular E. Ozelot, irrespective of a emersed or submersed form. This is a high-grade improved variety with a beautiful appearance.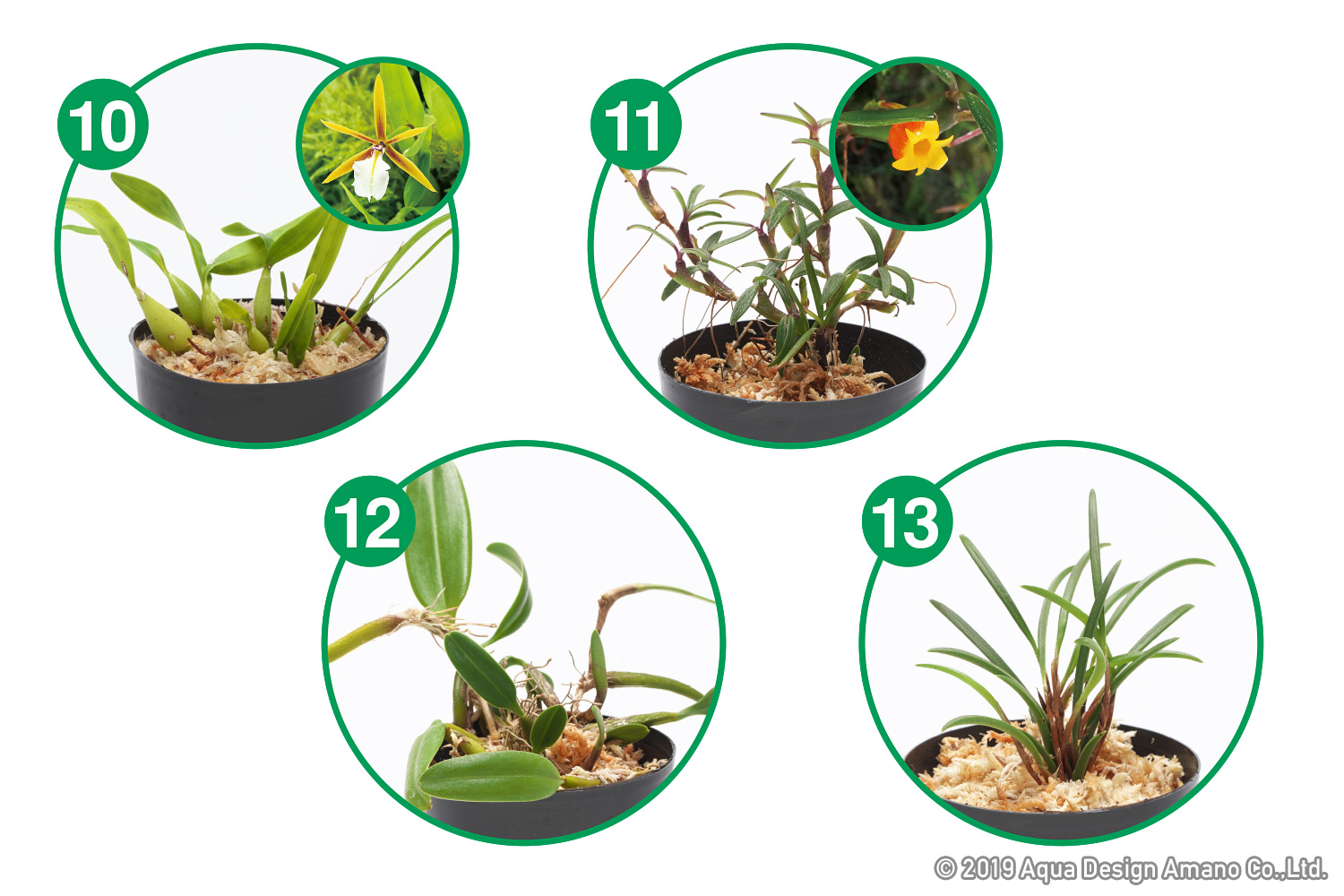 10:Dinema polybulbon  (Terrestrial plant)
This is an introductory type small epiphytic orchid. It is suitable for growing in an Aqua Terrarium since it loves humidity. Care should be taken not to let it dry too much. It spreads by trailing. This orchid will let you enjoy the charm of a small, easy to grow epiphytic orchid.

11:Mediocalcar decoratum "Orange"  (Terrestrial plant)
The tiny pseudobulbs and leaves of this plant make it easy to use in a small setup, such as Terra Base. It produces cute orange globe-shaped flowers with curled petals abundantly. When it blooms, the presence of the tiny flowers brightens up the impression.

12:Bulbophyluum ambrosia (Terrestrial plant)
This is a type of Bulbophyluum with sweet smelling flowers. Although it spreads by rhizomes, it is difficult to produce a dense impression in a small area due to a relatively long rhizome between pseudobulbs. Plump psuedobulbs on a Bulbophyluum is a sign of healthy plant.

13:Ceratostylis philipinense  (Terrestrial plant)
Flowers of orchids appear distinctively different from each other, but their plant bodies often appear similar. Therefore, the scenery lacks variation outside of the plant's flowering period. However, the long slender leaves of this particular species can create a good accent in a layout.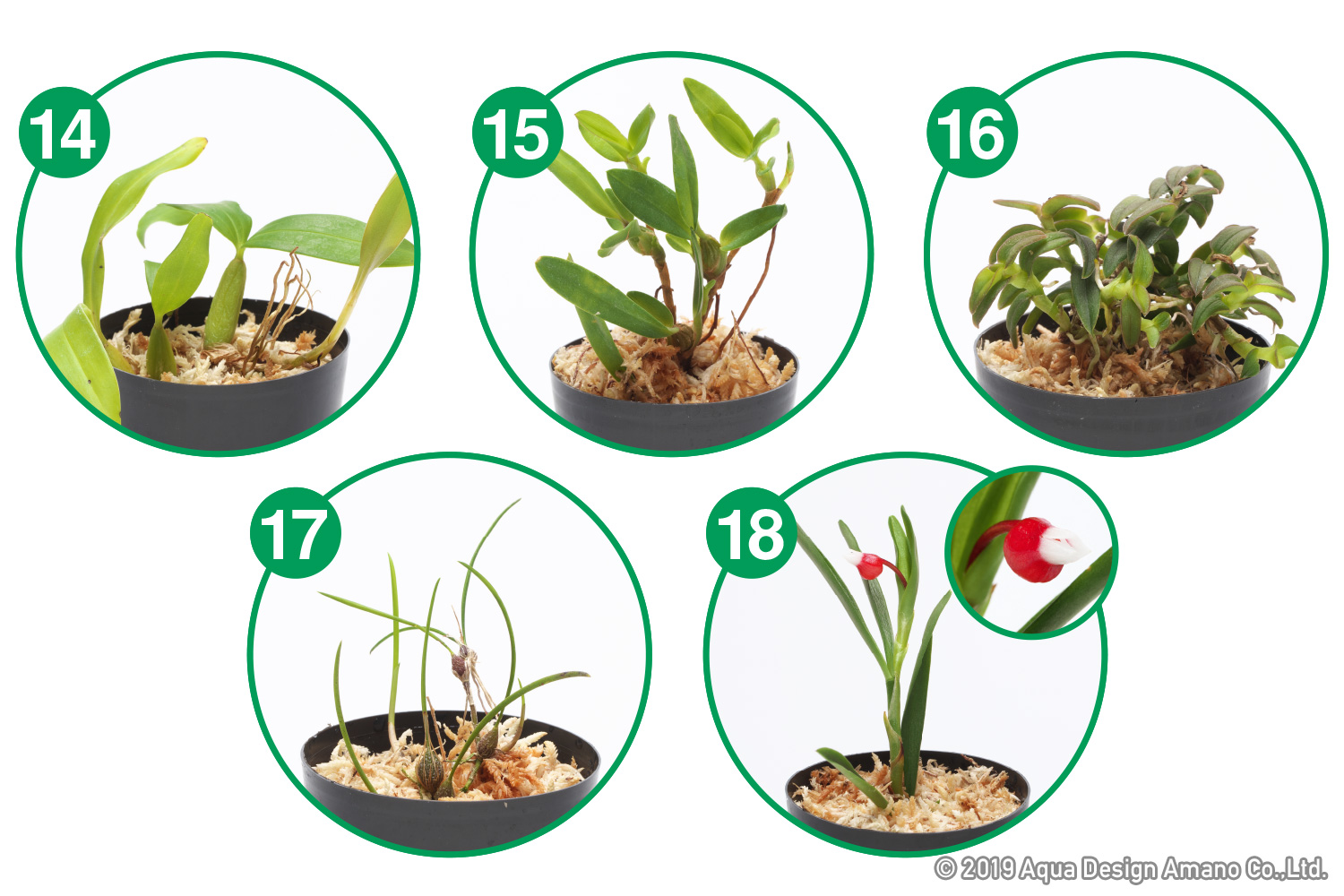 14:Coelogyne fimbriata (Terrestrial plant)
This is a relatively large orchid among the first Jungle Plants Series orchids. Just one pot of this plant can create a strong presence. It is highly recommended for growing on a Wabi-Kusa Mat and incorporating in a layout because of its size.

15:Maxillaria sophronitis (Terrestrial plant)
This small Maxillaria grows on trees in the South American cloud forests. Therefore, it is compatible with and very easy to use in a Terra Base. Humidity control is essential for growing the species that grow naturally in cloud forests. This orchid produces small red flowers.

16:Epidendrum porpax (Terrestrial plant)
While this orchid grows like a stem plant, its short nodes and dense leaves create a tight impression. It prefers relatively soft light. If the light is too strong, the leaves will develop reddish coloration.

17:Neolauchea pulchella "Pink" (Terrestrial plant)
This orchid develops a slender leaf from a small 1 cm size round psuedobulb. A series of small bead-like psuedobulbs creates a nice accent in a layout. It produces purple flowers with a frilly lip.

18:Mediocalcar versteegii (Terrestrial plant)
This orchid has lovely two-toned red and white flowers that peer out from between its leaves. One of the appeals of orchids is the fact that the impression of the plant changes completely when it blooms. This species is a good example of that.
The Jungle Plants Series are ADA's new live products consisting of a group of plants with distinct charm that inhabit the same area that aquatic plants and tropical fish come from. The first group is the small epiphytic orchids, which was released in a limited number last month ahead of the product launch. The original strain of begonia, the plants in the Echinodorus family, and tropical rainforest plants that can be grown as emergent plants will be added to the lineup shortly. Look forward to the release of new plants that will be added to the lineup in the future.