IWAGUMI – KO Naru Uchida x Daisuke Inoue
Deep emotions and ideas from scenery create new originality

Naru Uchida, a SUIKEI creator is interviewed by Daisuke Inoue about a connection between themes of Iwagumi and nature.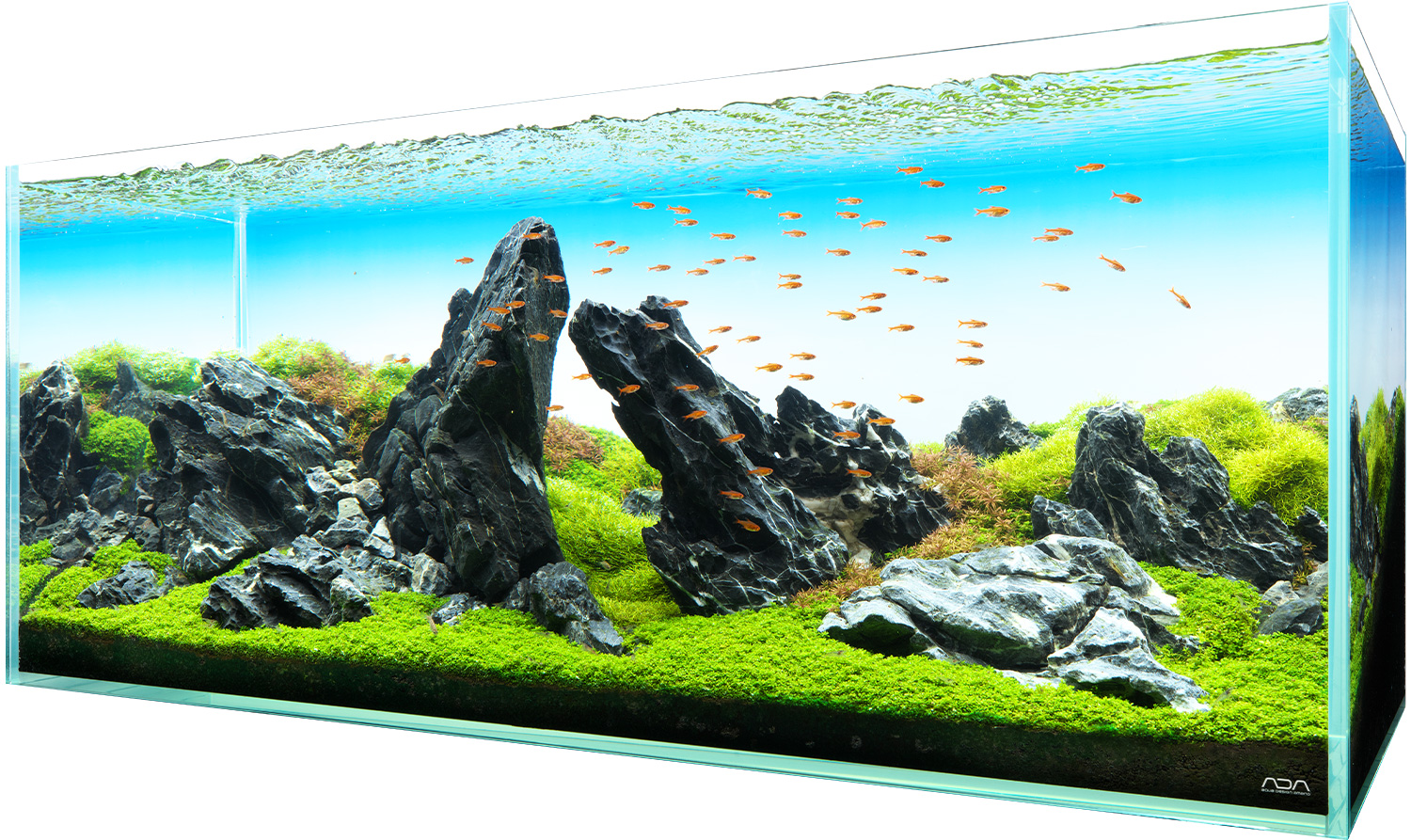 Inoue: The 2 large stones in the middle are arranged impressively. What is the theme for this work?
Uchida
: This Iwagumi layout was created while having wedded rocks seen on many coastlines in Japan as a motif.  By purposely making the composition symmetry, I aimed to create an appearance with sacred and sublime impressions. In order to create a shore reef area where wedded rocks are located, Ryuoh Stones with rugged texture are used as a material. But on the other hand, autumn leaves in the alpine area are expressed with delicate aquatic plants and red crawling aquatic plants. It was also a new attempt for me to combine apparently opposite things such as ocean and mountain.
Inoue: Mr. Uchida, can you tell me about your Iwagumi layout style?
Uchida
: Nowadays, I create everything based on deep emotions and inspirations I get from nature. That's exactly what the Nature Aquarium concept, "Learn from Nature, Create Nature" is all about. But if imitating captured natural scenery exactly the way it is, it lacks originality. Because works are created with human senses and evaluated by human senses, I believe that expanding your imaginations by combining scenery and ideas is a very important factor. For this work, "Scenery" with wedded rocks as a motif incorporated into the Iwagumi composition, and my "Ideas" are combined together. And "Scenery" of a coastline expressed in the composition, and another "Scenery" of an alpine area with a diorama element for planting, are combined. I think it is important to have 2 themes as core values. Moreover, when creating layouts at NA Gallery, I value not only visual attractiveness but adding stories and feelings to my layouts. I think this applies to layouts in general.
Inoue: I see, it's a different style from Sanzon Iwagumi, isn't it?
Uchida
: I understand the principles of Iwagumi that I learned from many works including Sanzon Iwagumi. And I create a composition by getting inspirations from the essence of nature and scenic pictures, and start arranging stones. Also in my case, I use not only stone arrangements and use of space, but also Iwagumi in Japanese gardens, ink brush paintings and folding screens as references.

Inoue: So, do you have any tips for Uchida's own stone arranging style?
Uchida
: When I create layouts, I basically use the addition method because I keep adding materials. But when it comes to Iwagumi layouts, I tend to construct a framework at one stroke, and then subtract any excess materials which is the subtraction method. That's exactly what Takashi Amano taught us. I think the true nature of Iwagumi is how you can explain a scene to audiences with steps as few as possible. And that's really hard (sarcastic smile). Using less stones means gaining more space. So I think that it fits the philosophy of Nature Aquarium which is that aquatic plants are the main figure. In addition, when the composition is simple, daily maintenance becomes easy, therefore the long term maintenance becomes easier.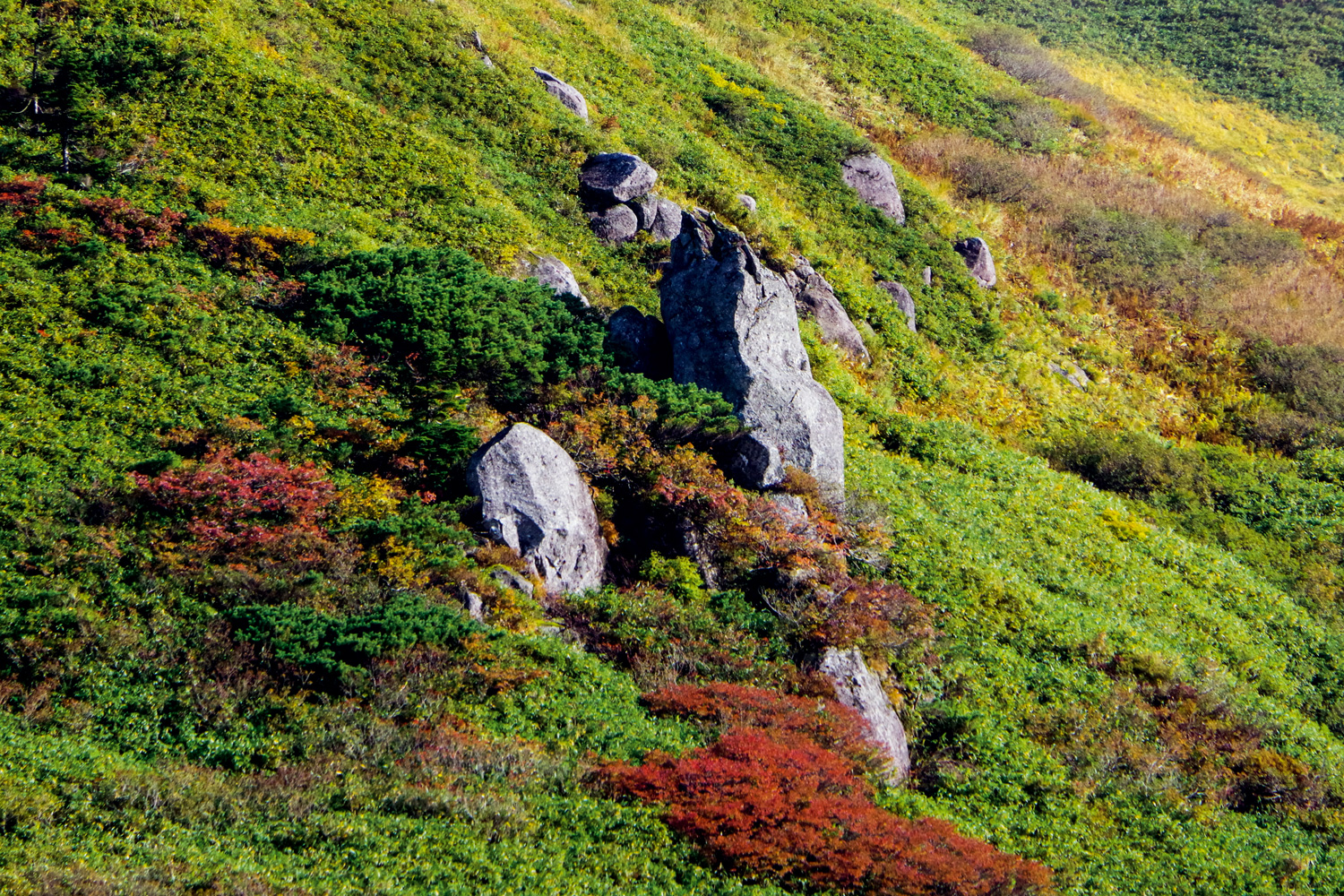 Inoue: Finally, can you tell us what is so attractive about Iwagumi layouts?
Uchida
: The motif for this Iwagumi is wedded rock. But the Moon is one of other examples of natural worship. In Japan, it is said that the pattern on the Moon looks like the way rabbits are pounding Mochi rice cake. But I heard it is said to be crab or profile of a woman in other countries. I think it comes down to how human beings have consciously deepened the relationship with nature by thinking of natural things as something else like the large rock worship. And perhaps Iwagumi means that we are seeking a potential relationship with nature and coexistence with nature more than the visual power. And like the Moon, Iwagumi shows different expressions depending on who looks at it. By the way, as one of the tendencies often seen with works in contests, participants tend to focus on how to fill a space as much as possible in order to make their works look powerful, right? On the other hand, I think Iwagumi layout is all about open space. In other words, a blank space holds a key to Iwagumi. I personally think there is the spirituality of "Wabi-Sabi" that Japanese people have.