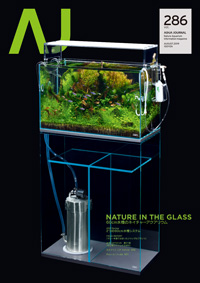 In this issue of AJ, 5 brand new Nature Aquarium aquascapes of W60cm aquarium tanks are featured. We also present 2 types of latest W60cm aquarium tank systems.
W60cm aquarium tanks are the most basic aquarium tank size in Nature Aquarium. And they allow us to enjoy various styled layouts. In this issue, from an Iwagumi layout to an open top aquarium style, various layouts from 4 SUIKEI creators are featured.
We highly recommend to those who are planning to make layouts in W60cm aquarium tanks.
In the Enjoy DOOA section, an aqua terrarium using our new product, Mizukusa Mist Wall 60 is also featured. It is now possible to grow even more types of plants than ever before because not only water but also mist flows down the wall surface. Please enjoy it as well as our new Jungle Plants.
Please check out AJ Vol.286 with full of latest information about W60cm aquarium tanks.


AQUA JOURNAL Vol.286
B5-sized, full-colored 24 pages

*AQUA JOURNAL (Printed Edition / Japanese) is not sold on ADA Online Bookstore.
*AQUA JOURNAL (Online Edition / English): New articles will be uploaded to ADA website weekly on Friday.