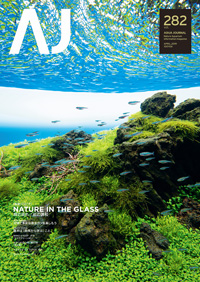 The feature article showcases two aquarium layouts. The first tank is Iwagumi layout using Yougan Stone and the second tank is driftwood layout using Horn Wood. Suikei creators for each tank explain points with layout photos.

System TERRA 30 using Sansui Stone dynamically is introduced in "Enjoy DOOA". Please enjoy a new style of Aqua Terrarium that is inspired by the natural scenery.

TERRA BASE, TERRA PLATE and small epiphytic orchids, which were on presale in an exhibition "Tohoku Orchid Show & Garden Festa 2019", are also featured. New products will be added to DOOA series in this spring. Don't miss them.

BIO Mizukusa no Mori in a new style and a comparative experiment of DOOA Aqua Clean AC are also introduced, so please enjoy Aqua Journal Vol. 282.


AQUA JOURNAL Vol.282
B5-sized, full-colored 24 pages

*AQUA JOURNAL (Printed Edition / Japanese) is not sold on ADA Online Bookstore.
*AQUA JOURNAL (Online Edition / English): New articles will be uploaded to ADA website weekly on Friday.