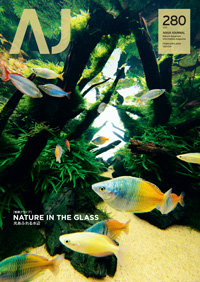 This time AQUA JOURNAL kicks off the New Year with a bright open-style aquarium; W180 × D120 × H60 (cm) layout of the overflow tank, finished in the most beautiful condition after more than one and a half year of production. In the top page, we introduce its charm in detail.

In the following ADA Review, we introduce a layout of 60 cm aquarium, using many BIO MIZUKUSA NO MORI including stemmed plants along with the latest aquarium system. Using AQUA SOIL-Amazonia II and POWER SAND ADVANCE S on the substrate, we take up newly available additives and liquid fertilizers, which make it a useful reference for your future layouts.

In addition, in the MAKE & KEEP corner, we explain in detail how to use the new product of this winter, PHYTON GIT SOL. If you are worried about the occurrence of cyanobacteria in the aquarium layout, please take a look at this article.

Other than that, there are plenty of articles on Enjoy DOOA and NEOGLASS AIR STYLE. Thank you for your continued support of AQUA JOURNAL in the new year.


AQUA JOURNAL Vol.280
B5-sized, full-colored 24 pages

*AQUA JOURNAL (Printed Edition / Japanese) is not sold on ADA Online Bookstore.
*AQUA JOURNAL (Online Edition / English): New articles will be uploaded to ADA website weekly on Friday.