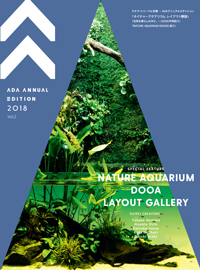 Wrap-up annual booklet of the layout works and the whole process of the layout making created in 2018.

"ADA Annual Edition" which was first published in the end of last year. The second issue "ADA Annual Edition 2018" will be released.

ADA Annual Edition 2018 is a compilation of Aqua Journal issued this year. The book mainly features "Extensive Nature Aquatic Plants Wall" which caught a big attention at the event of "TAKASHI AMANO – NATURE AQUARIUM Exhibition" held in GALLERY AaMo, TOKYO DOME CITY, TOKYO (Date: from the end of last year to early this year). It also showcases all works created by 5 Suikei creators in ADA. The photos of layout were introduced in this year's Aqua Journal but different angled photos are highly selected for this book.

Not only Nature Aquarium goods, but DOOA products and new products in 2018 are introduced through layout works. This book is a good reference for beginners !

Please enjoy the world of Nature Aquarium and Aqua Terrarium with beautifully lush aquatic plants in "ADA Annual Edition 2018".