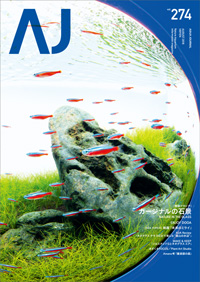 AJ's aquascape of the month is an "Iwagumi with Cardinal Tetra." It is an Iwagumi layout in an aquarium tank 120cm in width, created with ADA's signature combination of Hakkai Stone, Eleocharis acicularis and a school of Cardinal Tetra.
After the traditional Iwagumi layout, the magazine covers the most anticipated movie of the summer, "Mirai of the Future." (A film by Mamoru Hosoda: Produced by Studio Chizu) Read the article to find out what connection the "Iwagumi with Cardinal Tetra" has to the movie that ADA was involved with.
Moreover, brand new planted layouts are showcased in "Enjoy DOOA" and "ADA Review." Cool, refreshing Nature Aquariums and aqua terrariums featured in Aqua Journal Vol. 274 will soothe you in your moments of relaxation this summer.

AQUA JOURNAL Vol.274
B5-sized, full-colored 24 pages

*AQUA JOURNAL (Printed Edition / Japanese) is not sold on ADA Online Bookstore.
*AQUA JOURNAL (Online Edition / English) will be released on the official web site on the 1st day of the following month.

(C) CHIZU,Inc.