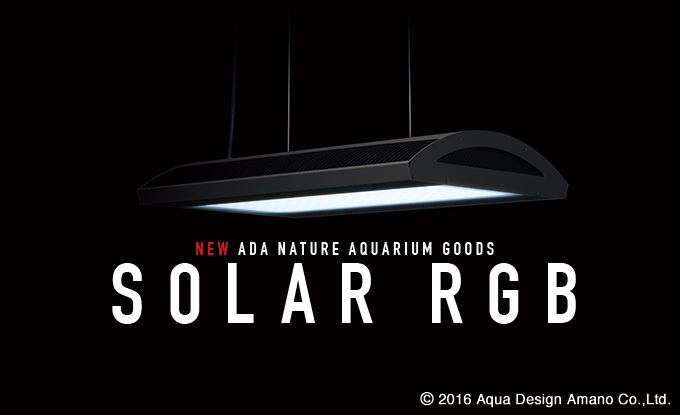 High Color Rendering LED Lighting System for Planted Aquarium Innovative LED lighting that brightens up your plants.

We are very excited to announce that the long anticipated launch of our newest LED lighting system, Solar RGB, is around the corner! Having a different type of LED lighting than that of the AQUASKY series, Solar RGB is equipped with RGB LED lights, which make red and green colors of aquatic plants look more brightly and efficiently.
One unit of SOLAR RGB is designed for use with aquariums over 60cm in width, and provides sufficient illuminance for an aquarium up to 90cm in width.

* Solar RGB is compatible with all Solar Stand Series lighting stands.



* Product image is for illustrative purpose only. The actual product may differ in appearance.


======== =====================

High Color Rendering LED Lighting System for Planted Aquarium
SOLAR RGB
Coming this Summer


■Specifications
Size / Lighting unit: W43×D28×H6.4 (cm), Electronic ballast: W21×D9×H6.5 (cm)
Weight / Lighting unit: 2.6kg, Electronic ballast: 1.5kg
Input voltage / AC100〜240V 50 / 60Hz
Power consumption / 130W
Luminous flux / 3,000〜3,500lm
Illuminance / Around 21,000Lx (Central illuminance at 30cm distance)
Color temperature / Around 9,000〜12,000K (There are variation in color temperature due to the nature of LED)
LED light / 160 (RGB LED)
LED lifetime / Over 30,000 hours (Actual hours may vary depending on usage environment)
Operating temperature range / 0〜35℃

*Sizes and specifications are subject to change without notice.