TOP OF THE WORLD 2019 #05
The International Aquatic Plants Layout Contest 2019 received 1,867 entries from 72 countries and areas around the world. TOP OF THE WORLD 2019 features top 7 works and interviews with the winners.
THE INTERNATIONAL AQUATIC PLANTS LAYOUT CONTEST 2019
World Ranking: 5
BRONZE PRIZE
Siak Wee Yeo
Malaysia/Fallowness

Aquatic Plants
Limnophila sp 'Vietnam'
Anubias baeteri var. nana 'Petite'
Starogyne repens
Fissidens fontanus
Fissidens nobilis
Helanthium tenellum
Bolbitis heudelotii
Littorella uniflora
Riccardia chamedryfolia

Fish & Invertebrates
Hasemania nana 'Gold'
Crossocheilus siamensis
Otocinclus sp.
Caridina cf. babaulti var. 'Malaya'
Caridina multidentata

Interview with the Bronze Prize Winner
I dream for a large aquarium like the one created in Mr. Amano's house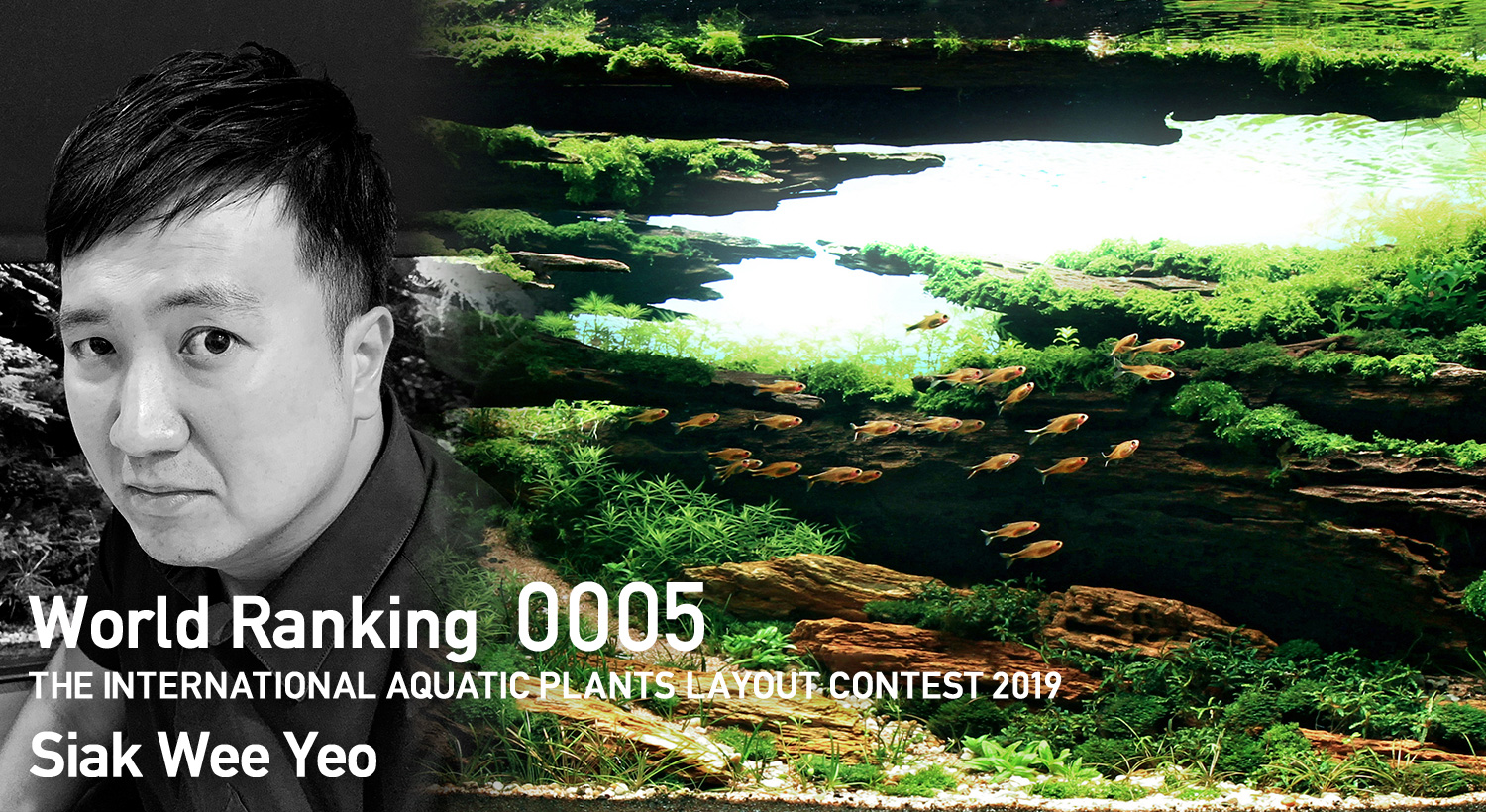 AJ: What was the most difficult aspect of creating and maintaining this layout work?

The most challenging part of this work is the structuring work. I need to arrange the trunk shape wood to be horizontal, but due to the limited tank space, I could neither express more to have a good perspective nor further improve the visual impression. As a result, I decided to proportion the trunk shape wood into different pcs, and "re-arrange" it by placing the bigger wood piece in the front and followed by the smaller piece behind it. Not only that, I choose Riccardia Chamedryfolia to be one of the main plants for my layout. I carefully attached Riccardia at the edge on horizontal wood to further express the natural feeling. Maintaining this plant is hard, due to the need to have very cold-water temperature, and the speed of growing was very slow.



AJ: What kind of aquascape do you want to create in the future? Do you have any dreams relating to the aquarium hobby?

I hope I can create a pure NA scape in near future but not for contest. I would like to enjoy the pure aquascape experience to suit my home design. I dream for a large aquarium like the one created in Mr. Amano's house with large angel fish swimming in the living room.