TOP OF THE WORLD 2019 #03
The International Aquatic Plants Layout Contest 2019 received 1,867 entries from 72 countries and areas around the world. TOP OF THE WORLD 2019 features top 7 works and interviews with the winners.
THE INTERNATIONAL AQUATIC PLANTS LAYOUT CONTEST 2019
World Ranking: 3
SILVER PRIZE
Fuhong Guan
China/Summer Solstice

Aquatic Plants
Riccardia chamedryfolia
Callicostella prabaktiana
Vesicularia montagnei
Bucephalandra sp.
Bucephalandra sp. 'Mini'
Rotala sp.
Hygrophila pinnatifida
Selaginella
Trichomanes auriculatum Bl.
Ceratopteris thalictroides
Anubias sp.
Anubias barteri var. nana 'Petite'
Eleocharis acicularis

Fish & Invertebrates
Hyphessobrycon amandae

Interview with the Silver Prize Winner
An amazing stage like the Olympics that anyone can participate freely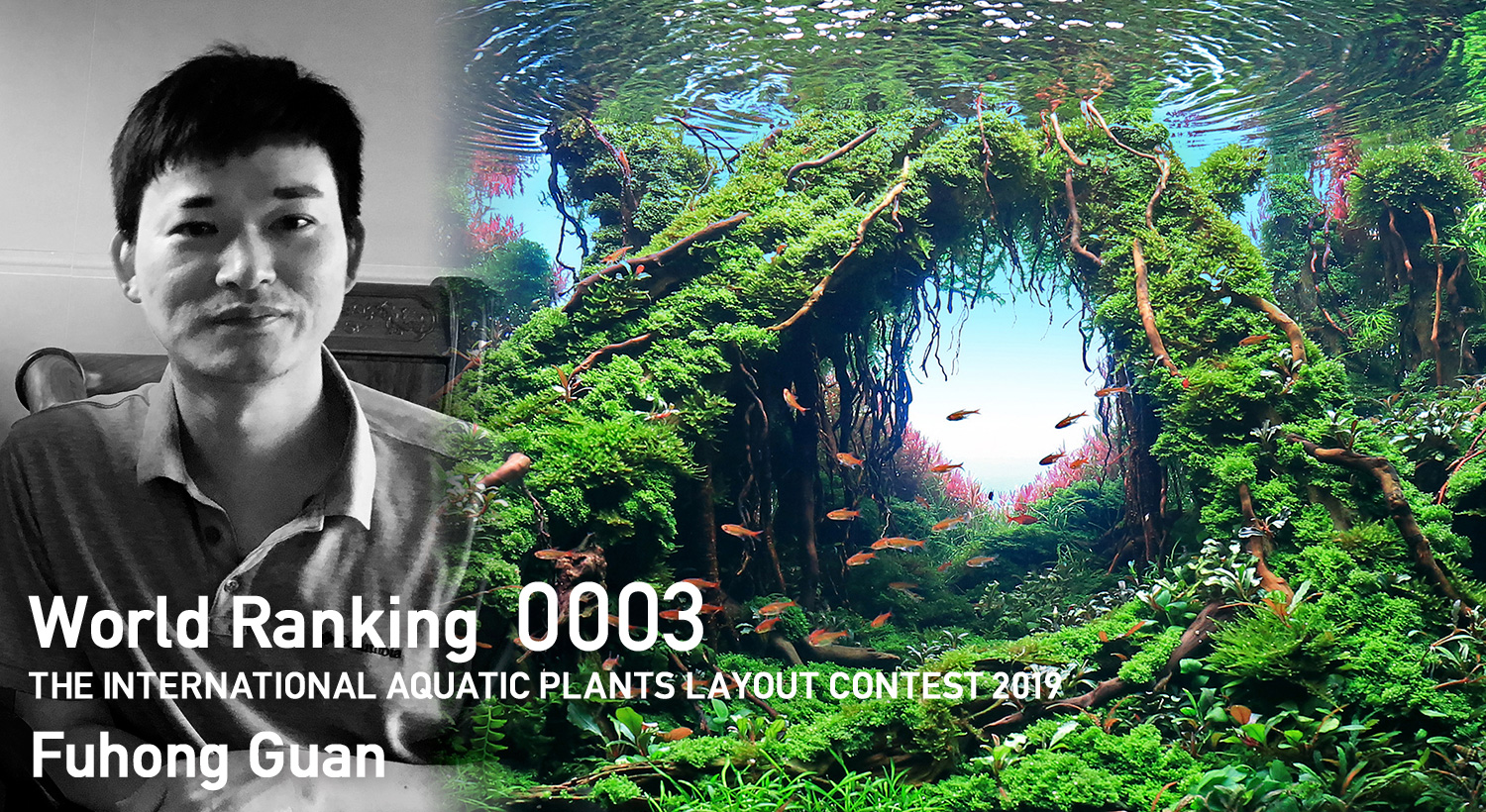 AJ:   How did you get ideas for this work?

"Summer being the most, and Solstice being the most, on the summer solstice, everything reaches its highest peak."
(From an ancient Chinese rhyme poetry)
Because the summer solstice is the time when we feel the energy of Sun the most, and all the plants become full of energy the most. That was the reason why I named this work "Summer Solstice". I composed a concave composition in the background using equilateral triangular shaped driftwood as a main material. And these 2 triangles effectively created a contrast, and I tried to work out creating a focal point emphasizing the depth.



AJ: What was the hardest part of creating this layout?

From the beginning of the layout creation to the completion, the condition of the layout was great throughout. Because I did maintenance all the time, there was no algae breakout. The one thing I struggled the most was that because I did the maintenance after work, I often ended up doing it until late at night.



AJ: What is the International Aquatic Plants Layout Contest to you?

It is an amazing stage where anyone can participate freely based on fair rules like the Olympics. I really wish that many more friends will join the IAPLC and share many excellent works with everyone in the future.