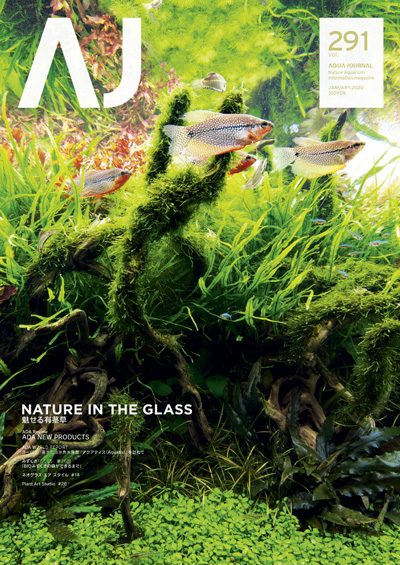 Aquascapes in a W180cm aquarium tank and a W120cm aquarium tank with impressive stemmed plants are appeared in the beginning of this AJ. One of the most attractive parts of stemmed plants is that they grow beautifully in clusters. Planting techniques for stemmed plants in different types of aquascapes are introduced in this issue of AJ. And it is so relaxing to see aquascapes with bright colored stemmed plants in the wintertime when there is less green outdoors. Please enjoy the latest aquascapes with stemmed plants.
And remarkable new products to be released toward the end of this year from ADA are introduced in the latter part of the AJ. Aquasky RGB has not only new functions but also a new design. Power Cord S-70 can handle 70 timer settings, so much more than other smart power strips. FC Tool Stand can compactly store various products of ADA Nature Aquarium. The special features of the new products are introduced in detail. So please use this AJ as a reference for the holiday and New Year shopping.


AQUA JOURNAL Vol.291
B5-sized, full-colored 24 pages

*AQUA JOURNAL (Printed Edition / Japanese) is not sold on ADA Online Bookstore.
*AQUA JOURNAL (Online Edition / English): New articles will be uploaded to ADA website weekly on Friday.