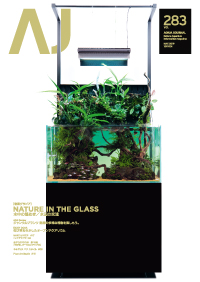 We introduce a 180cm Nature Aquarium layout with driftwood and stem plants in this issue. It is an orthodox triangle composition as Nature Aquarium, and introduces the planting with detail which the creator was dedicated.
Another layout is the aqua terrarium on the cover, which is the first example of using a Cube Garden 90×45×45cm with a newly introduced MIZUKUSA MIST WALL 90. MIZUKUSA MIST WALL 90 is a product that has been downsized from the Extensive Nature Aquatic Plants Wall and it has been introduced at AJ several times. You can enjoy MIZUKUSA MIST WALL 90 at home using Wabi-Kusa Mat with conventional epiphytic plants and jungle plants, such as small orchid, Begonia and Echinodorus. These jungle plants are introduced as pictorial book on ADA Review page.
Please enjoy serialized articles and new layout of DOOA System Aqua 30 using the Wabi-Kusa Hanger on AJ Vol. 283.


AQUA JOURNAL Vol.283
B5-sized, full-colored 24 pages

*AQUA JOURNAL (Printed Edition / Japanese) is not sold on ADA Online Bookstore.
*AQUA JOURNAL (Online Edition / English): New articles will be uploaded to ADA website weekly on Friday.