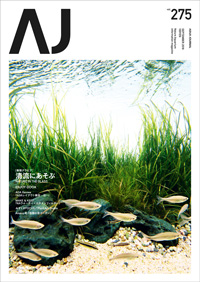 The featured image of the month is a W180cm aquarium layout, titled "A fresh water stream." As its title says, the theme of this Hakkai Stone aquascape with tape-like plants is a clear water stream. The article also includes some landscape photos from the river that the layout image was set in. It looks very refreshing to the eyes especially in hot summer time.
In "ADA Review," we will give you a good overview of ADA's stone lineup. Stones are commonly used in making Nature Aquarium layouts. The article reviews this familiar layout material in a unique manner.
"Enjoy DOOA" this month features an aqua-terrarium with Hydrocotyles in a DOOA System Terra 30. It gives you a pleasant cooling sensation. Growing emersed aquatic plants in aqua-terrariums is fun and soothing in hot weather.

Aqua Journal Vol. 275 is full of interesting articles and useful tips on aquascaping in the summer season!


AQUA JOURNAL Vol.275
B5-sized, full-colored 24 pages

*AQUA JOURNAL (Printed Edition / Japanese) is not sold on ADA Online Bookstore.
*AQUA JOURNAL (Online Edition / English) will be released on the official web site on the 1st day of the following month.