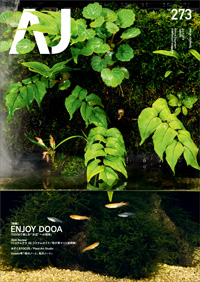 This month's issue has a special focus on aqua terrariums, including DOOA System TERRA 30.
Since its renewal last year, Aqua Journal has showcased sample aqua terrariums almost in every issue. This latest journal will give a series of 4 aqua terrarium layouts, which are perfect for early summer. The aqua terrarium featured in "ADA Review" gives off a cool, refreshing waterfront atmosphere in a cloud forest, using System TERRA 30, Wabi-Kusa Mat and new MISTFLOW.
Enjoy a moment of coolness and relaxation with Aqua Journal Vol. 273!

AQUA JOURNAL Vol.273
B5-sized, full-colored 24 pages

*AQUA JOURNAL (Printed Edition / Japanese) is not sold on ADA Online Bookstore.
*AQUA JOURNAL (Online Edition / English) will be released on the official web site on the 1st day of the following month.