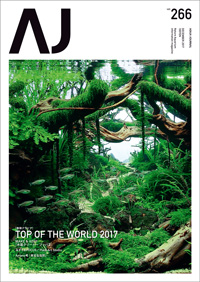 In AQUA JOURNAL Vol. 266, the TOP 7 winning works from The International Aquatic Plants Layout Contest 2017 are showcased. In the special feature, a new product "VUPPA-Ⅱ" and variations of "WABI-KUSA MAT" are portrayed.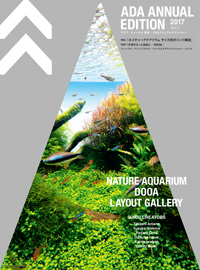 "ADA ANNUAL EDITION 2017"is wrap-up annual booklet of all AQUA JOURNAL issued in this year. The annual edition will be published in the end of the year annually from now on.
In this first issue, Nature Aquarium layouts created by Takashi Amano and 5 ADA staff, who were taught the quintessence of Nature Aquarium by Takashi Amano himself, will be featured.
It also showcases and reviews aquascape layouts using new products launched in 2017.
Please enjoy the booklet as an annual book that you can take a look back at ADA's year 2017 and as a commemorative booklet of new Nature Aquarium aquascapes.

Fully renewed AQUA JOURNAL Vol. 266 and ADA ANNUAL EDITION 2017 which features new layouts launched in this year, process of making layouts and new products will be released on November 10th.


"AQUA JOURNAL" Vol.266
B5-sized, full-colored 24 pages

■2017.12.01 AQUA JOURNAL Vol. 266 is now available. (PDF)
http://www.adana.co.jp/en/pdf/aj/aquajournal_vol266_en.pdf

■2018.01.11 Vol. 266 (PDF/DEUTSCH/14MB)
http://www.adana.co.jp/en/pdf/aj/aquajournal_vol266_de.pdf


"ADA ANNUAL EDITION 2017"
A4-sized, full-colored 120 pages

*Renewed AQUA JOURNAL (Printed Edition / Japanese) will not be sold on ADA Online Bookstore.
*AQUA JOURNAL Eng ver. will be released on the official web site on the 1st day of the following month.