NATURE IN THE GLASS 'The Sweep of a Forest'
Expressing an impression of trees and scenery of a forest floor spreading, with moss.

In a forest,  dominant tree species transition according to the ecological succession stages. In this aquascape, I envisioned a landscape of a forest in which trees are dominant and a forest floor with shrubs and ivy. I artificially created a fauna of dominant species that make up the forest by vertically placing branches of Branch Wood and covering much of the surface with moss. I aimed to create visual effects to make the trees stand out by spreading cosmetic sand instead of planting foreground plants. I planted ferns and stem plants that are unlikely to grow tall besides moss in the midground, and expressed how forest floor plants grow in the understory layer. By planting aquatic plants that grow tall in the background, it reminds us of the sweep of a forest.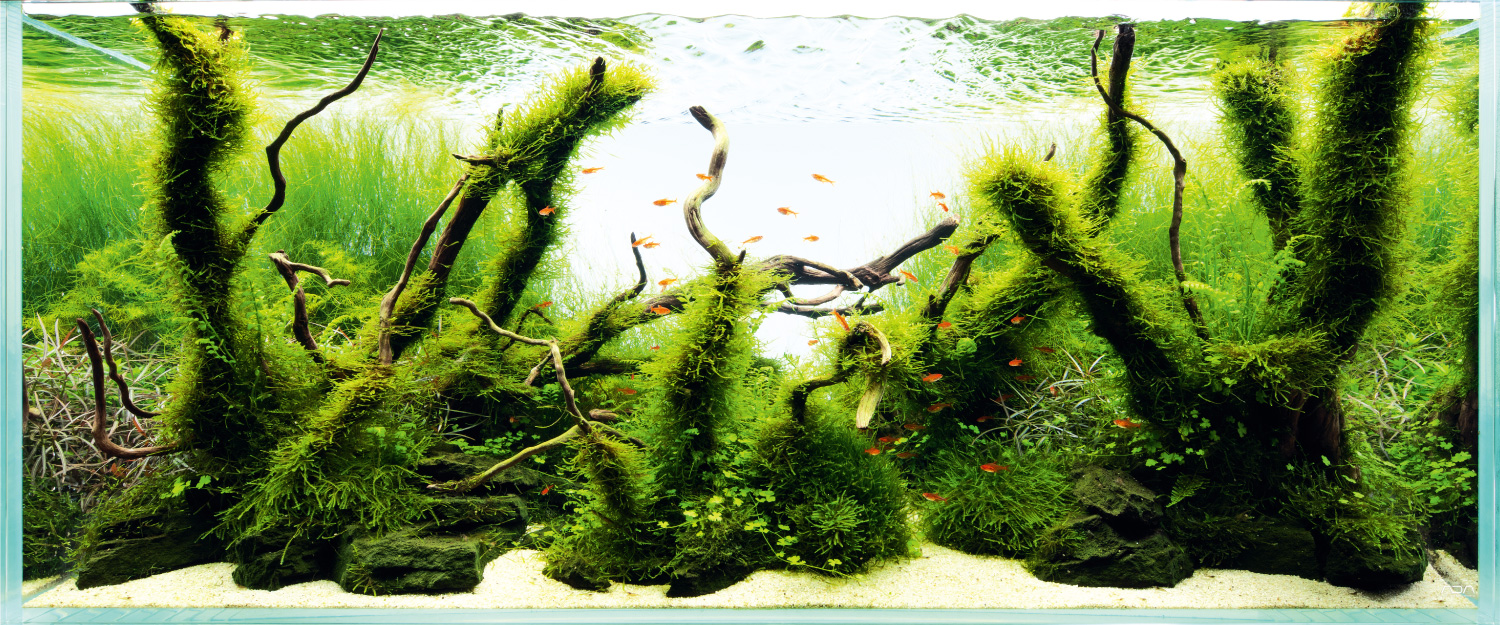 DATA

Shooting date: April 21st, 2021(ADA)
Creator: Daichi Araki
Aquarium: Cube Garden W120×D50×H50(cm)
Lighting: Solar RGB x 2, turned on for 8.5 hours per day
Filter: Super Jet Filter ES-1200(Bio Rio G)
Material: Branch Wood, Sansui Stone
Substrate: Aqua Soil – Amazonia ver.2, Power Sand Advance L, Bacter 100, Clear Super, Tourmaline BC, La Plata Sand
CO2: Pollen Glass Beetle 40Ø, 5 bubbles per second via CO2 Beetle Counter (using Tower)
Aeration: 15.5 hours after the light is turned off using Lily Pipe P-6
Additives: Brighty K, Green Brighty Mineral, Green Brighty Iron, Green Brighty Nitrogen
Water change: 1/3 once a week
Water quality: Temperature: 25ºC; pH: 6.2; TH: 50 mg/L

Plant
BIO Mizukusa no Mori Hygrophila sp. 'Araguaya Sharp Leaf'
BIO Mizukusa no Mori Staurogyne repens
BIO Mizukusa no Mori Hydrocotyle tripartit
BIO Mizukusa no Mori Hygrophila odora
BIO Mizukusa no Mori Eleocharis vivipara
Taxiphyllum barbieri
Plagiochila sp.
Hymenasplenium obscurum

Fish
Hyphessobrycon amandae
Crossocheilus oblongus
Otocinclus sp.
Caridina multidentata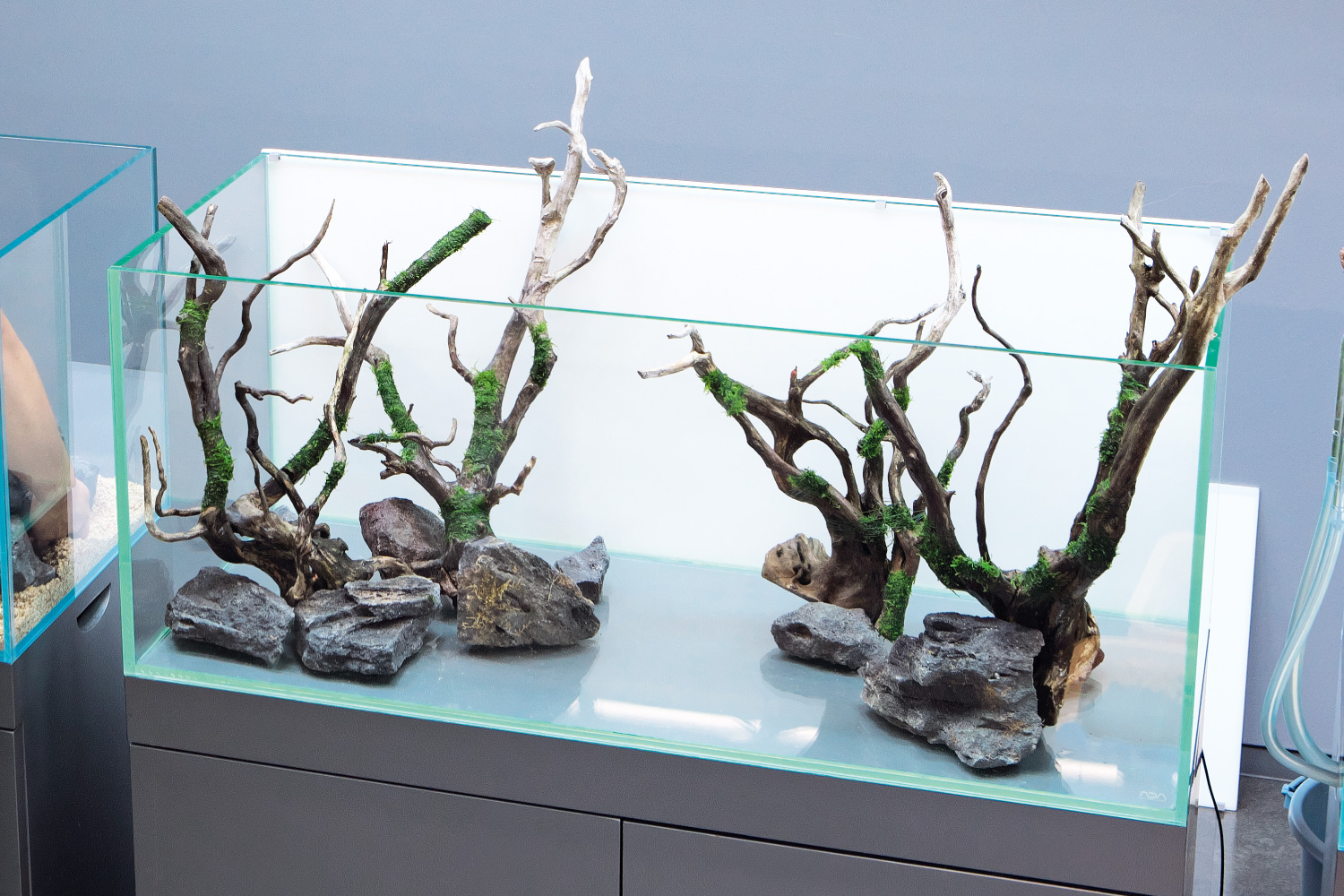 Aiming to express the forest and forest floor vegetation by planting separately in blocks in the midground.

On the forest floor where light is likely to be blocked by tall trees, shade tolerant low shrubs, ivy, and ferns are often seen. To give an impression of such shrubs, I planted Hygrophila sp. 'Araguaya Sharp Leaf' that grows thin and spread horizontally while adding a touch of red, and Hymenasplenium obscurum that grows vertically in the midground. I also planted Hydrocotyle tripartita that creeps on the moss that is covering stones and driftwood in order to express the ivy vegetation. By thinning out Eleocaris vivipara in the background to give shades of colors, the expanse of the deep forest is created.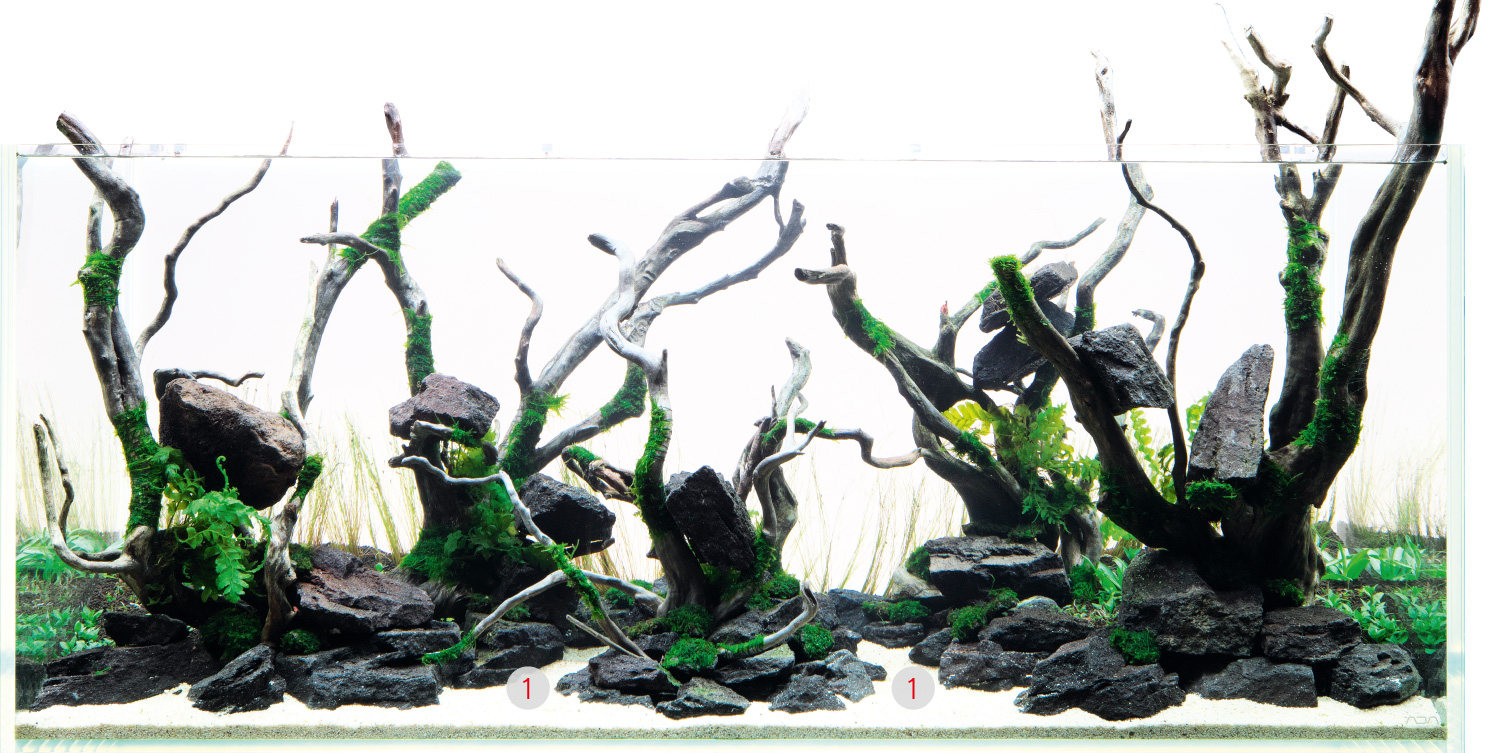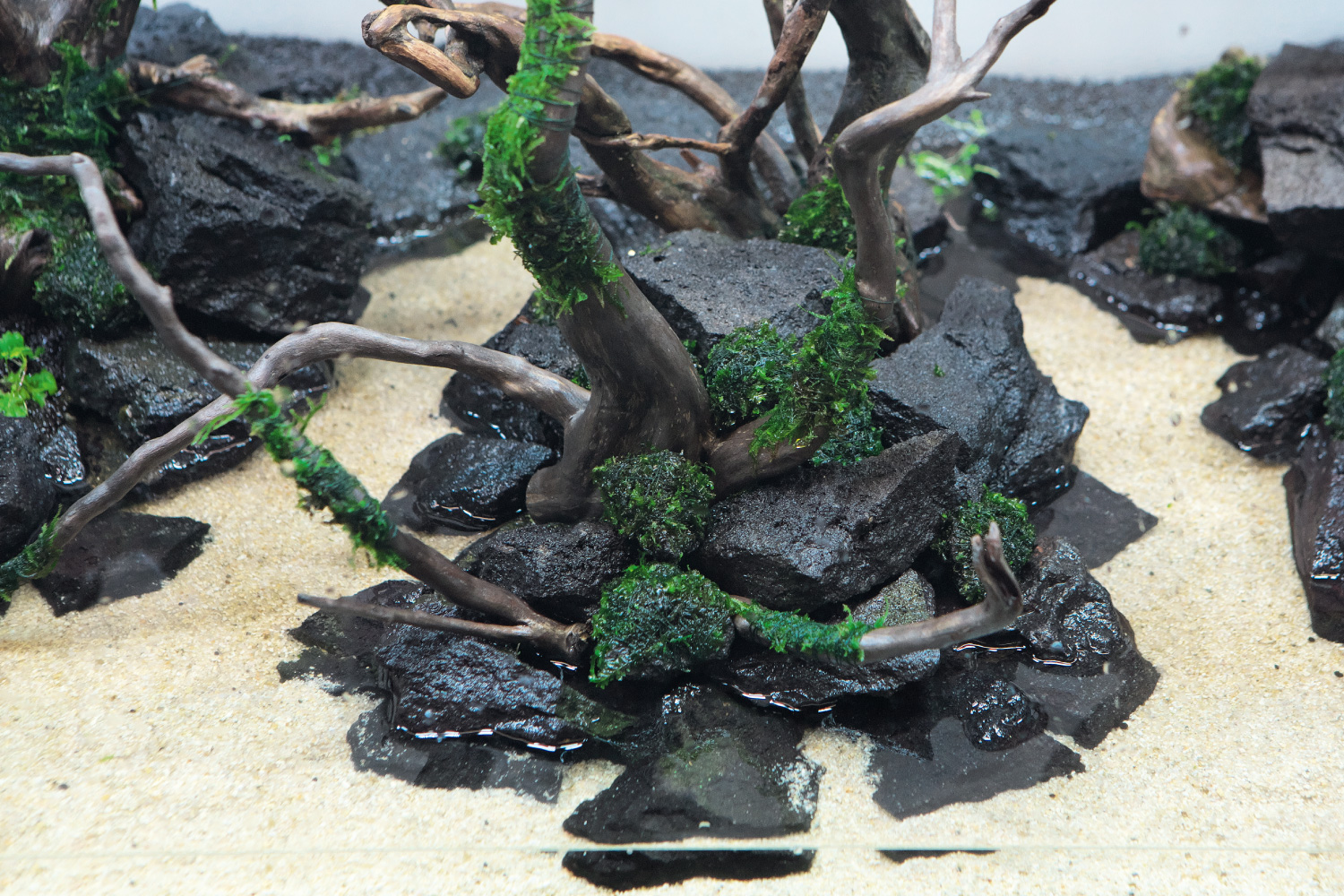 1.Creating intricacies with cosmetic sand.
I expressed intricacies of the forest and a sense of perspective by spreading cosmetic sand in a way that is divided into three blocks in small and large. I created the scenery only with stones and epiphytes without using soil in the small block in the center.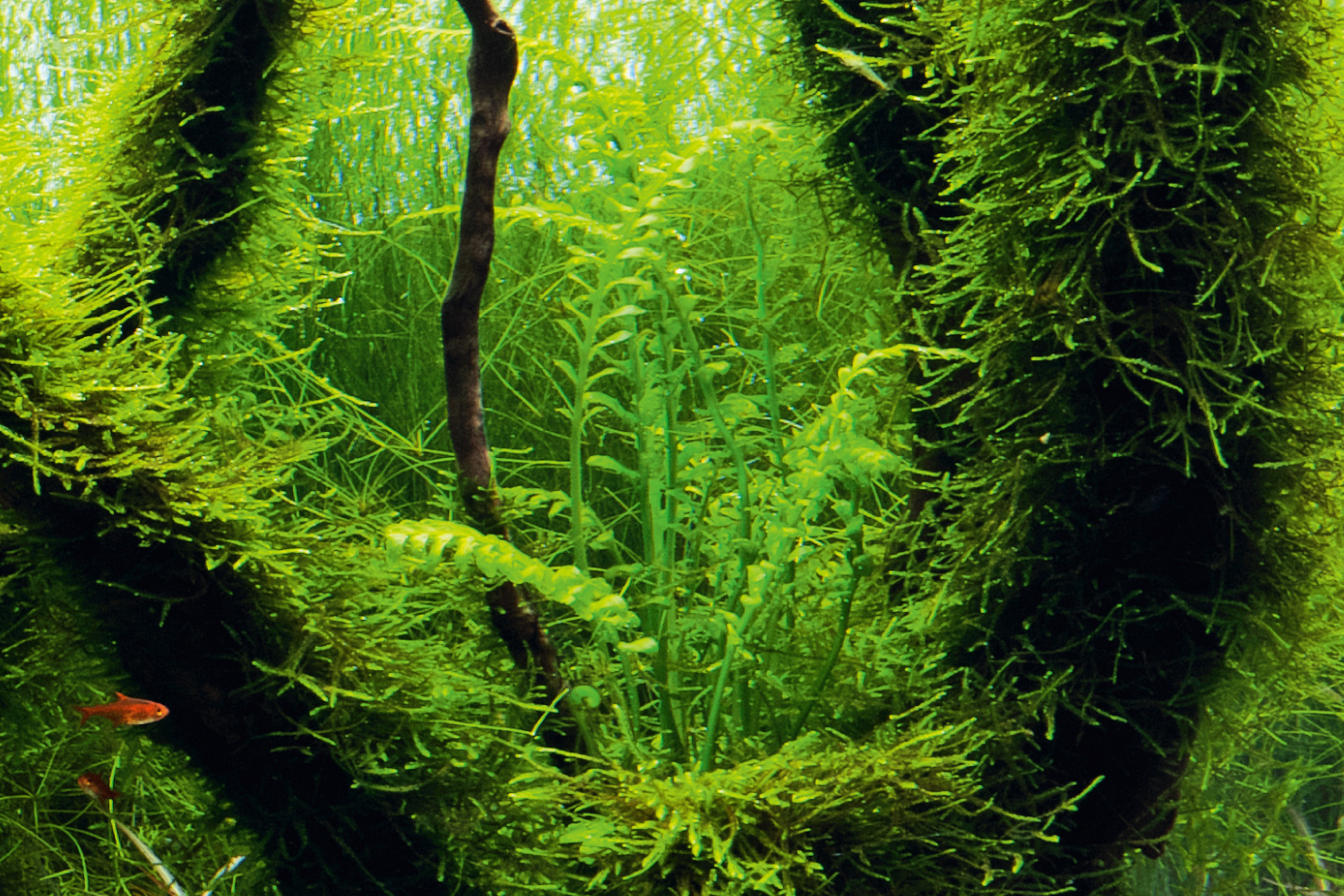 2. Avoiding monotony with leaf shapes of the fern.
I used distinctively shaped Hymenasplenium obscurum to give variations to the impression of the vegetation. I expressed terrestrial ferns that grows vertically between trees.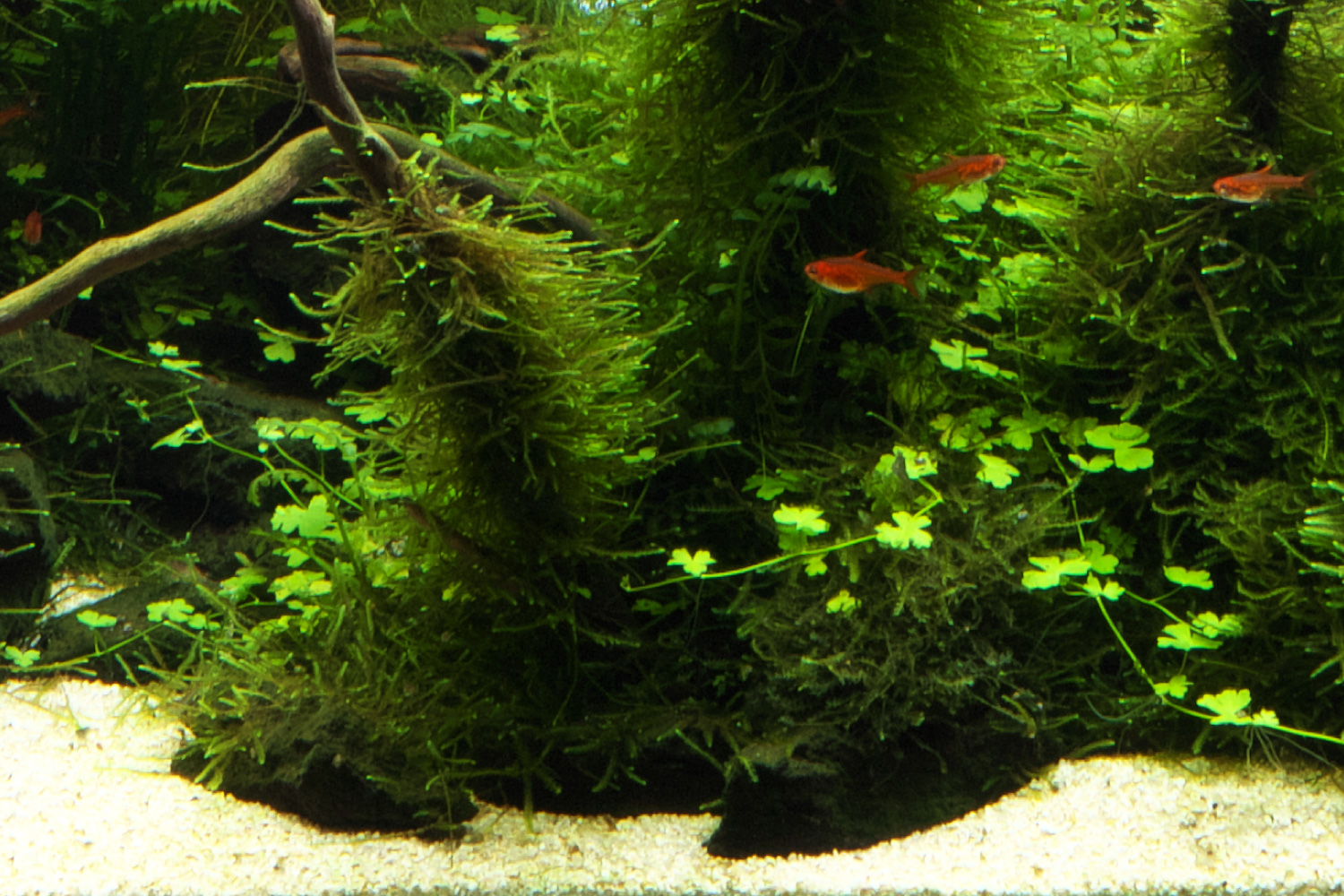 3. Expressing a casual natural feeling of the forest floor.
Stem plants that don't grow tall in various colors and shapes, and Hydrocotyle tripartita at the base of the driftwood added more natural feelings to the layout.