NATURE IN THE GLASS 'Knot Rocks'
Wedded Rock Layout with a symmetry composition with Ryuoh Stones

People have always tried to put meanings into natural things when seeing something similar to people, things and events from ancient times. By doing so, they have consciously deepened the connection to nature. This lay-out was created having wedded rocks seen on coastlines around Japan as a motif. By purposely creating the composition symmetry, it gives sacred and sublime im-pressions. By combining Ryuoh Stones that have a distinctive texture as if they were eroded by the sea breeze with Hemianthus callitrichoides 'Cuba' that has fine leaves, I intended to make the aquascape appear very large. And by planting red colored aquatic plants as accents, it gave a lively impression to the aquascape.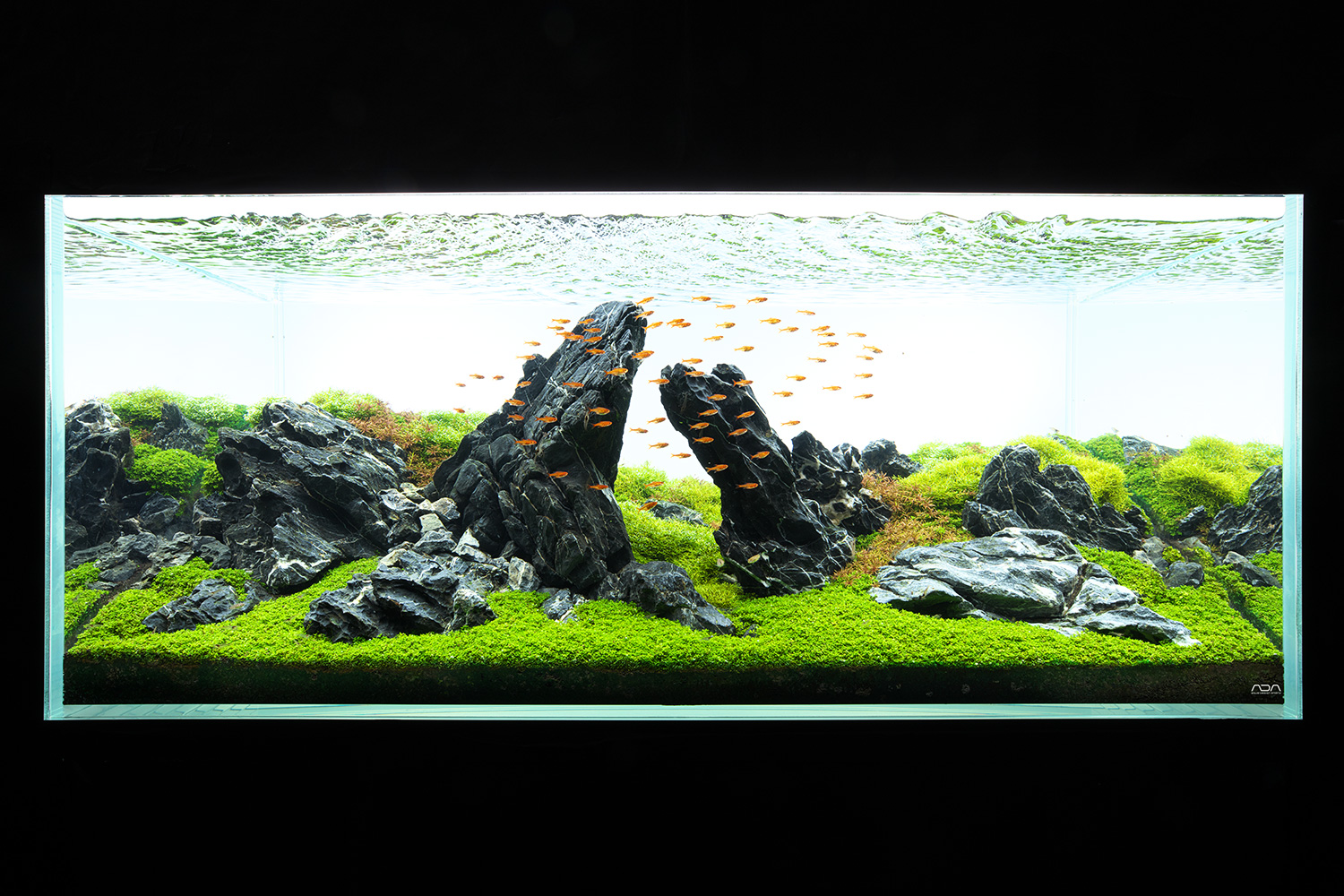 DATA
Shooting date: February 1
4
th, 2020(ADA)
Creator: Naru Uchida
Aquarium: Cube Garden  W120×D50×H50(cm)
Lighting: Solar RGB x 2, turned on for 8.5 hours per day
Filter: Super Jet Filter ES-1200(Bio Rio L)
Material: Ryuoh Stone
Substrate: Aqua Soil – Amazonia Ver.2, Power Sand Advance L, Bacter100, Clear Super, Tourmaline BC
CO2: Pollen Glass Beetle 40Ø, 5 bubbles per second via CO2 Beetle Counter (using Tower)
Aeration: 15.5 hours after the light is turned off using Lily Pipe P-6
Additives: Brighty K, Green Brighty Mineral, Green Brighty Iron, Green Brighty Nitrogen
Water change: 1/3 once a week
Water quality: Temperature: 25ºC; pH: 6.2; TH: 50 mg/l
Plants
Bio Mizukusa No Mori
Hemianthus callitrichoides
'Cuba'
Bio Mizukusa No Mori
Riccia fluitans
Rotala pusilla
'Goias'
Fish 
Hyphessobrycon amandae
Crossocheilus oblongus
Otocinclus
sp.
Caridina multidentata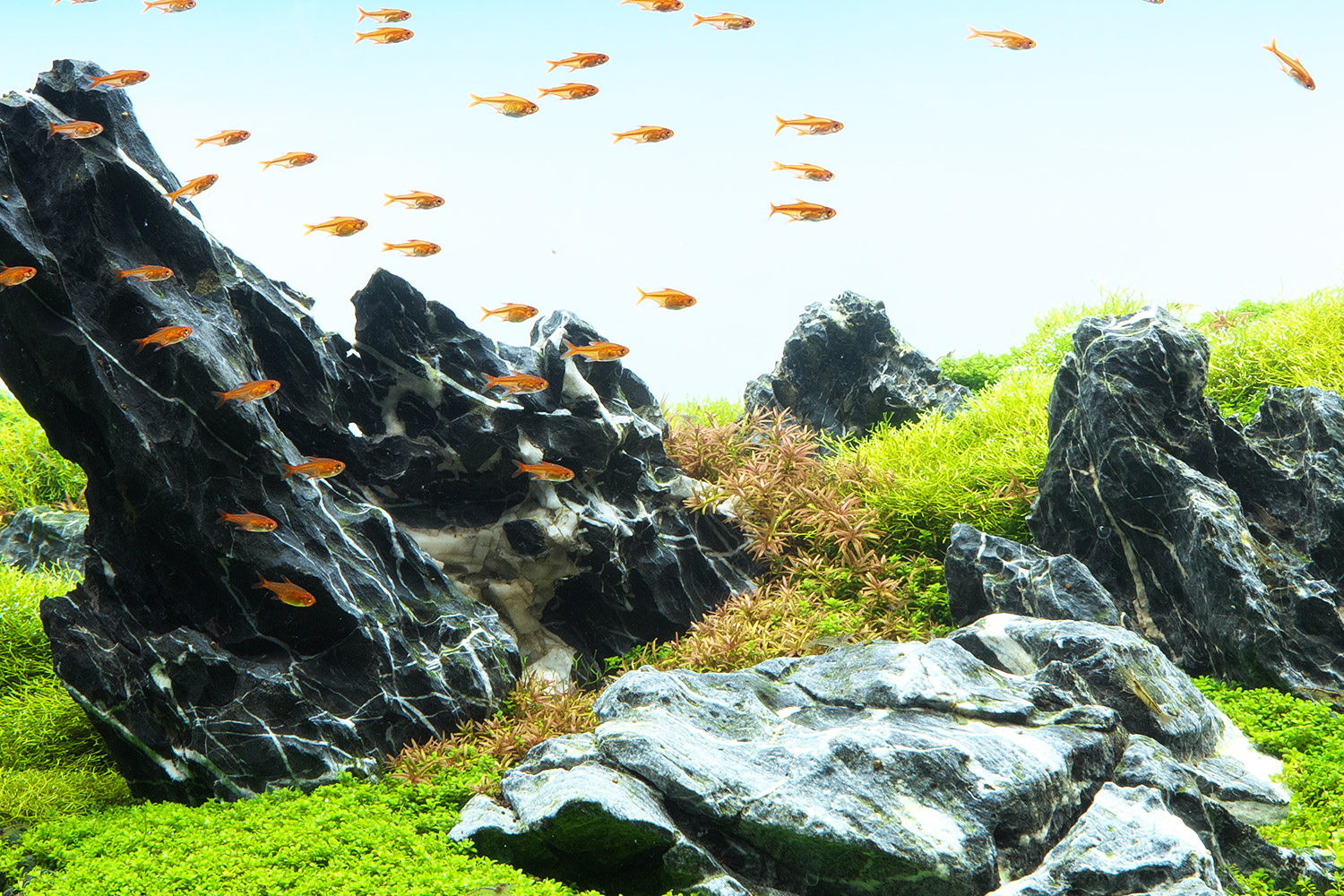 Stonescape that changes expressions depending on where to look from
Although the overall composition for this aquascape is symmetry, I slightly gave variations to the balance of left and right, and position of each stone. There is a purpose for changing expressions of the stonescape depending on where you look at it from.
Fusion of motifs such as coastlines and high mountains being captured from nature

Motifs for this layouts are wedded rocks in Sasagawa Nagare and Sado Island in Niigata, and natural scenery of Hachimantai in Iwate. The motifs captured from nature are expressed with materials and aquatic plants, and that's how the layout is composed. First, I expressed all sizes of rock combinations as seen on the rocky shore of Sasagawa Nagare by placing Ryuoh Stones, and to have effects as an aquascape, a composition of wedded rocks was adopted into the layout. And for placements of aquatic plants, the vegetation of Hachimantai is used as a reference. By integrating inspirations from a few different scenes instead of having just one scene as a motif, layouts can be created even more freely.

Inspiration from scenery 1
Rocks that can be seen above sea on the rocky shore are, so to speak, the tips of the iceberg. These rocks make up a large reef on the bottom of the sea. I executed this link with Ryuoh Stones.
Sasagawa Nagare, Murakami City, Niigata Early September in 2017 / Photo by Naru Uchida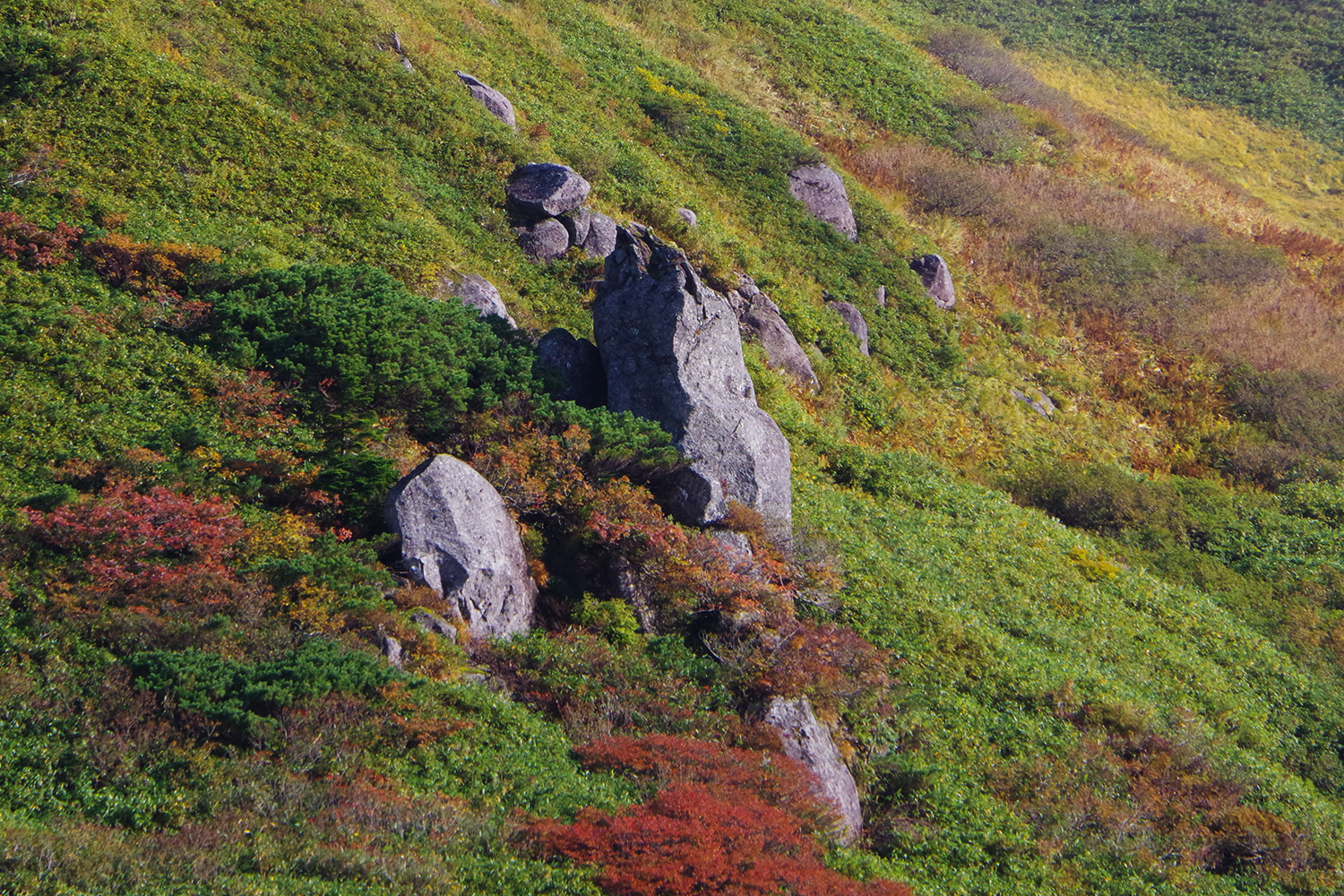 Inspiration from scenery 2
Overall, plants in high altitude area, such as Betula ermanii, Rowan, Beech, Maple and White Birch have a tendency to be short in height. Fall leaves in greenery are expressed by effectively placing aquatic plants.
Hachimantai, Hachimantai City, Iwate Late September in 2018 / Photo by Naru Uchida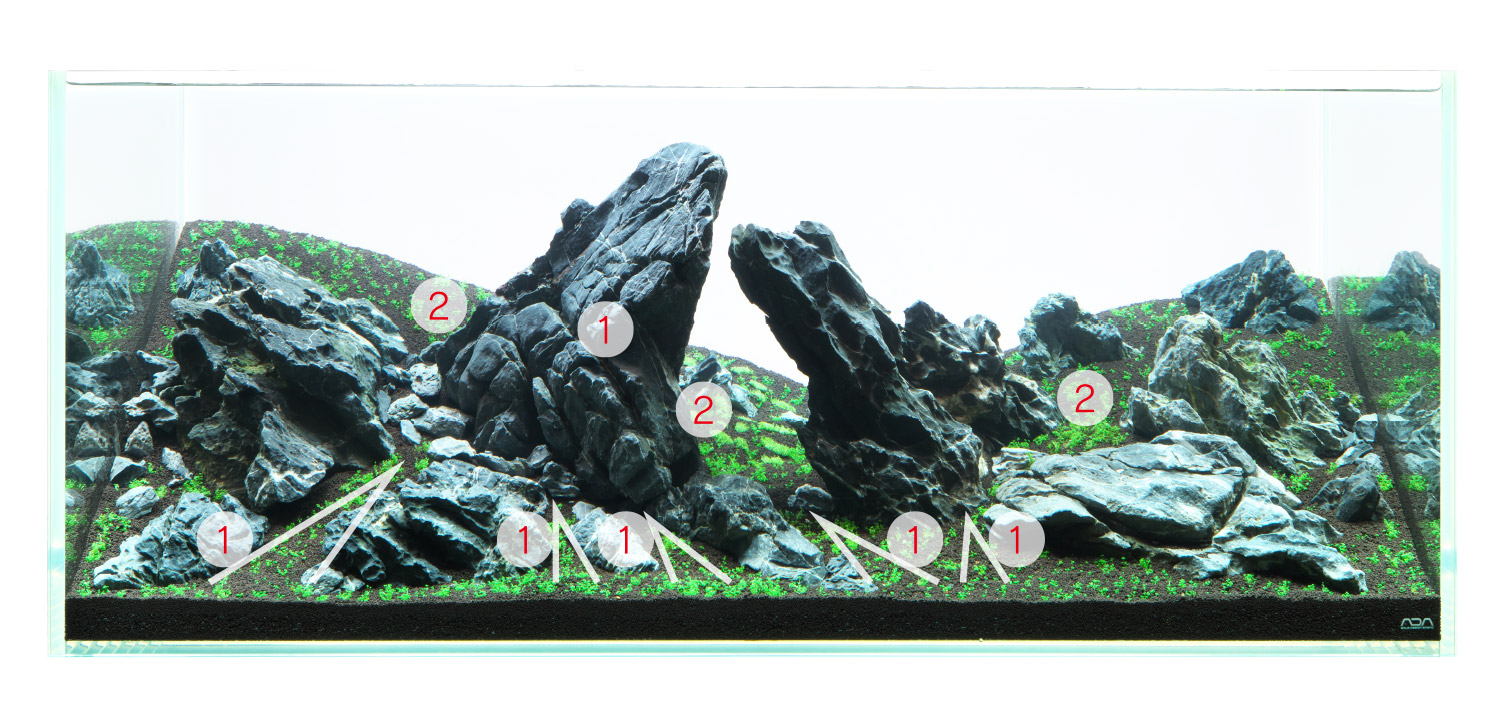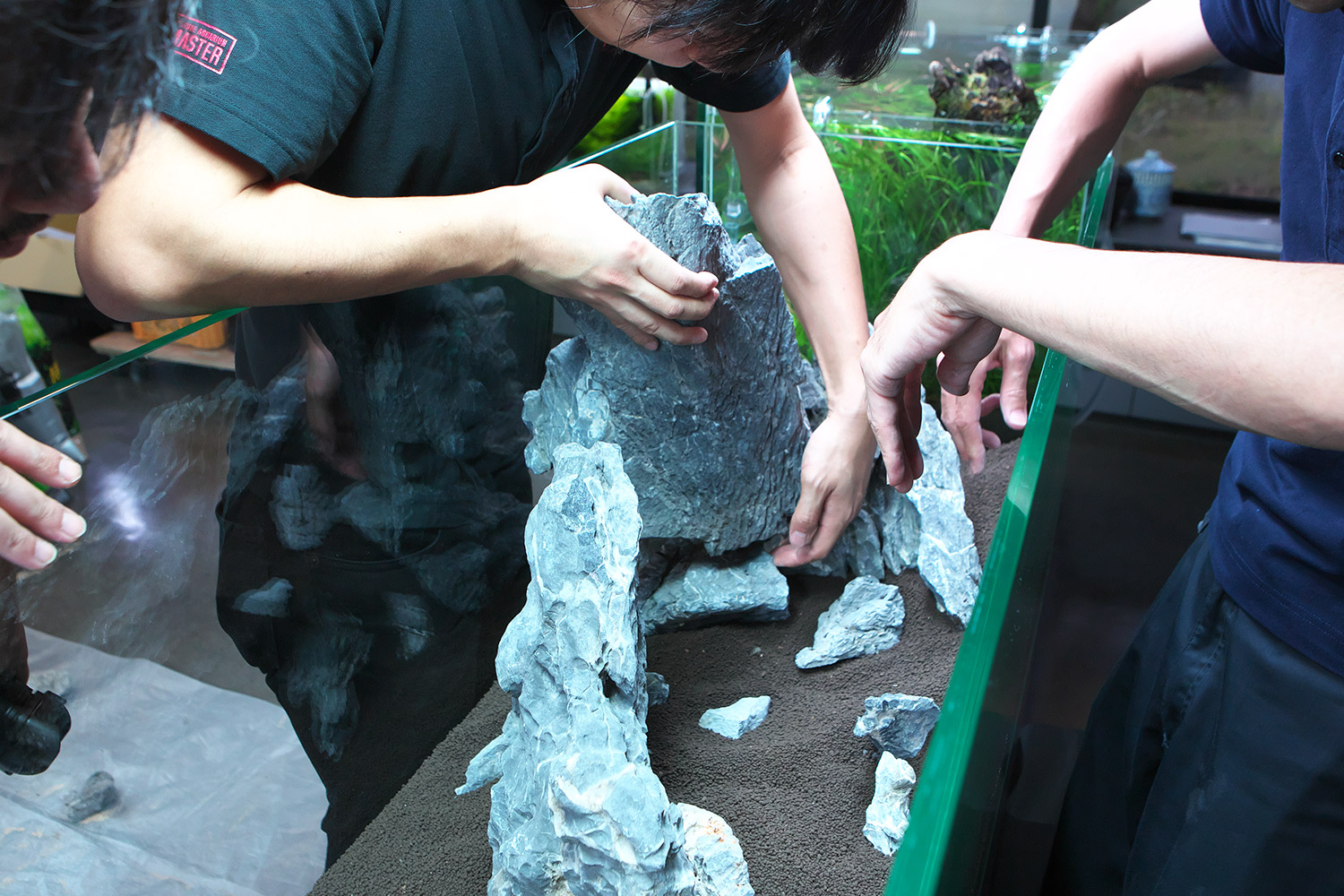 ①Angle and tense feeling of Oya-Ishi (main stone)
To avoid the impression from being too soft with the grown aquatic plants, I gave the Oya-Ishi, the main stone an angle that has a tense feeling, and overall, the impression became intensified.
Point for arranging Ryuoh Stones
For the stone arrangement in front of the Oya-Ishi, place stones unevenly instead of  placing them side by side and create a three dimensional effect. I purposely planted the carpet plant to come between the stones.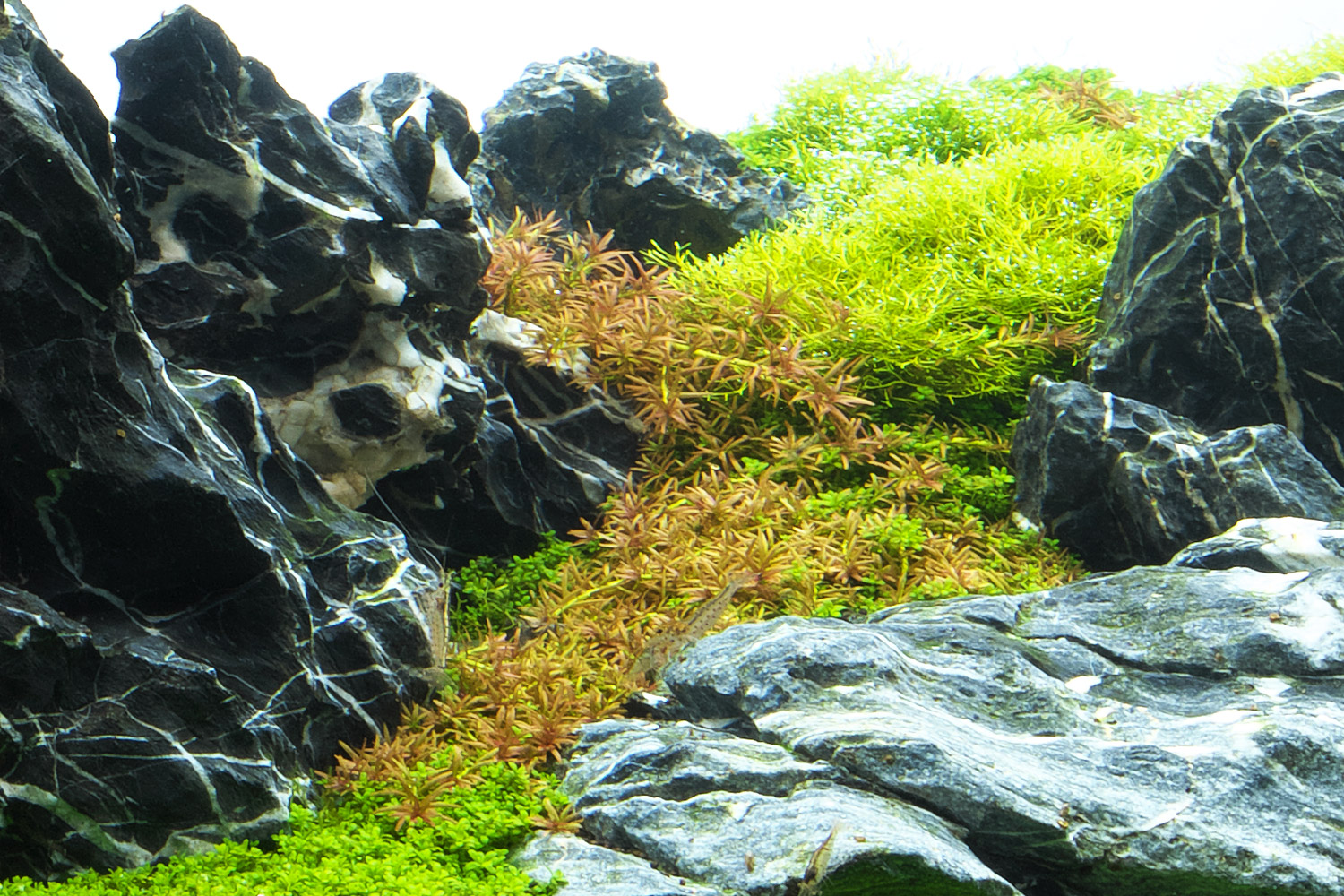 ②Fusion of motifs
Planting was done by having a stone arrangement with reefs on the coast as a motif and fall leaves on the plateau as another motif. I expressed the aquascape anew by integrating 2 motifs, instead of faithfully recreating scenery.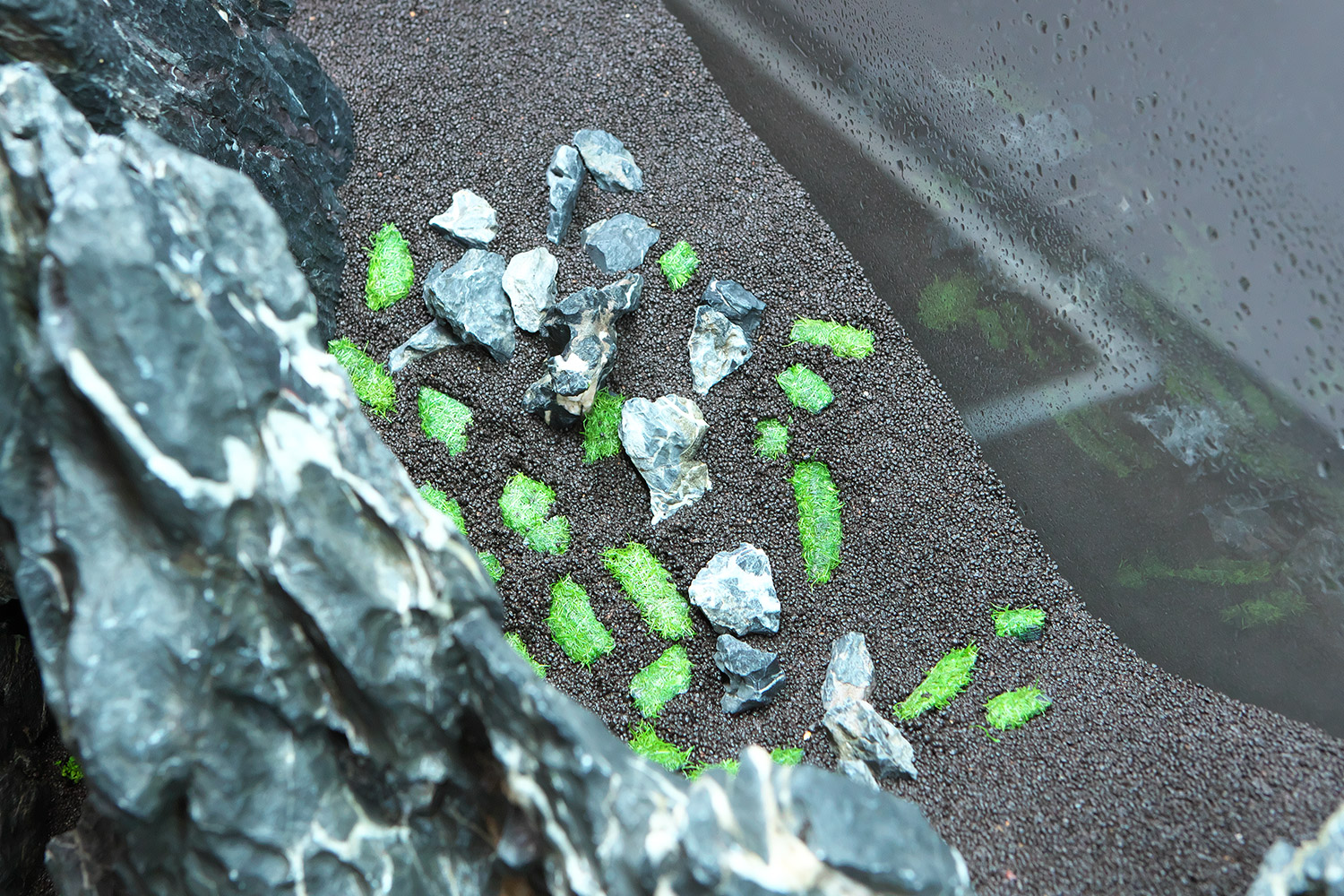 I planted as imagining a vegetation of relatively low mountain. To avoid the layout from being too monotonous, I expressed a vast plateau rich in greenery with Hemianthus callitrichoides 'Cuba' and Riccia, and fall leaves in greenery with Rotala sp. Goias.