Mizukusa FOCUS 'Wabi-Kusa Mizube MIX'
The Wabi-Kusa Mizube MIX which you can easily enjoy water-side plants will be released this year. This Wabi-Kusa Mizube MIX is a type of Wabi-Kusa that combines marginal plants that grow in shallow waters, and you can enjoy their growth and unique flowers. This time, we feature the attraction of the Mizube MIX that can be enjoyed on or off the water.
Wabi-Kusa Mizube MIX has refreshing water-side plants, such as  Sagittaria trifolia, Schoenoplectiella triangulatus, Hair Grass, Hydrocotyle tripartita, Willow Moss, Polygonum sp. These marginal plants are strong and easy to grow, and can be grown on water while they are or can be submerged in water and grown in a semi-aquatic condition. In particular, the growth of Sagittaria trifolia and Schoenoplectiella triangulatus are remarkable, and if the conditions are good, it can grow about 2.8 cm a day for Sagittaria and 6.0 cm a day for Schoenoplectiella, and you can feel the energy of marginal plants. Management on the water keeps the water level of luscious water like the other Wabi-Kusa, so that the leaves are moistened by morning and evening mist blowing. Please cut early yellow leaves and leaves that are too long. Wabi-Kusa Mist is also recommended for nutrient supplementation and pest control. How about enjoying the Mizube MIX, which is perfect for the coming season, in various styles?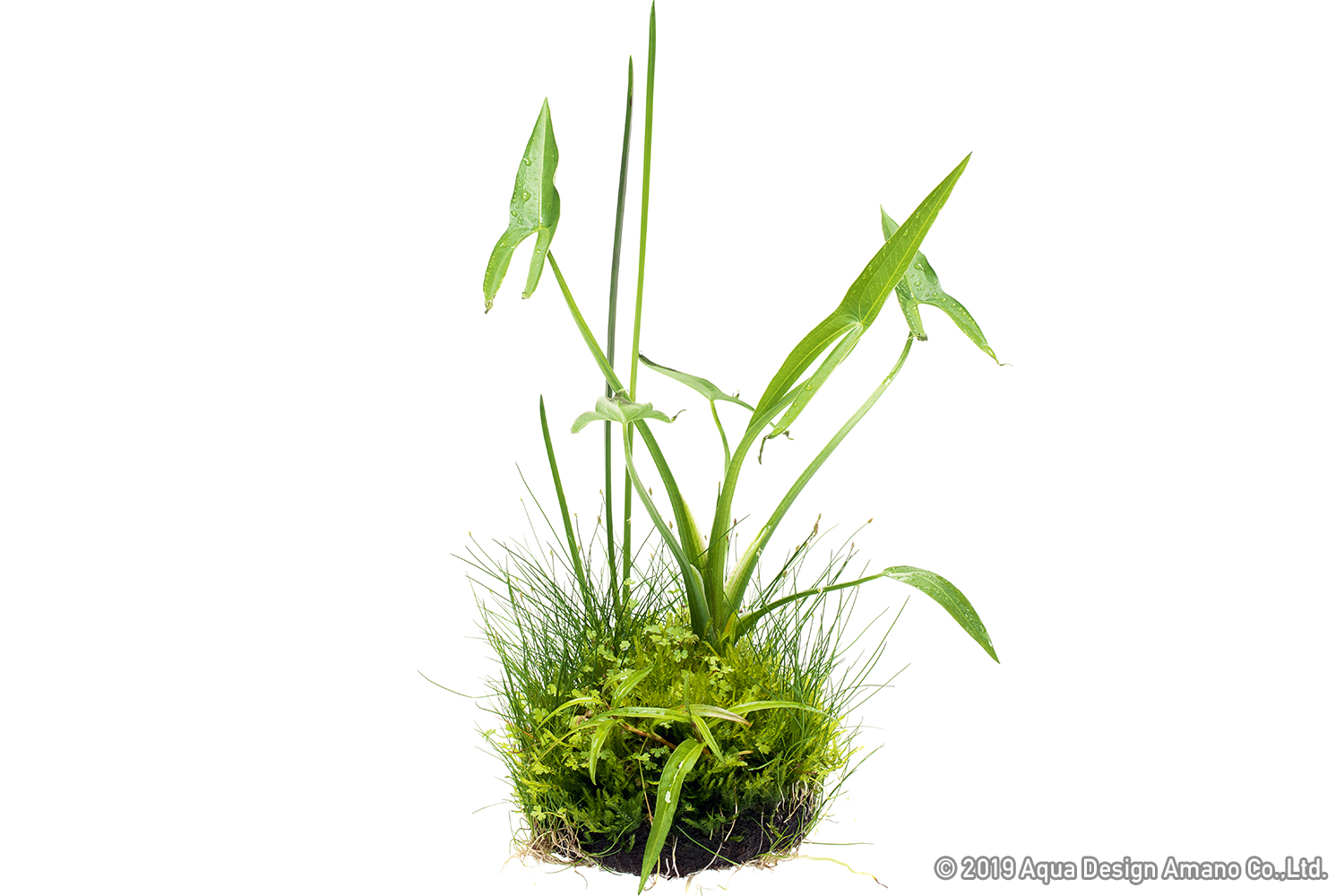 Marginal plants to increase with seedlings
The plants in the Wabi-Kusa Mizube MIX, which are annual grasses, grow by blooming flowers and seeding, and the fallen seedlings remain dormant during the fall and winter and start to sprout small shoots in the spring. If you spread Aqua Soil in a pot outdoors and keep it with a certain space around it, you can observe how the scattered seedlings germinate and create colonies in the next spring.