TOP OF THE WORLD 2021 #04 Eakthanat Isarathikul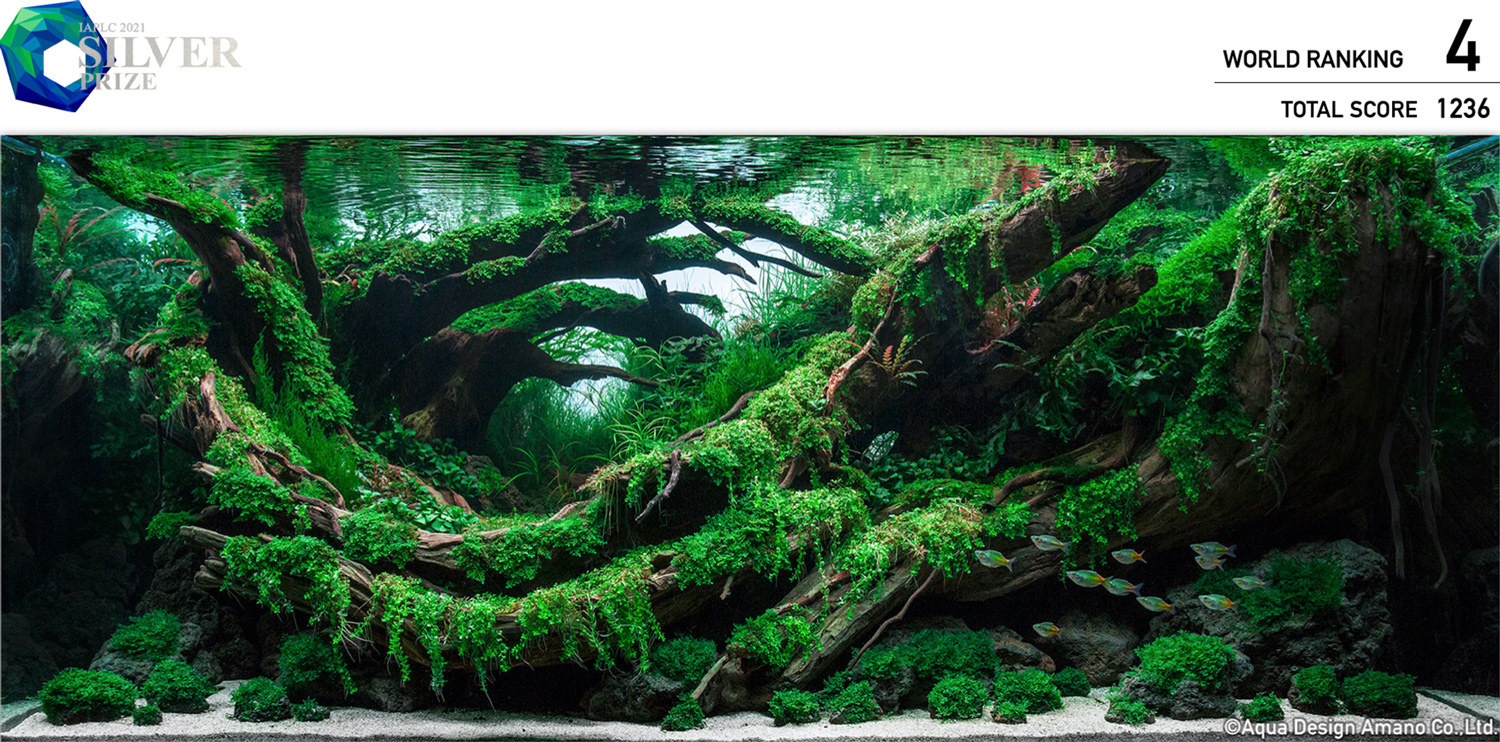 Revolve Plus
Aquarium Size W120×D60×H50 (cm)

Plant
Riccardia chamedryfolia 'Coral Moss'
Micranthemum sp. 'Monte Carlo'
Hemianthus callitrichoides 'Cuba'
Bucephalandra sp. Godzilla
Rotala mexicana
Bucephalandra moss
Hygrophila pinnatifida
Rotala sp. shimoga
Hydrocotyle tripartita
Bolbitis Heudelotii
Anubias var. nana 'Petite'
Taxiphyllum sp. 'Flame Moss'
Juncus repens
Eleocharis acicularis
Limnophila sp. 'Mini'
Limnophila aromatica
Vesicularia montagnei
Pogostemon erectus

Fish
Rainbow Fish (Short Body)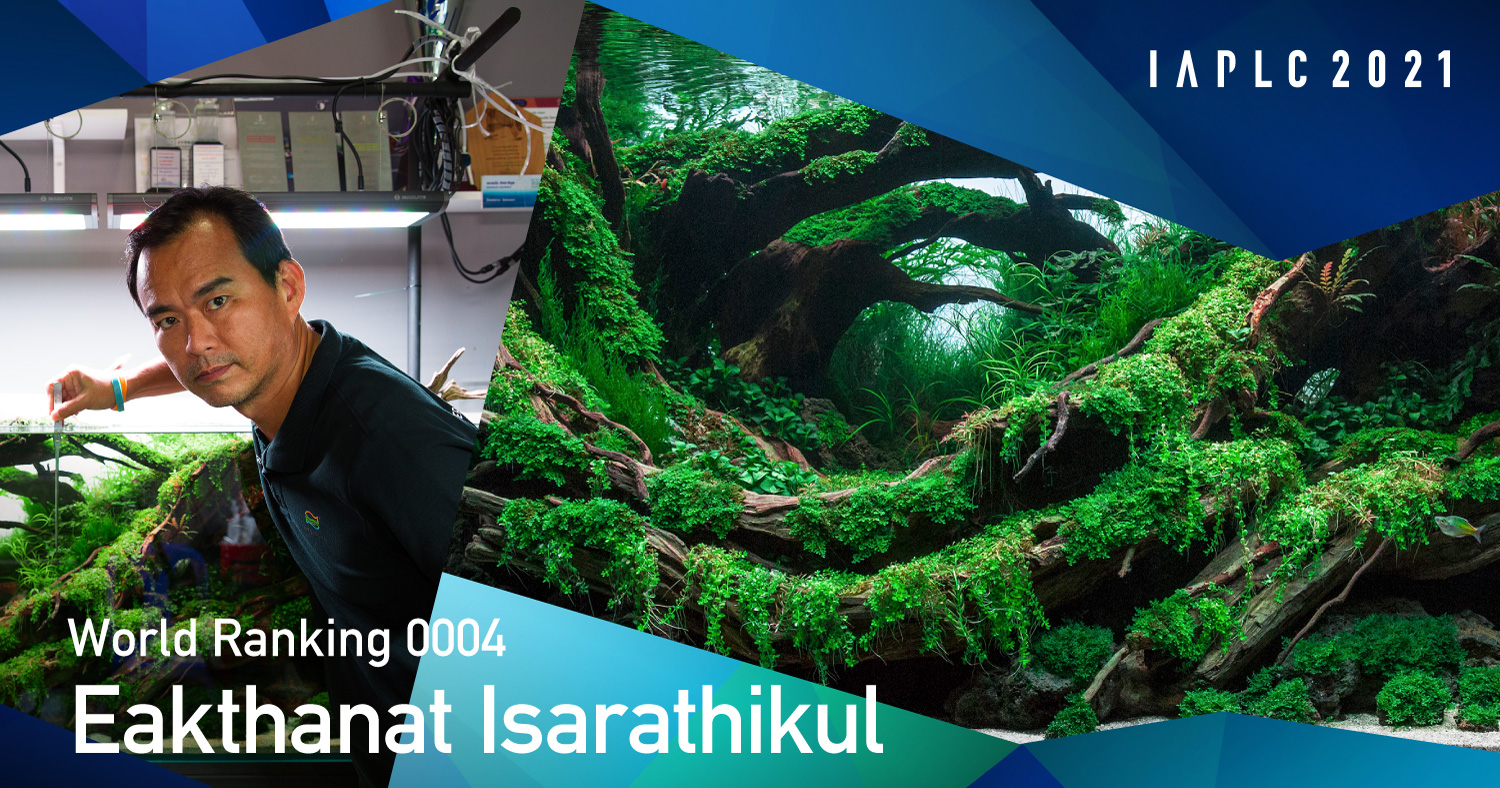 Eakthanat Isarathikul 
Thailand

Age/51 years old
Occupation/ Personal Business
Years of experience in the aquarium hobby/ 15 years
Record of awards In the past IAPLC/
2020 – 264th ranking
2019 – 54th ranking
2018 – 187th ranking
2017 – 85th ranking
2016 – 385th ranking
Any other hobbies besides aquarium?/ No
Creating the work with elements of the Golden Ratio in addition to the "Nature" style
AJ: Tell us how you feel now that you won the Prize in the IPALC 2021
First, I would like to thank ADA for creating this great competition, IAPLC. This competition is the biggest and the hardest aquatic plants contest in the world. I believe that many people want to win in this competition. Although in the past competition, my ranking was not quite good. But I have been trying to practice and continue my work all the time for several years. And finally, my attempt was successful this year. I must thank ADA for always organizing such a good tournament. This competition is the competition that people around the world want to reach to the top. I am very grateful because this is the highest achievement of my life. Thank you. 
AJ: Tell us what you wanted to express with your layout work.
This tank was inspired by the Fibonacci or Golden Ratio. To create a theme of this tank, I choose the biggest wood to put in the right front. And it will curve up by following the Fibonacci. The hardest part of this tank is to find the wood of the size that I want. That is very difficult, but fortunately I have many woods at my house so I could choose it whatever I want.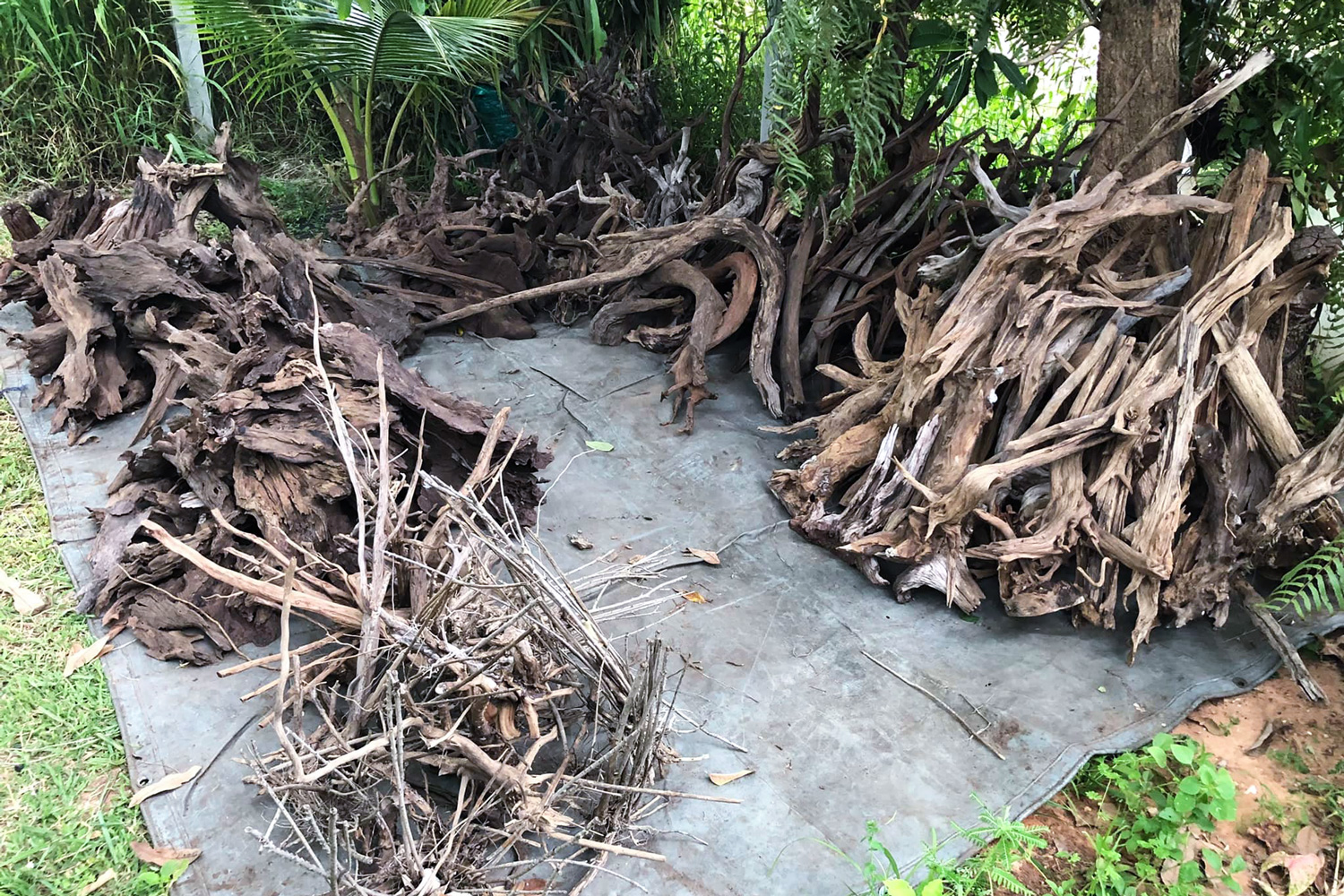 AJ: What was the most difficult aspect of creating and maintaining this layout work?
For me, there is nothing that most difficult. Because everything is equally difficult, since creating the layout and to take care the plants to be perfect all the time until the competition started.
AJ: Tell us about layout materials which were used for this layout.
I used old woods and black lava rocks.
AJ: What fascinates or attracts you the most about the planted aquarium hobby?
The first is a natural challenge. I have to think about how to get nature into the square tank and take care of them as close as the real nature. And how to manage the position of all plants, colors of the plants. And to make it look interesting when you see it.
AJ: Do you have any tips for winning in the IAPLC?
I have a lot of intentions this year, I changed my layout work from last year very much. In the past, I always created "Forest Landscape" style. But this year, I changed it to "Nature" style. So, this is the reason why I succeeded  this year. And I also use the principle of "Fibonacci 1.618" this year.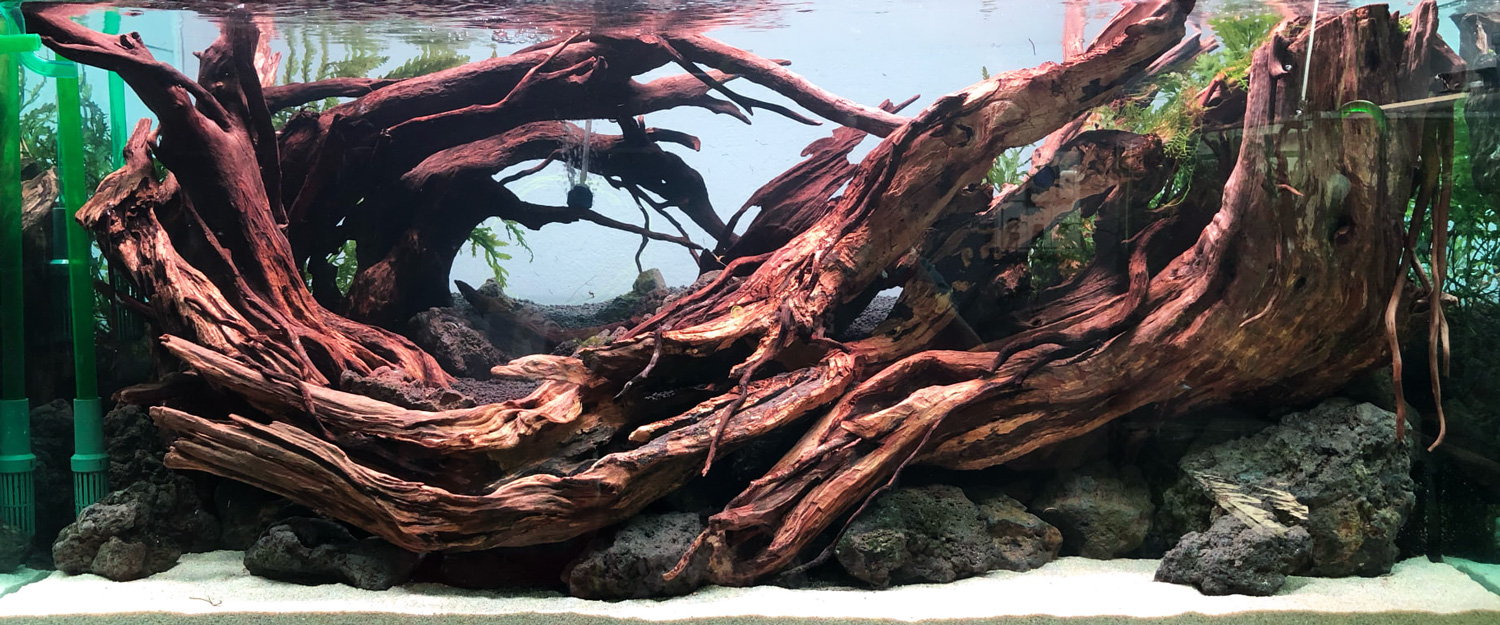 ▼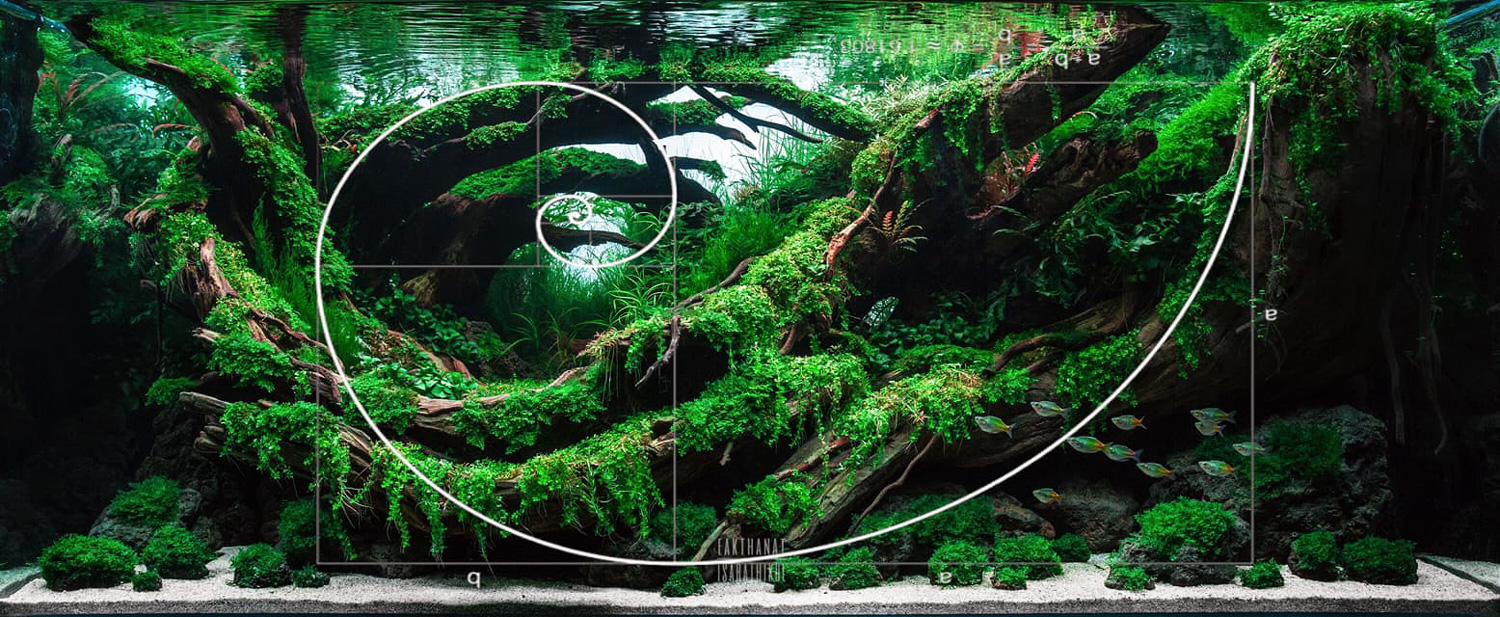 AJ: What are your favorite ADA products?
I have used many of ADA products for long time like lamps, Solar RGB, scissors, tweezers, or tank. So, I like everything that I use. 
AJ: What kind of aquascape do you want to create in the future?
In the future, I will try to create various type of work. Maybe some rock tanks if I am able to find great rocks.
AJ: What do you think about the IPALC?
First, I remember Master Armano. He has been an inspiration to many people, including myself. I always follow his process all the time. For the IAPLC, I think this competition is already globally recognized.