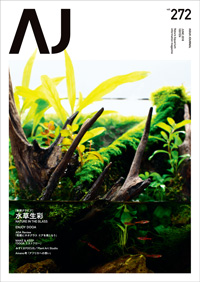 The magazine's feature article showcases a total of four planted aquarium layouts: one Nature Aquarium in a W180cm tank, an Iwagumi layout in a Neo Glass Air tank and two aqua terrariums created in Neo Glass Terra and System Terra 30. They will show you many beautiful aquatic plants like the vibrant colors of stem plats underwater and Riccia fluitans' velvet-like texture grown above water. Don't miss a variety of aquascape designs, making the most of characteristics unique to each plant.

The latest issue also covers ADA's newly released products, DOOA MISTFLOW and WABI-KUSA MIZUBE MIX. The column "MAKE & KEEP" features MISTFLOW, a mist maker designed to use with System Terra 30 to humidify its emersed section. WABI-KUSA MIZUBE MIX, is introduced in the "MIZUKUSA FOCUS." This Wabi-Kusa product enables you to easily recreate natural riverside scenery. The column provides a brief product description of this latest addition of the Wabi-Kusa series, and tips on how to display it using a Neo Glass Air tank.

Spring is here! It is a great season to enjoy aquatic plants both above and under water. Find your favorite layout style in the Aqua Journal Vol. 272.


AQUA JOURNAL Vol.272
B5-sized, full-colored 24 pages

*AQUA JOURNAL (Printed Edition / Japanese) is not sold on ADA Online Bookstore.
*AQUA JOURNAL (Online Edition / English) will be released on the official web site on the 1st day of the following month.