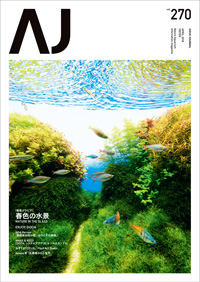 The Nature Aquarium in this issue is "Spring Color Aquarium" with colorful stem plants. The detailed making progress of creating a basic composition using Unzan stone and cosmetic sand, furthermore, planting stem plants and Riccia is introduced. Especially planting the main stem plants is showcased in details, so it's highly recommended for those who are willing to start own Nature Aquarium. It also features practical use of liquid fertilizers and additives for growing stem plants beautifully.
For DOOA, a new aqua terrarium composed with Ouko Stones and Hydrocoty leucocephala is showcased.
Why not trying to create an aqua terrarium yourself in this season?


"AQUA JOURNAL" Vol.270
B5-sized, full-colored 24 pages

*Renewed AQUA JOURNAL (Printed Edition / Japanese) will not be sold on ADA Online Bookstore.
*AQUA JOURNAL Eng ver. will be released on the official web site on the 1st day of the following month.