Enjoy DOOA: Open top aquarium with driftwood and Wabi-Kusa in System Aqua 30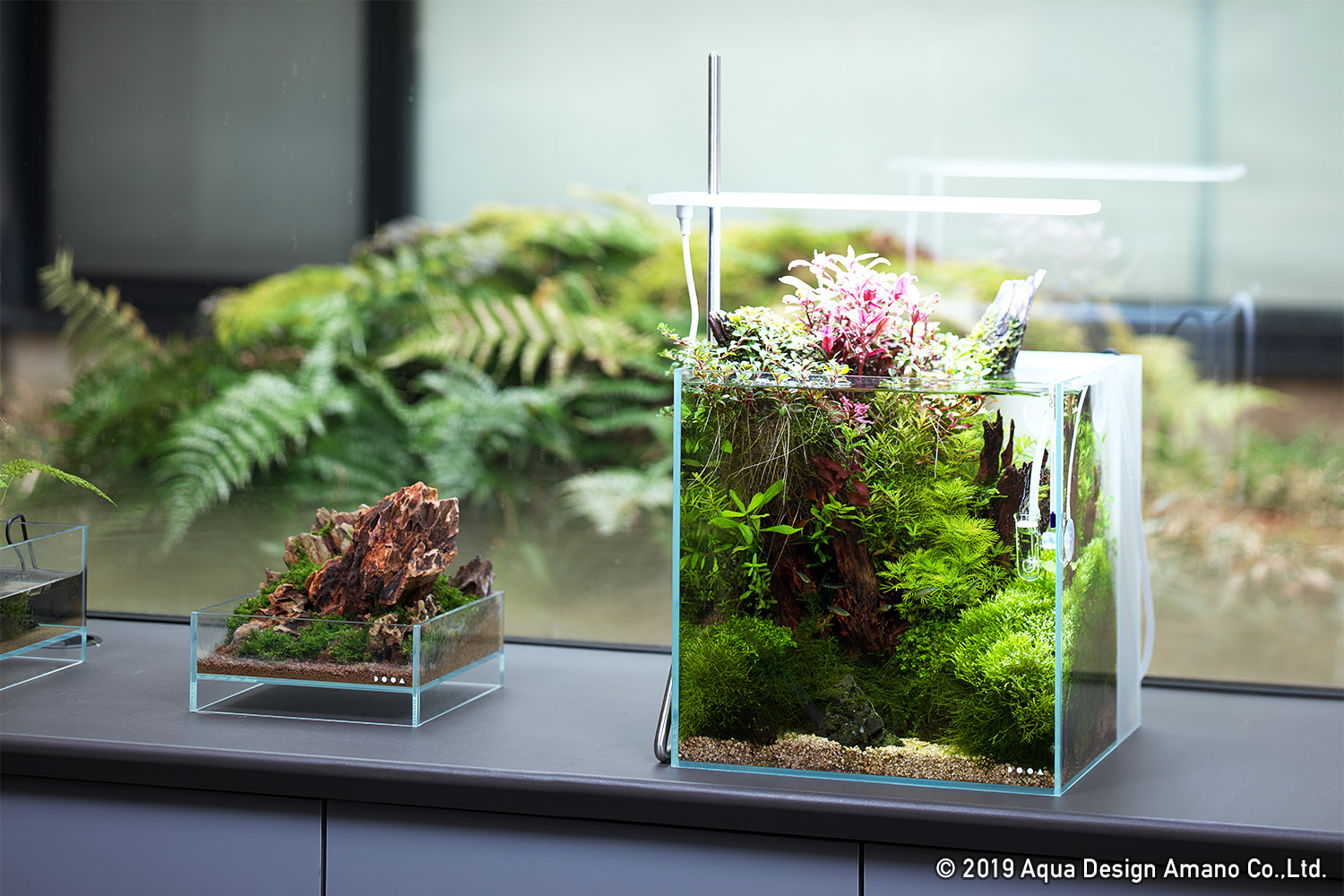 System Aqua 30 with built-in filters can be set up in any location because of its compact size. Its open-top design allows you to enjoy an open top aquarium layout as well as an underwater aquatic plant layout. I created a layout in this issue that allows you to enjoy aquatic plants both above water and underwater using a Wabi-Kusa hanger and Horn Wood. I used Wabi-Kusa primarily here. Planting in an area with a complex driftwood structure can be completed by simply placing Wabi-Kusa. Wabi-Kusa can also be suspended near the water surface using a Wabi-Kusa hanger. While Wabi-Kusa can be grown emersed, I selected Wabi-Kusa with a high number of Alternanthera and Ludwigia that can grow up out of water. This layout style is perfect for the coming season.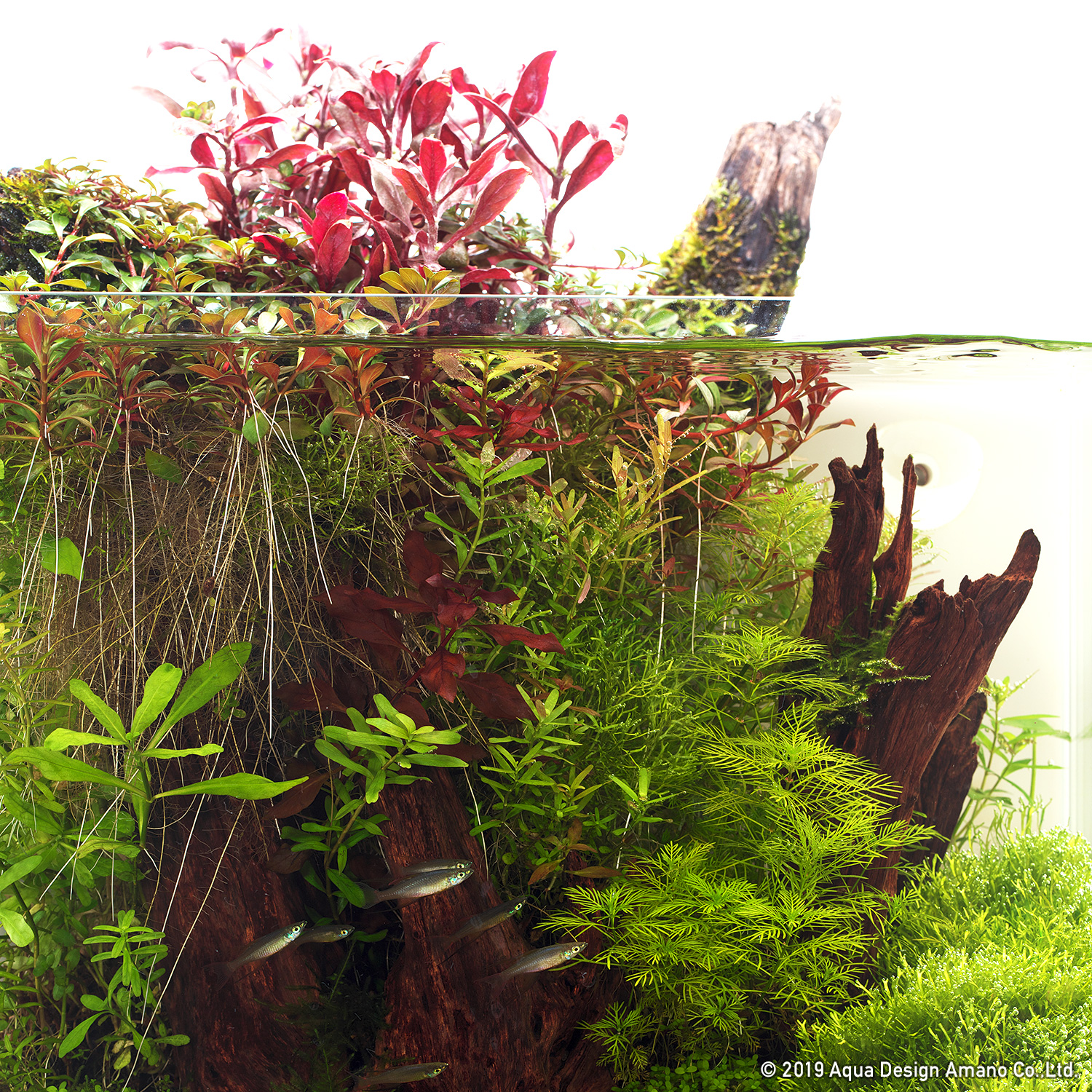 Since Wabi-Kusa has already well-developed roots, it fails rarely in the initial setup period. Densely growing aquatic plants above water makes the aquarium appear large.
The key point is to place a Wabi-Kusa hanger slightly toward the left side to accommodate the Horn Wood composition.

This layout was produced to create an impression of aquatic plants spilling out of the opening between driftwood branches. Two Horn Wood branches were arranged and Wabi-Kusa was placed in the center. Although it takes time for Wabi-Kusa placed in the water to develop emersed grown leaves above water, suspending Wabi-Kusa Stem Plant MIX near the water surface using a Wabi-Kusa hanger S allowed it to develop emersed grown leaves in a relatively short period of time. Wabi-Kusa Karen and Wabi-Kusa Myriophyllum mattogrossense were placed underwater in such a manner that the leaves of aquatic plants gradually change from fine leaves to larger ones toward the water surface.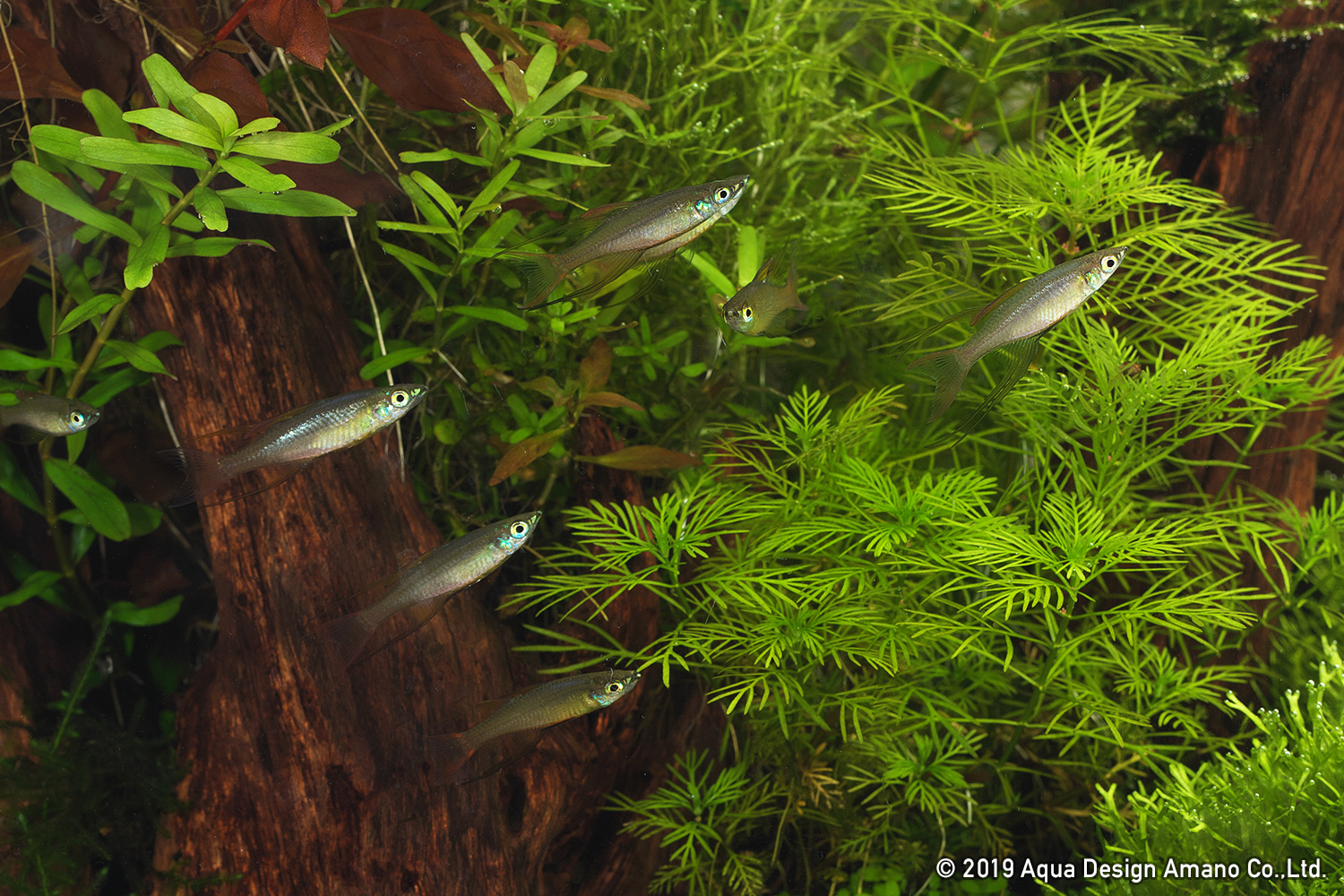 Swimming space for the fish was maintained by trimming the plants frequently.
Since the stem plants in Wabi-Kusa become dense rapidly, they need to be trimmed frequently to keep the swimming space for the fish.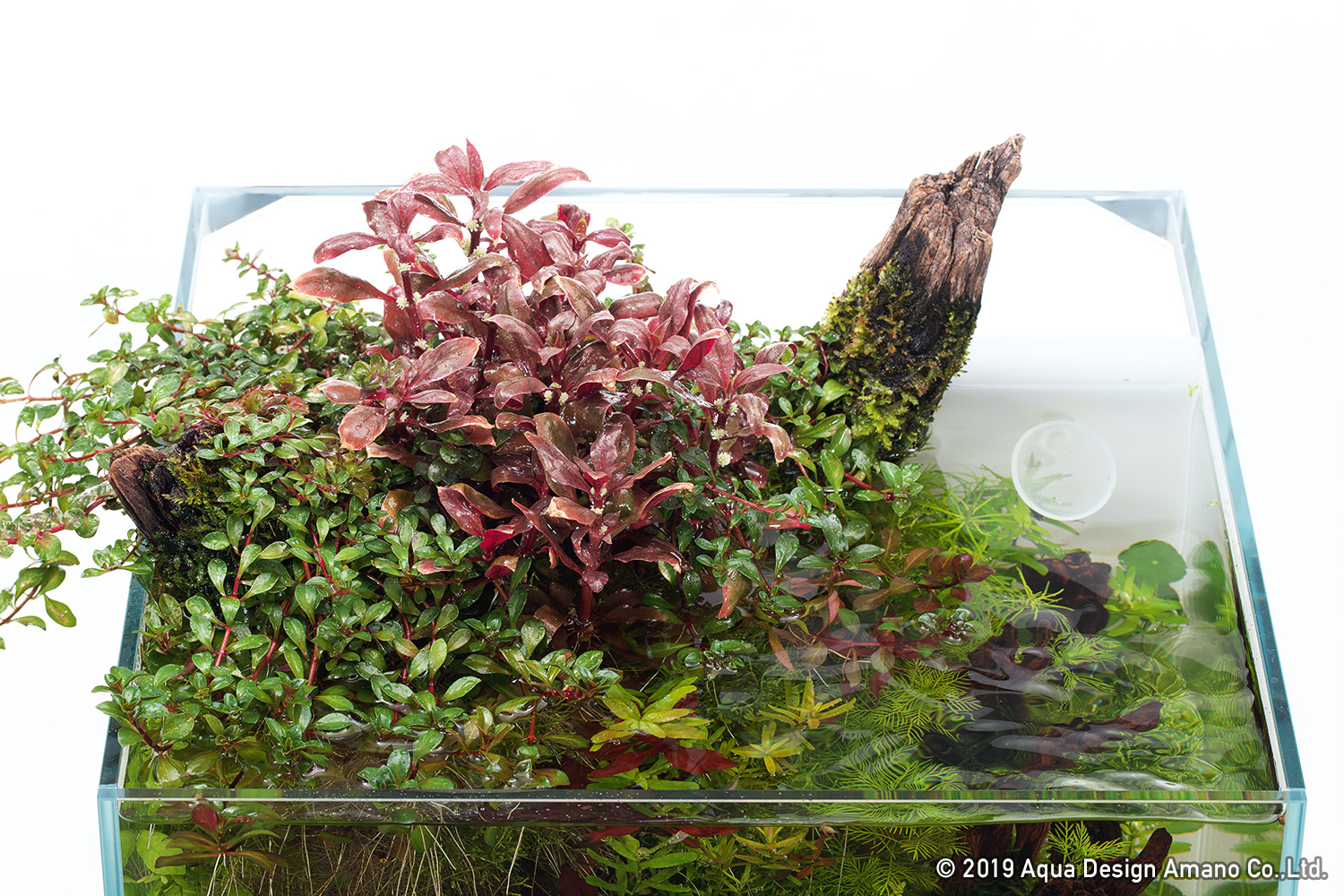 Using a Wabi-Kusa Hanger in a layout
System Aqua 30 has a special opening for placing a Wabi-Kusa Hanger S. Wabi-Kusa Hanger S was placed toward the left side of the opening to accommodate the driftwood composition.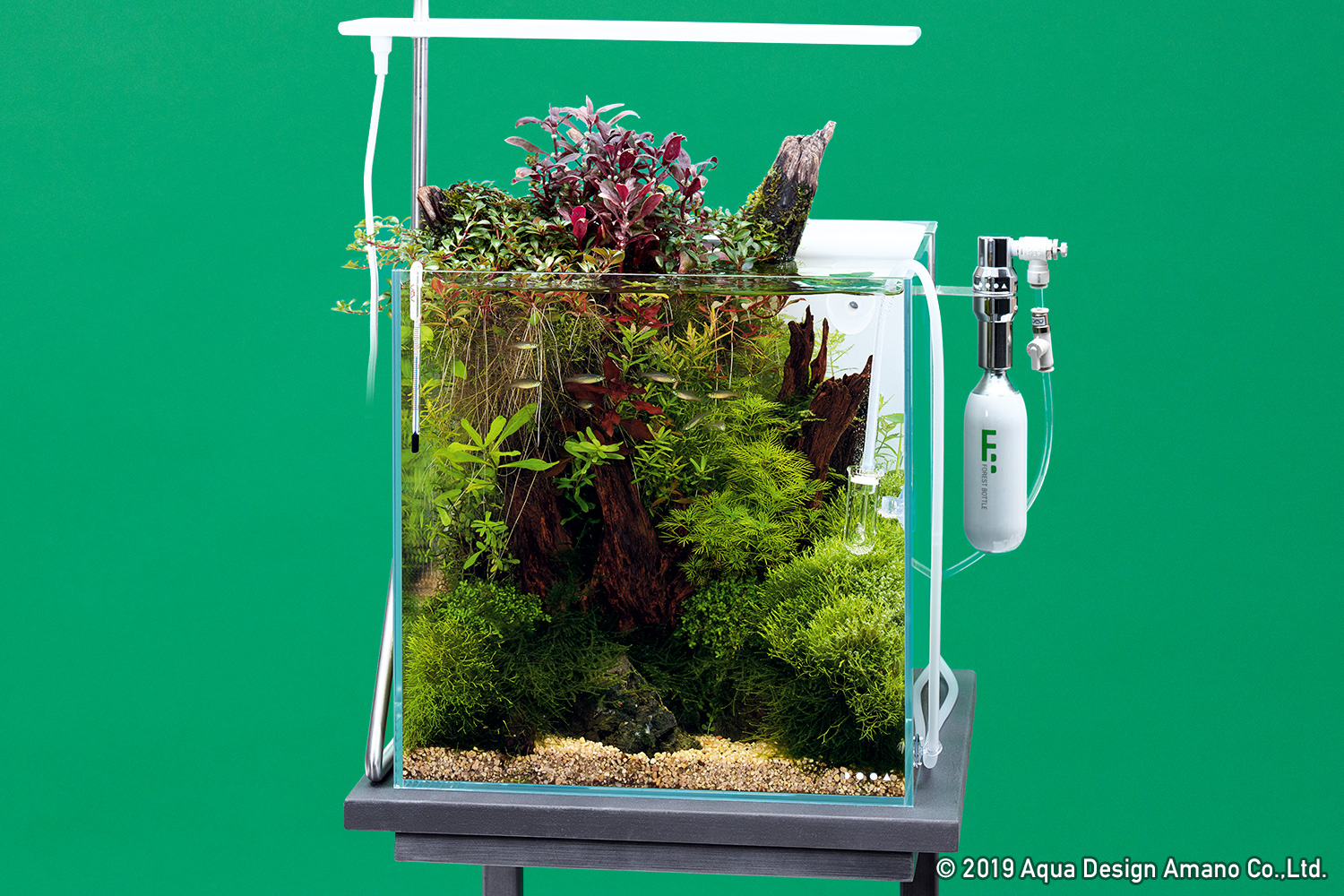 [SYSTEM DATA]
DOOA SOL STAND G
DOOA SOL STAND G Mounting piece
DOOA SYSTEM AQUA 30
Wabi-Kusa Hanger S
DOOA BASE STAND 35
CO2 System Kit
NA Thermometer J-05WH (5mm)
NA Control Timer II
DOOA TROPICAL RIVER SAND
DOOA SUIKEI Liquid

[Plants]
Wabi-Kusa Stem Plants MIX 9Ø
Wabi-Kusa Karen 6.5Ø
Wabi-Kusa Myriophyllum mattogrossense 6.5Ø
Wabi-Kusa Micranthemum sp. 5Ø
Wabi-Kusa Hydrocotyle verticillata 5Ø
Riccia fluitans
Taxiphyllum Barbieri

[Fish]
Iriatherina werneri
Caridina multidentata
Otocinclus sp.
Crossocheilus siamensis

Shooting date: January 17th, 2019 (ADA)
Creator: Yusuke Homma
ⒸAQUA DESIGN AMANO